Colabello goes through whirlwind of roster moves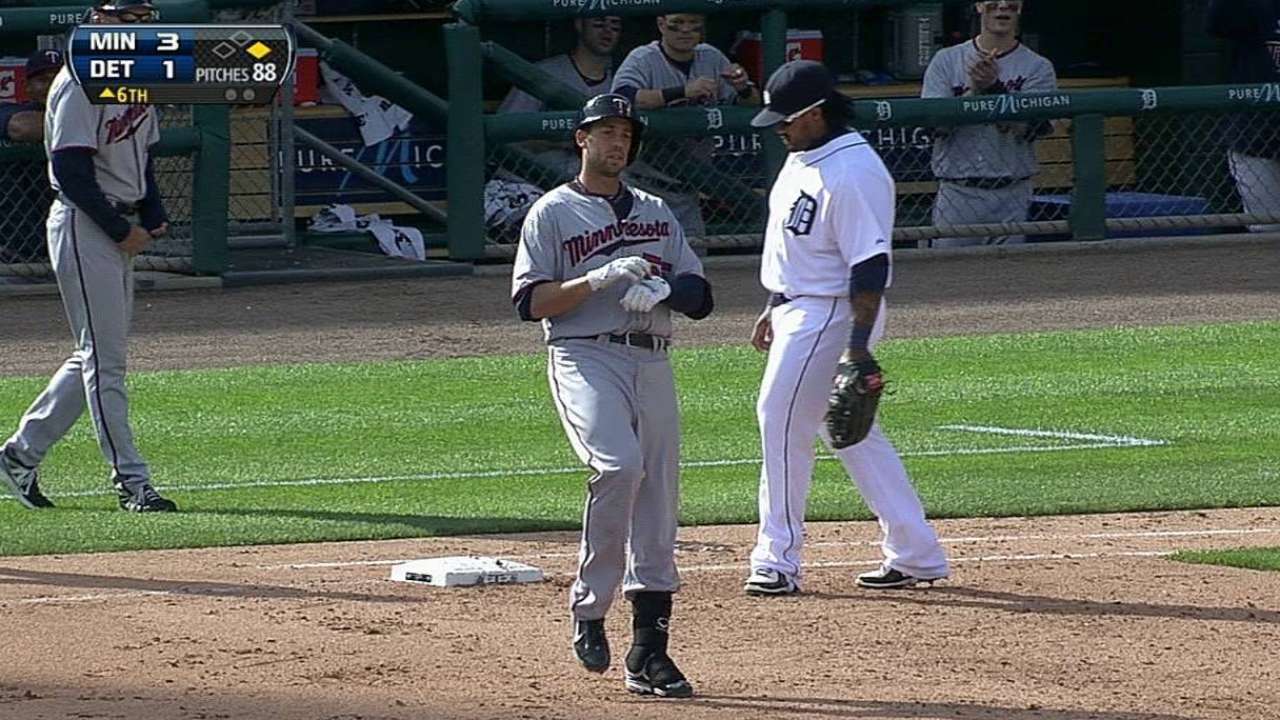 MINNEAPOLIS -- It was a crazy 24 hours for Chris Colabello.
Colabello was optioned to Triple-A Rochester before Wednesday's game, with Trevor Plouffe being activated from the 7-day concussion list, but Plouffe ended up going on the 15-day DL with a strained left calf before he even played in the game.
So Colabello flew back to the Twin Cities on Thursday morning and was officially recalled again, with Plouffe going to the DL before Thursday's game. Colabello spent less than a day in Rochester, but he was happy to be back with the big league club.
"I was there for probably 15 hours total, not counting the flight delay," Colabello said. "I guess the last thing I was expecting was to unpack at my locker and then pack it all up the next morning. But it's for all the right reasons, obviously."
Colabello, who is 1-for-11 in five games with the Twins this year after hitting .358 with 12 homers in 46 games at Triple-A, was excited to be at Target Field for the first time in his career.
"I hadn't been inside, but I had seen the outside a few times," said Colabello, who spent seven years playing in the independent Can-Am League. "So it's obviously pretty cool to be in the doors. It's just awesome. It's wonderful. Doesn't surprise me. Everything about this organization is great."
Colabello is expected to see spot duty at first base and in right field, especially against left-handed pitchers, but he also gives the Twins some power off the bench.
"He's probably going to get pinch-hit duty again," Twins general manager Terry Ryan said. "On occasion, he might get a start here. The kid's got some power. He's got some ability, and this is a good opportunity to take advantage of a situation."
Rhett Bollinger is a reporter for MLB.com. Read his blog, Bollinger Beat, and follow him on Twitter @RhettBollinger. This story was not subject to the approval of Major League Baseball or its clubs.