Sarah's Take: DL time could benefit Kemp
Despite rash of injuries, Dodgers have bright spots in Ryu, others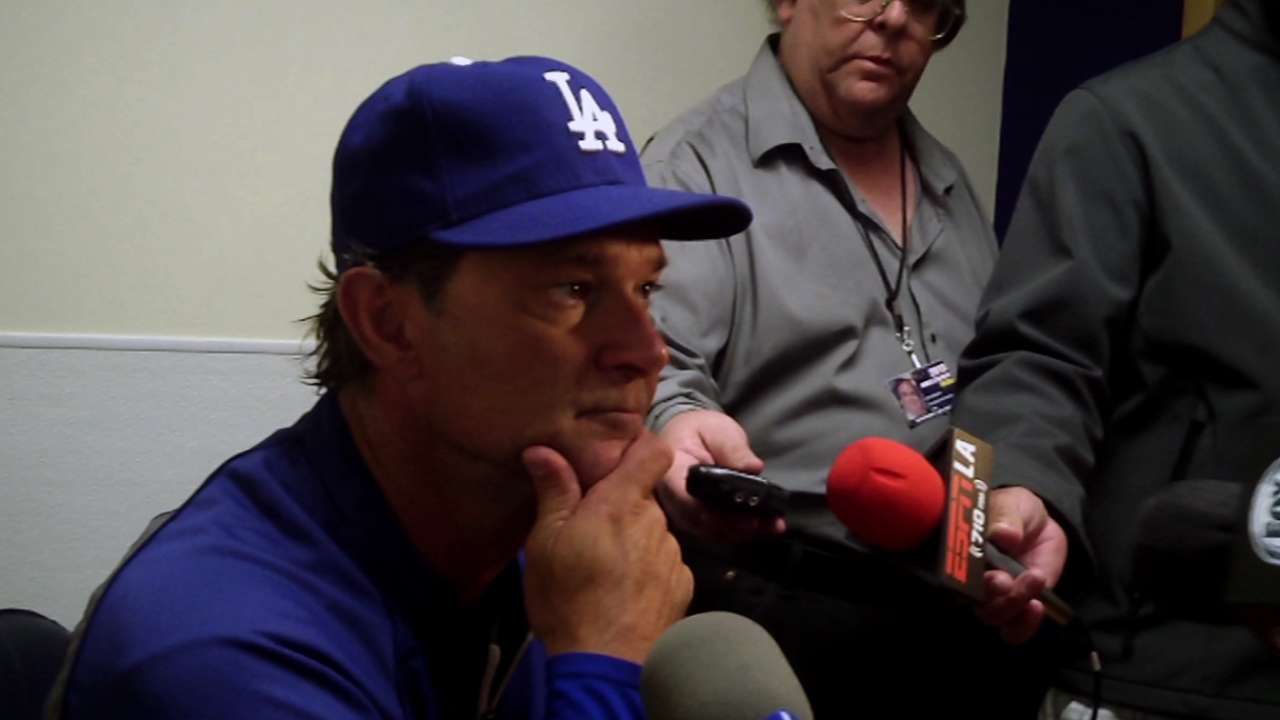 The 2013 season was supposed to be the end of the World Series drought for the Los Angeles Dodgers. However, injuries to important players have plagued them, undermining their efforts. Now they just want to get healthy and get out of last place in the National League West.
During Wednesday's loss against the Angels, Matt Kemp strained his hamstring. Last season Kemp missed a significant amount of time with hamstring problems. Since he hasn't performed up to expectations, the time on the disabled list might be beneficial to him and the Dodgers.
At least one other pundit has blamed Kemp's offensive struggles for the Dodgers' poor showing. This isn't fair to Kemp because baseball takes all of the players on a team working together to win. However, he isn't the same Kemp that we saw in 2011 before he suffered injuries.
Last May he had two strained hamstrings that kept him out until after the All-Star break. These hamstring injuries have sapped his amazing speed.
In late August he ran into a wall at Coors Field, injuring his shoulder. Insisting on playing the rest of the season until the Dodgers were out of the playoff race, Kemp didn't have his incredible power that the Dodgers have grown accustomed to having. During this period, Kemp denied that the shoulder was bothering him.
The day after the 2012 season ended, Kemp underwent arthroscopic shoulder surgery that found much damage. Rehabbing after shoulder surgery altered his offseason exercise program for the first time during his professional baseball career. He couldn't pick up a bat until January. Even though he could participate fully in Spring Training from the beginning, the shoulder didn't appear to have the same strength as it did before the injury occurred.
Despite having a weak shoulder, Kemp has played in practically every game, but he hasn't been able to contribute to the Dodgers' offense like he wanted to. He has just two home runs this season.
Having a hamstring pull is never good for any player, but maybe Kemp can rebuild some shoulder strength while on the disabled list or at least rediscover his timing that would help him to decrease his strikeouts.
On Thursday, manager Don Mattingly revealed that Josh Beckett will see a specialist in Dallas on Monday to get another opinion on the numbness in his right hand. He has been on the disabled list for the last two weeks for this condition, but it hasn't improved. Hopefully, he won't need season-ending surgery.
Mattingly also revealed that catcher A.J. Ellis has an oblique muscle bothering him. This injury might require a trip to the disabled list. The Dodgers already recalled Tim Federowicz, and he started Thursday. Although Ellis is one of their best hitters, a problem with an oblique muscle is nothing to mess around with. Federowicz has had a spectacular year in Triple-A.
Despite having a disappointing season thus far, especially when they have only two hits in 25 at-bats with the bases loaded, the Dodgers have some encouraging players to watch.
On Tuesday against the Angels at Dodger Stadium, Hyun-Jin Ryu pitched his first Major League shutout. Many people didn't pay much attention last December when the Dodgers announced that they signed the 25-year-old southpaw from Korea. After all, it came on the same day as they made headlines by signing Zack Greinke, the most sought-after free-agent starting pitcher. So far, Ryu is the best offseason acquisition for the Dodgers.
From the first day of Spring Training, Ryu has impressed. Most baseball-knowledgeable people thought Ryu, who was the Rookie of the Year, won several Gold Gloves and had the lowest ERA while in Korea, would need time to get acclimated to the Major Leagues. They underestimated Ryu's talent.
With four pitches, Ryu has demonstrated excellent control. Unlike most starters Ryu's age, he doesn't nibble at the strike zone because he trusts his ability to get Major Leaguers out. His ability to minimize the number of pitches during a game has enabled him to go at least into the sixth inning in all but one of his starts. His Korean experience has taught him how to keep his team in the game even when he doesn't have his best stuff. His fielding is superior to most Major League starters. He never rushes a play. Since he didn't hit in Korea, no one knew that he could until he came to the Dodgers. His power is surprising. His offensive production has helped the Dodgers to win many of his starts.
When the mega-trade with the Boston Red Sox occurred last August, I didn't think it was necessary, but I don't want to think where the Dodgers would be without the players from Boston. Carl Crawford, who had just had Tommy John elbow surgery at the time of the trade, has given the Dodgers a good leadoff hitter with power. His defense in left field has been excellent, including a spectacular sliding catch that prevented a run Thursday. Adrian Gonzalez is the only Dodger who hasn't struggled offensively with runners in scoring position. He has given the Dodgers a legitimate threat in the middle of the lineup while Kemp and Andre Ethier have struggled offensively. With all of these unexpected injuries, Nick Punto has received more playing time than normal, and he has contributed offensively and defensively anywhere he has played.
Although it's doubtful that the Dodgers can make this season memorable with their injuries, they have some bright spots that make their games worth watching.
Sarah D. Morris can be reached at sarahmorris27@gmail.com. This story was not subject to the approval of Major League Baseball or its clubs.