Verlander on board with Home Run Derby campaign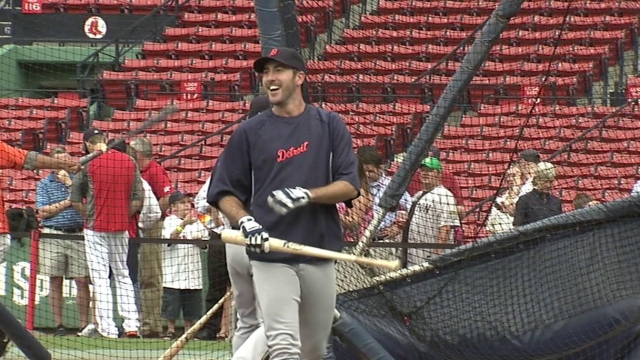 BALTIMORE -- It started with a tweet from a fan and a clip of a home run he hit over the Green Monster at Fenway Park during batting practice last season.
Now, Justin Verlander is casually campaigning for write-in votes at MLB.com's Home Run Derby Fan Poll.
"I don't want to campaign for myself," Verlander said Friday afternoon. "If other people want to campaign for me, that's fine."
He can say that, but his retweet of the #VoteVerlander hashtag with a link to the poll, as well as tweets from fans who voted for him, wasn't exactly indifference, either.
What if???? #VoteVerlander #hrDerby mlb.mlb.com/mlb/events/all…

- Justin Verlander (@JustinVerlander) May 31, 2013
Make no mistake, he's enjoying this.
"I'm having fun with it," he said. "I saw some girl tweet it this morning and said she voted. I saw it and I was like, 'That sounds like a cool idea.' …
"Yeah, I would do it. I would."
Verlander doesn't have a base hit in the big leagues, let alone a home run. He's 0-for-24 with 14 strikeouts for his Major League career, leaving him to watch teammates like Rick Porcello and Doug Fister pass him by. Even former teammate Jeremy Bonderman leads him on the all-time hit list, having recorded one in 2007.
Verlander would argue that game hits aren't relevant to the Derby. His batting-practice sessions are more pertinent, and he can hit there. When he gets to take batting practice ahead of a start in Interleague Play, he usually takes at least one round to swing for the fences.
"I go deep all the time," Verlander said, prompting more than one reporter to bust out laughing.
"What are you laughing for? It's not a joke. In Houston, I hit one that would've gone out of the stadium if it didn't hit the baggie. I'm a 5 o'clock hitter."
Teammates who have done it, such as reigning Home Run Derby champion Prince Fielder and Miguel Cabrera, could tell him the environment is completely different in the Derby with no cage surrounding a hitter.
"I say I'd hit three or four," Verlander said. "That's my guess. Of course, a lot of people have said that."
Even if he didn't hit one, though, he wouldn't care.
"I mean, what's the worst thing that can happen? You go up there and not hit one? So what," he said. "Nobody would expect me to hit one anyway, so I've got nothing to lose. I'm the darkhorse in the competition."
The other problem Verlander faces is that it's a fan poll, not an actual ballot. Though the voting page includes buttons for 10 players from each league, including Fielder and Cabrera, plus a write-in space, it also includes a message.
"Remember, we appreciate your feedback," the message reads, "but your selections will not determine the actual participants of the 2013 Home Run Derby."
Still, a fan surge might provide some encouragement.
"If I get voted in, I can't not go," Verlander said half-jokingly. "We're here for the fans."
Verlander's catcher, Alex Avila, happened upon the conversation on his way to his locker and shook his head.
"I don't even know how to handle you right now," Avila said with a smile.
Verlander didn't miss a beat.
"These guys are getting a little upset because I've got more pop than they do," Verlander joked. "My BP pop."
Jason Beck is a reporter for MLB.com. Read Beck's Blog and follow him on Twitter @beckjason. This story was not subject to the approval of Major League Baseball or its clubs.