Iwakuma's strong start backed by hot-hitting Morales
Second ace throws 7 2/3 scoreless innings; Sucre adds RBI single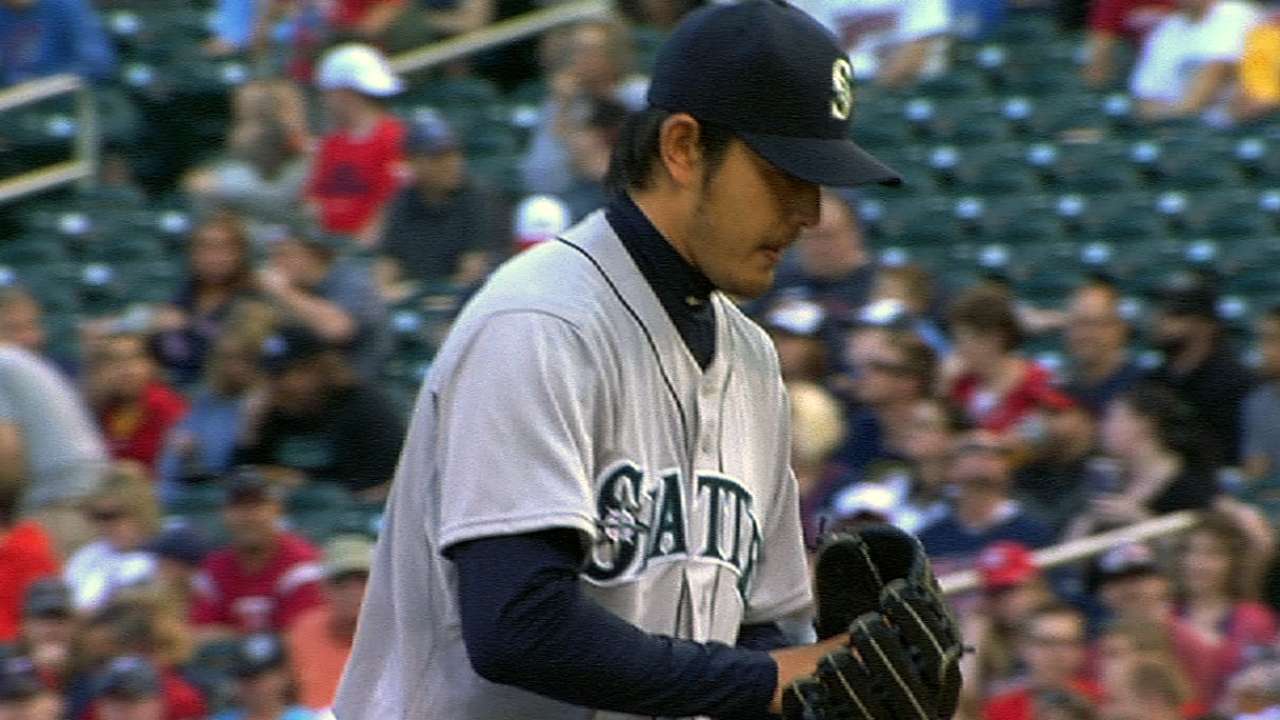 MINNEAPOLIS -- Kendrys Morales continued his torrid hitting for the Mariners, and Hisashi Iwakuma was the beneficiary Friday as Seattle stopped the Twins' four-game winning streak with a 3-0 victory at Target Field.
Morales ripped a two-run homer in the sixth inning to cap a marvelous May, and Iwakuma improved to 6-1 on the season with 7 2/3 shutout innings as the Mariners took the opener of a three-game set.
Morales has hit .417 (20-for-48) over the past 11 games and .343 (35-for-102) with five home runs and 23 RBIs in the past month, raising his season totals to .297 with eight homers and a team-leading 33 runs batted in.
"I'm getting real comfortable with these guys, and it looks like everyone is getting on a roll right now," Morales said, using reliever Danny Farquhar as his interpreter. "Hopefully we keep it up."
Iwakuma was equally good in May, going 4-0 with a 2.53 ERA and 37 strikeouts with eight walks in six starts.
Iwakuma hasn't allowed an earned run in 20 2/3 innings in three starts against the Twins since moving into the Mariners rotation last season. But the 31-year-old from Japan hasn't just excelled against Minnesota, as he lowered his ERA to 2.13 and recorded his American League-leading 10th quality start this year while continuing to make a strong case for All-Star consideration alongside teammate Felix Hernandez.
"We're coming to expect this from him," said shortstop Brendan Ryan. "Whether that's fair or not, it's a tribute to how good and nasty he is. He's been on an incredible run."
Iwakuma gave up seven hits with two walks and five strikeouts, bearing down when needed to strand eight runners. He threw 98 pitches before being replaced by Charlie Furbush, who struck out Justin Morneau to finish off the eighth.
Tom Wilhelmsen, who'd blown his last two save opportunities, picked up his first save since May 16 with a 1-2-3 ninth.
The Mariners played again without injured right fielder Michael Morse and first baseman Justin Smoak, but pieced together enough offense to get Iwakuma the win and improve their season record to 24-31.
Ryan and catcher Jesus Sucre combined to save a run in the third when the Mariners nailed Chris Parmelee at the plate on a high-hopper over Iwakuma's head. A charging Ryan didn't hesitate in throwing home, and Sucre didn't hesitate in throwing a shoulder as Parmelee unsuccessfully tried to knock the ball loose.
Iwakuma got out of that inning unscathed despite a leadoff double by Parmelee and a one-out single by Pedro Florimon, then also escaped in the fifth when Florimon drove a ball down the left-field line that eluded a diving Jason Bay.
Parmelee would surely have scored from first on that play, but the ball bounded over the fence for a ground-rule double and he was sent back to third. Iwakuma then got Jamey Carroll on a comebacker to strand both runners.
"He had good stuff," said Parmelee. "He threw the heck out of that split-finger tonight.
"I got into a couple of tough situations," Iwakuma said through translator Antony Suzuki. "But I was able to make good pitches, execute when I needed to, and that's what got me out of the jams. I didn't have a very good bullpen [session] today. I thought my balance wasn't right. But then I was able to make the adjustment during the game."
The Mariners didn't make much headway until the sixth against Mike Pelfrey, managing just three singles through the first five frames. Pelfrey, who came in with a 6.85 ERA, walked four and hit a batter in the first three innings, but he kept Seattle off the scoreboard until Morales' two-run shot with no out in the sixth.
After Pelfrey was replaced, Sucre delivered an RBI single to make it 3-0. Sucre, who came in hitting .071, was 2-for-4 on the day.
"He's doing a great job for us behind the plate," said manager Eric Wedge. "But he's really working hard to be a more complete player and try to get something generated with the bat. And he helped us tonight."
Rookie second baseman Nick Franklin, who homered twice on Thursday in his third Major League start, reached base three times in a 1-for-2 day with two walks. Ryan also chipped in offensively with a 2-for-4 night. Ryan has hit .360 over his past 14 games to raise his average from .122 to .214.
The Mariners have won four of their last six games to finish May with a 12-14 record.
Greg Johns is a reporter for MLB.com. Follow him on Twitter @GregJohnsMLB as well as his Mariners Musings blog. This story was not subject to the approval of Major League Baseball or its clubs.