Pelfrey labors as Twins can't cash in scoring chances
Rough sixth inning chases right-hander; Offense leaves eight on base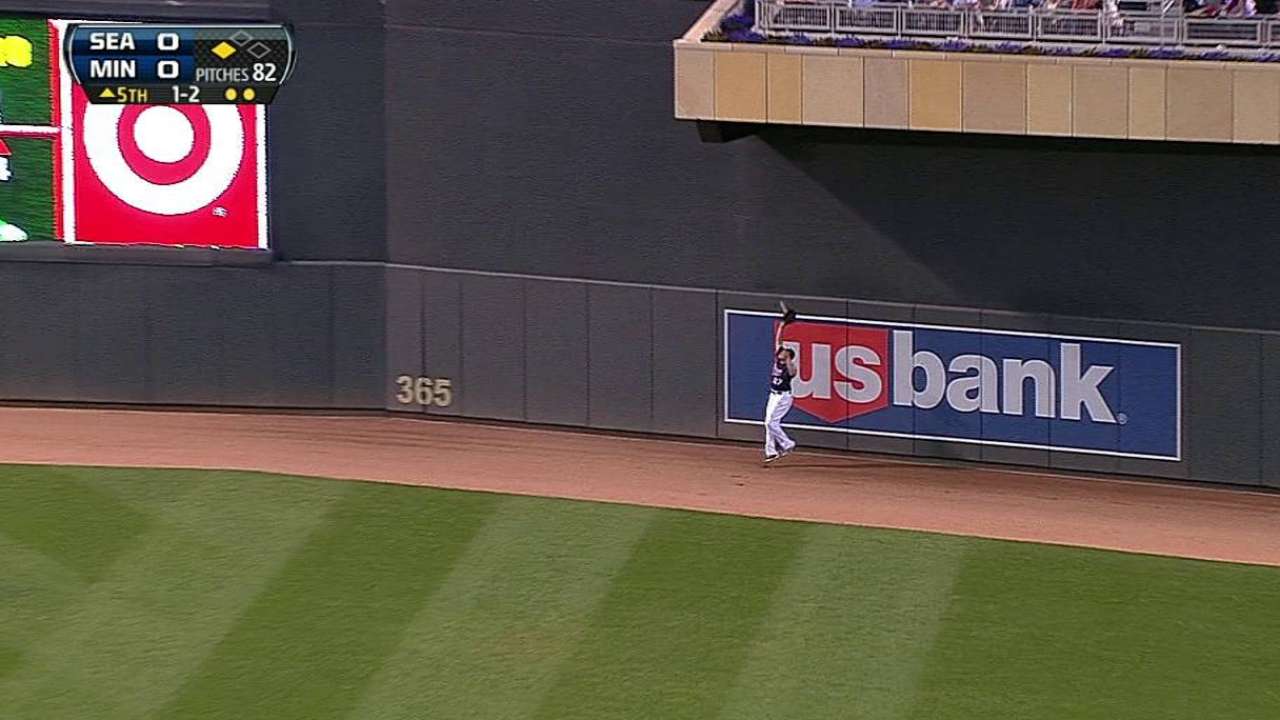 MINNEAPOLIS -- The sixth inning has not been kind to Mike Pelfrey this year.
Pelfrey has yet to pitch past the sixth in any of his 11 starts this season and ran into trouble in the sixth again on Friday night against the Mariners. He continued his season-long struggles while the Twins' offense was shut down by Hisashi Iwakuma in a 3-0 loss at Target Field.
Pelfrey, who is coming off Tommy John surgery, has struggled to go deep into games this year, and it was no different against the Mariners. The right-hander lasted just 5 1/3 innings, allowing three runs on six hits and a season-high four walks.
"I'm probably the least patient person you've met," said Pelfrey, who fell to 3-6 with a 6.66 ERA. "I've busted my tail to come back from this as fast as I have. I'd like to see results. I'd like for it to be going better than it is. At the end of the day it eats me alive. So it stinks."
Pelfrey cruised through five scoreless innings before running into trouble in the sixth. He gave up a leadoff single to Kyle Seager before surrendering a two-run blast to Kendrys Morales over the center-field wall.
"I knew I hit it good," said Morales, through translator Danny Farquhar. "I hit it on a line drive, so I wasn't 100 percent sure it was going to go out, but I was happy to see it go out."
Pelfrey then gave up a single to Raul Ibanez down the right-field line before striking out Michael Saunders looking for the first out. But after walking Nick Franklin on four pitches, Pelfrey was pulled as the Twins opted to go with reliever Anthony Swarzak. Swarzak promptly gave up an RBI single on just his second pitch to catcher Jesus Sucre, but he was able to get Brendan Ryan to ground into an inning-ending double play.
"At that stage," Pelfrey said, "I felt like my arm was kind of dragging and they took me out, and it was the right decision."
It was another case of Pelfrey struggling in the sixth, as he's only reached the sixth inning in six of his 11 starts and has a 29.45 ERA in that frame this season with 12 earned runs in 3 2/3 innings.
"Right now with Pelf, it's about command," Twins manager Ron Gardenhire said. "He needs more consistency with his pitches. He was misfiring a bunch of pitches throughout the game, but he hung in there. His velocity was good and his secondary pitches were a little better, but it's about command in the strike zone."
Iwakuma, meanwhile, kept the Twins off-balance through 7 2/3 scoreless innings. The right-hander scattered seven hits and two walks while striking out five. He's also yet to give up a run against the Twins in 20 2/3 career innings.
"I got into a couple of tough situations, but I was able to make good pitches, execute when I needed to, and that's what got me out of the jams," Iwakuma said through translator Antony Suzuki.
Minnesota wasted a few chances against Iwakuma. Chris Parmelee doubled to lead off the third and reached third base on a single from Pedro Florimon, but he was thrown out by Ryan at home plate trying to advance on a grounder from Jamey Carroll.
"It was a contact play," Parmelee said. "I was just a hair late leaving. Ryan made a pretty good play at shortstop; [Sucre] was blocking most of the plate, got out of the way when I was about to slide in."
The Twins also ran into bad luck in the fifth, when Parmelee walked and would've scored on a double down the left-field line from Florimon with two outs. However, the ball bounced over the fence for a ground-rule double, which sent Parmelee back to third. Carroll grounded back to Iwakuma to end the inning.
It was more of the same in the seventh, as Parmelee singled and reached third with two outs on Florimon's third hit of the game, but they both were stranded when Carroll grounded out to third to halt a potential rally.
Iwakuma ended his night in the eighth, when he gave up a one-out single to Joe Mauer and came out of the game with two outs in favor of left-hander Charlie Furbush, who struck out Justin Morneau to end the inning.
"He had good stuff," Parmelee said about Iwakuma. "He threw the heck out of that split-finger tonight. Like I said, timely hits. Some hits we could have gotten and put some runs on the board."
Rhett Bollinger is a reporter for MLB.com. Read his blog, Bollinger Beat, and follow him on Twitter @RhettBollinger. This story was not subject to the approval of Major League Baseball or its clubs.