Teixeira hitless in debut, but glad to be back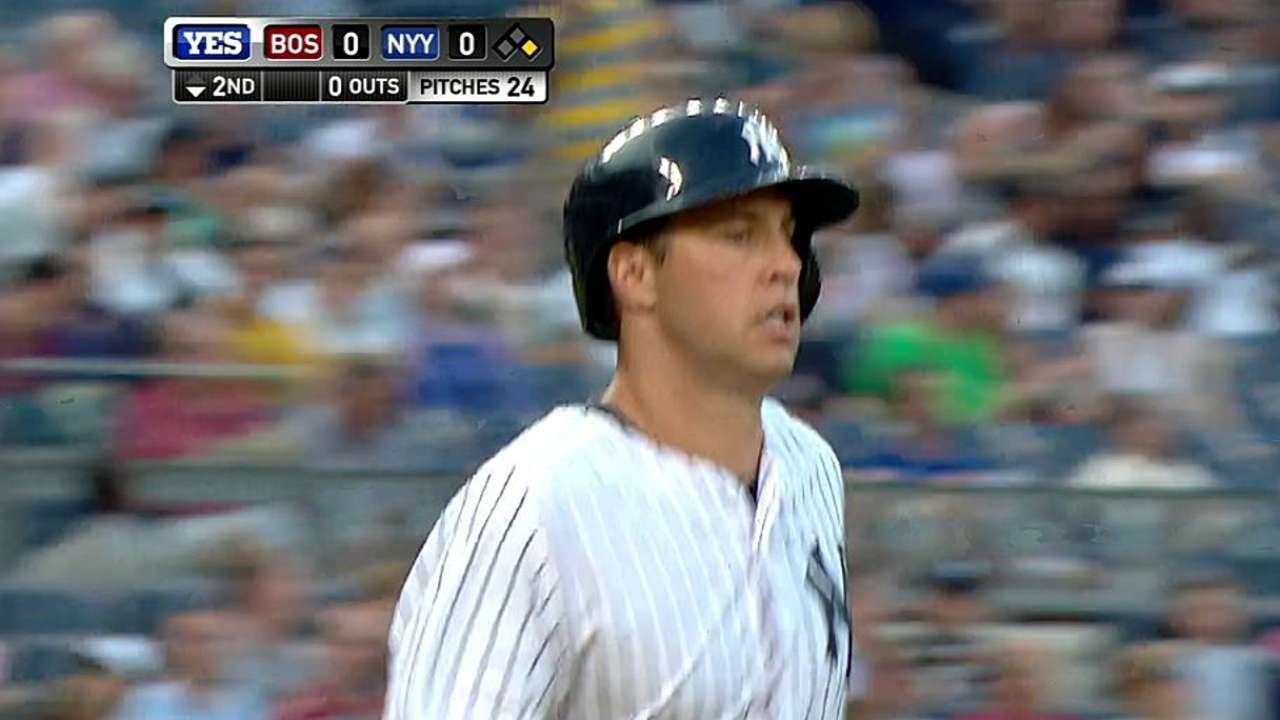 NEW YORK -- Mark Teixeira would have been in the lineup the day after suffering a strained right wrist during Spring Training if the Yankees had let him. The first baseman wanted to be on the field with his teammates, and he surely didn't want to spend the early part of the season working out in Tampa, Fla., or playing rehab games in Trenton, N.J.
However, that's exactly what Teixeira was forced to do. His injured right wrist kept him sidelined for nearly three months and forced the 33-year-old slugger to miss the Yankees' first 53 games.
On Friday, though, Teixeira's long wait finally came to an end. The first baseman came off the disabled list and played his first game of the season for the Yankees, manning first base and batting cleanup in New York's 4-1 win over Boston.
"No one wants to take two months off, especially me," Teixeira said after the game. "Getting back out there was a lot of fun. Hopefully this is the last DL stint of my career."
Teixeira went 0-for-3 at the plate with a walk and a run scored in the first inning. He grounded out to shortstop in the fourth inning, struck out looking in the sixth and struck out swinging in the eighth.
"[Going] 4-for-4 would have been great tonight, but I wasn't expecting that," Teixeira said. "I'm expecting to get in the rhythm, play every day. As long as I'm swinging at good pitches, as long as I'm not really expanding the zone … I want to see a lot of pitches, swing at strikes, and that's what I did tonight."
Teixeira said before the game that he felt great and wasn't experiencing any soreness or stiffness. He plans to ice the wrist after games for the next week or so, but the veteran said he won't need any additional treatment.
But if he does feel any pain, he's already assured the Yankees' training staff there won't be any toughing it out.
"I promised Steve Donohue that if it's ever sore I'll let him know," Teixeira said. "I may need a day off here or there, who knows, but my plan is I'm going to be healthy the rest of the season. … Now you just cross your fingers and hope there's no issues."
The fact that he's a switch-hitter should help. Teixeira, who suffered the injury while swinging left-handed, said he's been able to loosen up with right-handed swings before moving to the other side of the plate. Jon Lester, a left-hander, started for Boston on Friday, and the Yankees will face another lefty in Felix Doubront on Saturday, meaning the majority of Teixeira's first swings of the year will come from the right side.
Teixeira wasn't able to do it Friday night, but he said getting a hit would help the wrist, too.
"It feels better when you make contact, and I was dry swinging for so long I finally said, 'Let me just swing a bat and let me just hit a ball,'" Teixeira said. "Guys usually don't get hurt when they hit the ball; guys usually get hurt when they swing and miss. So once I started hitting the ball in the cages and BP on the field, its felt really good since then."
It's good news for the Yankees, who finally broke out of their offensive slump and ended a five-game losing streak Friday night.
"We had some great at-bats against Lester," Teixeira said. "His stuff was really good, he was getting a lot of low strikes, so we really had to put our best at-bats against him and get anything across the board. To score four runs off him is pretty good."
Of course, the return of Teixeira and third baseman Kevin Youkilis doesn't mean the team's recent hitting woes will suddenly disappear. Shortstop Derek Jeter, third baseman Alex Rodriguez and outfielder Curtis Granderson are all still on the shelf due to injury, and manager Joe Girardi will have a lot of roster decisions to make regarding first baseman Lyle Overbay, third baseman David Adams and others once those players are healthy.
But getting two All-Stars back in the lineup definitely proved a step in the right direction for the Yankees. As long as Teixeira avoids his normal slow start, that is.
"If anyone has any tips that they can give me, I'm up for tips," Teixeira said, laughing. "You just have to go out and play. There's a rhythm you have to get into. Hopefully that rhythm doesn't take long at all."
Bryan Hoch is a reporter for MLB.com. Follow him on Twitter @bryanhoch and read his MLBlog, Bombers Beat. Josh Vitale and David Wilson are associate reporters for MLB.com. This story was not subject to the approval of Major League Baseball or its clubs.