Boggs optioned to Triple-A for a second time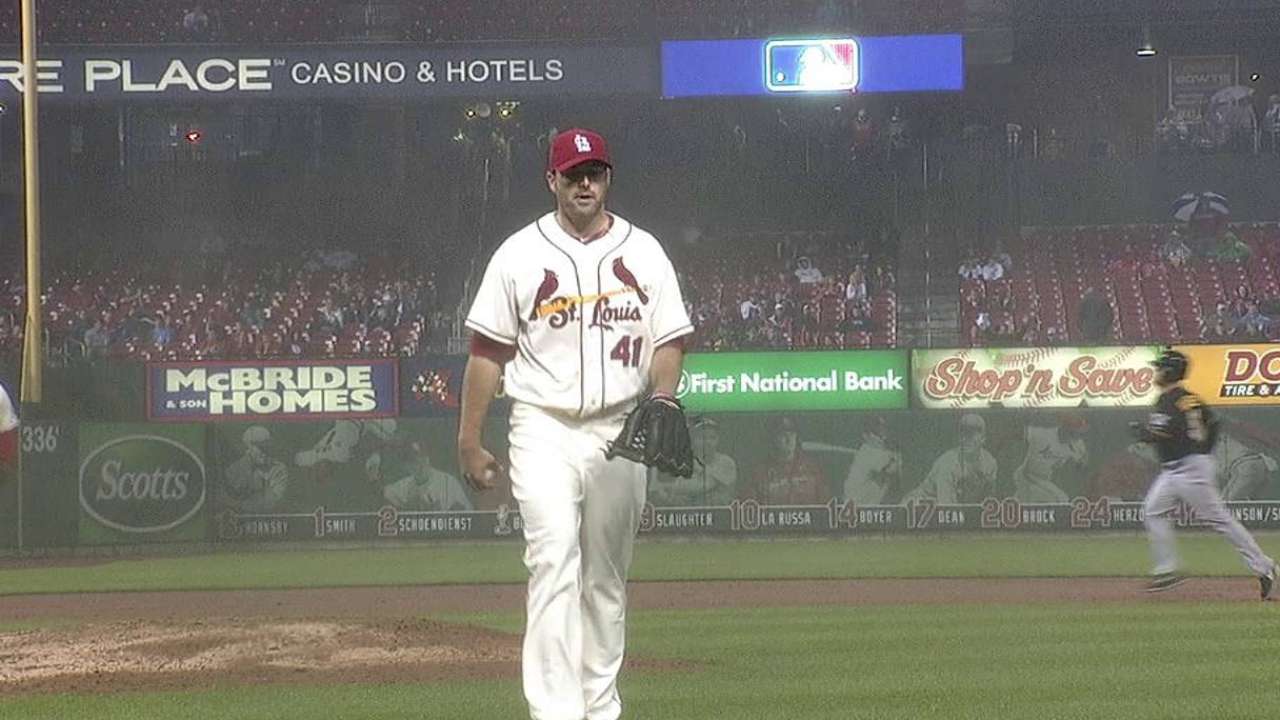 ST. LOUIS -- A day after blowing another save, Mitchell Boggs was sent back down to Triple-A without any organizational promise of how long he'll be away. In a corresponding move, the Cardinals replaced Boggs with reliever Keith Butler.
Boggs' tumultuous season took another sharp dive on Thursday, when he was called upon to pitch in a save situation for the first time since April 14. It turned ugly immediately with Jeff Francoeur's game-tying homer, and, after issuing a walk, Boggs left the mound to a chorus of boos.
The blown save was Boggs' third this season and shattered any goodwill that the right-hander had built back up after returning from Memphis on May 19.
"Rather than just trying to keep running him out there and have him get beat up -- which doesn't make sense for him or for the club -- we made the move," general manager John Mozeliak said. "In this case, it just seems like when he comes out, there's that dark cloud over him. We have to get him in a better spot and it may be here, it may not. I don't know the answer. But I felt compelled that we had to do something."
Manager Mike Matheny explained the multi-layered decision to use Boggs in a one-run game on Thursday again the day after. Workload concerns precluded the manager from turning to closer Edward Mujica or setup man Trevor Rosenthal, and Matheny preferred to turn the game over to someone who has closed games before.
Matheny said he also saw potential for Boggs to parlay a scoreless inning on Thursday into something more long-term.
"I had a lot of confidence that he was going to get the job done," Matheny said. "He's a very mentally tough guy, and I had a lot of confidence that this was going to be his opportunity to turn his season around and be a huge part for us moving forward. It just didn't work out."
The reward may have been huge, though in this case, the opposite outcome was equally devastating.
"Mike was trying to get it to where he had success, and it would be that springboard to future success," Mozeliak said. "The downside is if it doesn't work, it's sort of an ultimatum. It's sort of high upside, very, very bad downside. It's a risk-reward proposition, and you roll the dice."
Boggs, who opened the season as the Cardinals' closer, was first demoted to Triple-A on May 2 after allowing 15 earned runs on 17 hits in 10 2/3 innings. He returned to the Majors 17 days later and had been scored upon in three of his four appearances.
Matheny met with Boggs on Friday to inform him of the club's decision.
"He took it exactly how you're supposed to," Matheny said. "He was not happy; hurt. He's such a team guy and he's so well-respected in that clubhouse and with the coaching staff. He just kept apologizing that he let us down. I realize people probably just look at what the bottom line is, but these are people, too. And it's a tough deal all the way around. He's tough enough, too, that he's going to go and use this as motivation to figure this out again. It's not his first time in this spot, but I think after such a strong season last year, [he] thought some of this stuff was behind him and it was time to move forward."
Jenifer Langosch is a reporter for MLB.com. Read her blog, By Gosh, It's Langosch, and follow her on Twitter @LangoschMLB. This story was not subject to the approval of Major League Baseball or its clubs.