Youkilis goes 1-for-4 with an RBI in first game back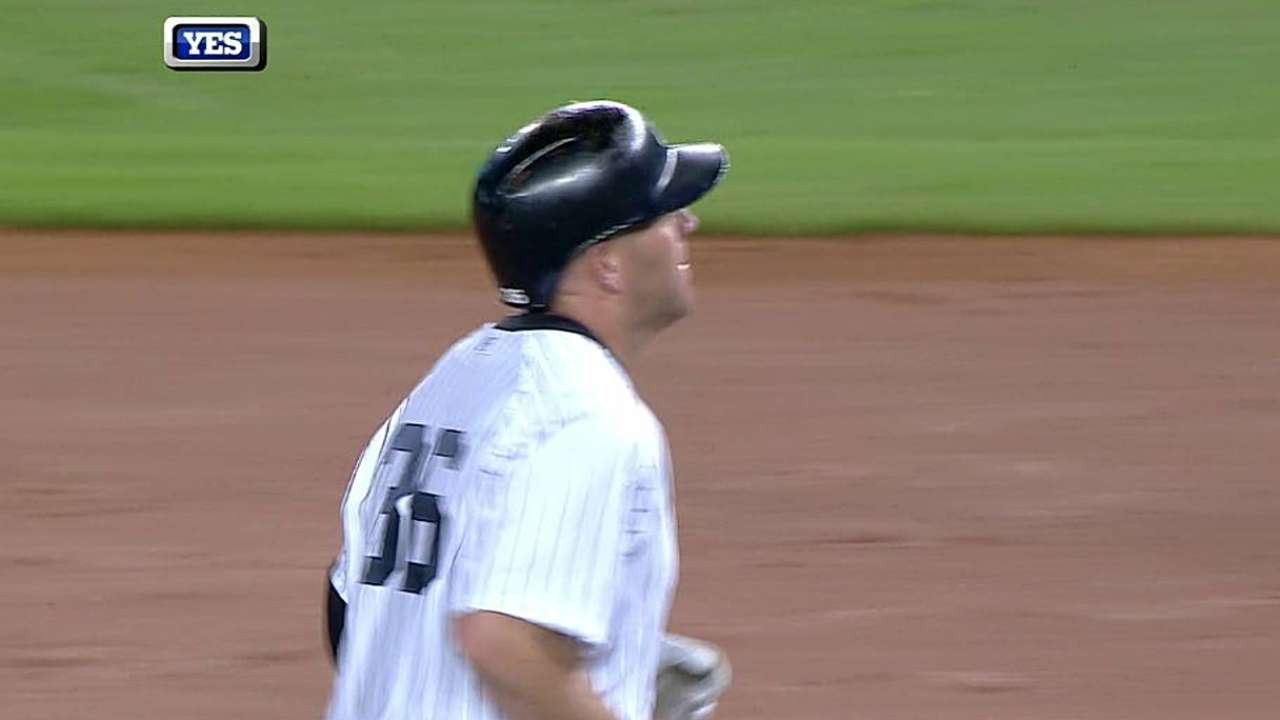 NEW YORK -- Kevin Youkilis sat in the clubhouse about three and a half hours before the Yankees started a three-game series against his former team. Stretching out his legs on the floor, he's a representation of what Friday night brought to the Bombers' lineup -- an injured star, and a reinforcement coming just in time.
"It felt good," Youkilis said after playing his first game since April 27. "Just DHing, and there's not really much you can do out there, so it's an easy day for the body and all that."
Youkilis returned to the New York lineup as a designated hitter on Friday night, delivering a 1-for-4 performance with an RBI in a 4-1 victory over Boston. The Yankees snapped a five-game losing streak and pulled within one game of the Red Sox in the American League East.
Youkilis batted second in his first game since being put on the disabled list on May 1 with a back injury. David Adams played third base.
Youkilis struck out in his first at-bat and grounded out to shortstop in his second, but he delivered a critical insurance run in his third plate appearance.
Youkilis stepped to the plate in the bottom of the fifth inning with runners on first and second. He singled past a diving Jose Iglesias at third base to bring Ichiro Suzuki home from second base and stretch the Yankees' lead to 3-0.
"In the big leagues, all the hits you can get is always a good thing," Youkilis said, "but in those situations, especially with the 3-0 lead, it gives a little more breathing room to the pitcher."
Youkilis struck out looking in his fourth and final at-bat.
Manager Joe Girardi wasn't sure where Youkilis would play on Saturday night in the second game of the series. Youkilis played third base in both of his games with Double-A Trenton and Girardi said "there's a good chance" he could serve as the designated hitter again on Saturday.
Most importantly, though, Youkilis' -- and first baseman Mark Teixeira's -- return adds that flexibility and versatility. Youkilis brings a right-handed bat to a lineup that started seven lefties Friday night and batted six in a row Thursday. With Youkilis slotted in the two-hole, it splits up the left-handed-hitting Brett Gardner and Robinson Cano, who had been batting 1-2 with Youkilis out.
That extra bit of depth let Gardner take New York's first walk since Monday to lead off the first inning and overshadowed an 0-for-3 game from Cano that could've been disastrous as recently as Thursday night.
"Anytime you add a couple guys like that to the lineup, it doesn't hurt," Gardner said. "We've been scuffling a little bit lately, and tonight we were good enough to get the job done."
Bryan Hoch is a reporter for MLB.com. Follow him on Twitter @bryanhoch and read his MLBlog, Bombers Beat. Josh Vitale and David Wilson are associate reporters for MLB.com. This story was not subject to the approval of Major League Baseball or its clubs.