Hamels allows career-high 12 hits in loss
Left-hander's record falls to 1-9; Brown homers twice for 12 in May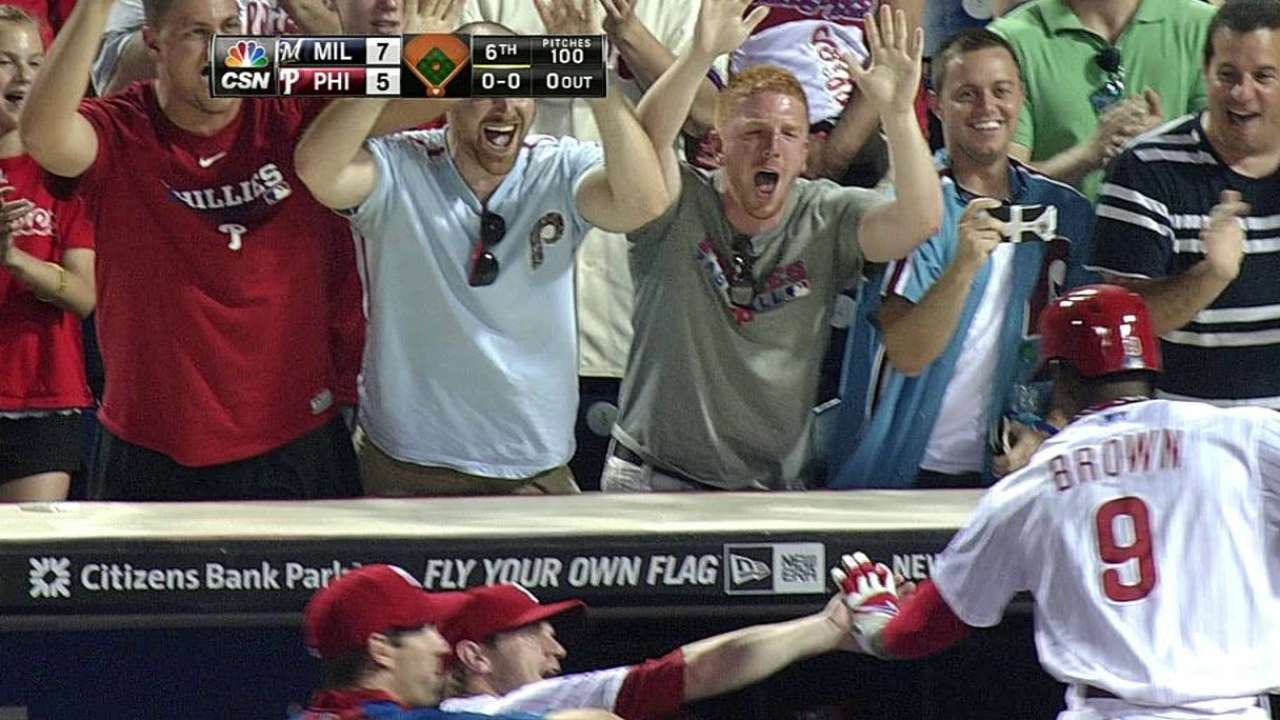 PHILADELPHIA -- Cole Hamels' strange season got a little bit stranger against the Brewers on Friday night at Citizens Bank Park.
Staked to his first lead in almost two months, courtesy of a three-run homer by a torrid Dominic Brown in the bottom of the first, the Phillies' Opening Day starter gave it all back before two innings elapsed.
Milwaukee went on to win, 8-5, despite a second homer by Brown, who hit 12 in the month of May and how leads the National League with 15.
Hamels, who lost just six times all last season and avoided free agency by signing a 6-year, $144 million extension, fell to 1-9 with a 4.86 earned run average. He gave up a career-high 12 hits in five-plus innings. He's the first Phillies pitcher to lose nine games before June 1 since Kid Gleason in 1891.
In this case, though, the numbers don't fully explain how the game took a turn for the weird after the last-place Brewers got two runs back in the second.
"He gave up quite a few hits, but some of them he couldn't do nothing about," said manager Charlie Manuel. "It was one of those games for him. It's definitely different. I would have never figured he'd have this much trouble winning a game, of course. You watch and you see things that happen in the game some times and it's hard to believe sometimes."
It all started when leadoff hitter Norichika Aoki opened the top of the third by chopping a pitch into the dirt in front of the plate. It took a kangaroo hop over the mound and Aoki easily beat the throw to first. Jean Segura followed with a soft grounder to second that Cesar Hernandez bobbled for an error. Ryan Braun followed with a flare into no-man's land in right to load the bases with nobody out.
Hamels shattered the bat of cleanup hitter Aramis Ramirez, who got just enough wood on the ball to muscle it into the outfield to tie the score at 3-3. The Brewers went ahead on a sacrifice fly by Carlos Gomez. Jonathan Lucroy drove in a run with a clean base hit and Milwaukee scored again when Yuniesky Betancort's comebacker deflected off Hamels and rolled softy toward first.
That was four runs on two infield hits, a bloop, some kindling and an error. Only two balls were well struck, and one of those was an out. And the Phillies never led after that.
"All I control is making a pitch," Hamels said. "Trying to analyze the swing path and see what the guy's strengths are and what they're trying to do with certain pitches. That's all I can control. Keep going out there, make the pitch, get the ball back and make another one.
"The game of baseball is very funny. It's just a situation I have to deal with. I don't have a lot of control over certain aspects of the game. All I can do is fight away and try to make the right pitches."
Manuel said he doesn't think the accumulation of losses is getting to Hamels' psyche.
"He's always very confident in his pitching," Manuel said. "He was battling. He didn't show a lot of frustration. He definitely shows signs of being a little angry or mad. But I would hope so. That's part of it. There's nothing wrong with that as long as you keep your cool and stay under control."
There have been times that Hamels has been victimized by lack of run support. There have been times he hasn't pitched that well. There have been times he hasn't caught a break. The one constant is that the Phillies have lost 11 of the 12 games he's started.
At first, that seemed destined to change Friday night. Hamels put the Brewers down in order in the top of the first. And a Phillies offense that has struggled to score runs quickly jumped on Yovani Gallardo.
With two outs, Jimmy Rollins singled and stole second. Ryan Howard, who walked over 100 times in 2006 and 2007, worked a base on balls for the first time since May 14. Then Brown delivered again, golfing a home run into the seats in right-center.
He followed that with a solo shot off Gallardo in the sixth which gave him eight in his last 11 games to go along with 16 RBI.
That's pretty good. But on another strange night for Hamels, it wasn't quite good enough.
"No matter what my statistics look like, you want the team to come away with a win when you're out there. That hasn't happened too much and that's the difficult part," Hamels said. "Something that you learn throughout your career is to find the balance so you can approach your career the right way.
"It's a process. Early on, you want to have success so bad that you kind of get out of character. But as you start to grow and experience a lot more of what the game throws at you, you learn to control it better."
Paul Hagen is a reporter for MLB.com. This story was not subject to the approval of Major League Baseball or its clubs.