Lucroy's five hits lead Brewers past Phillies
Hits pair of homers, drives in four as Crew ends May with victory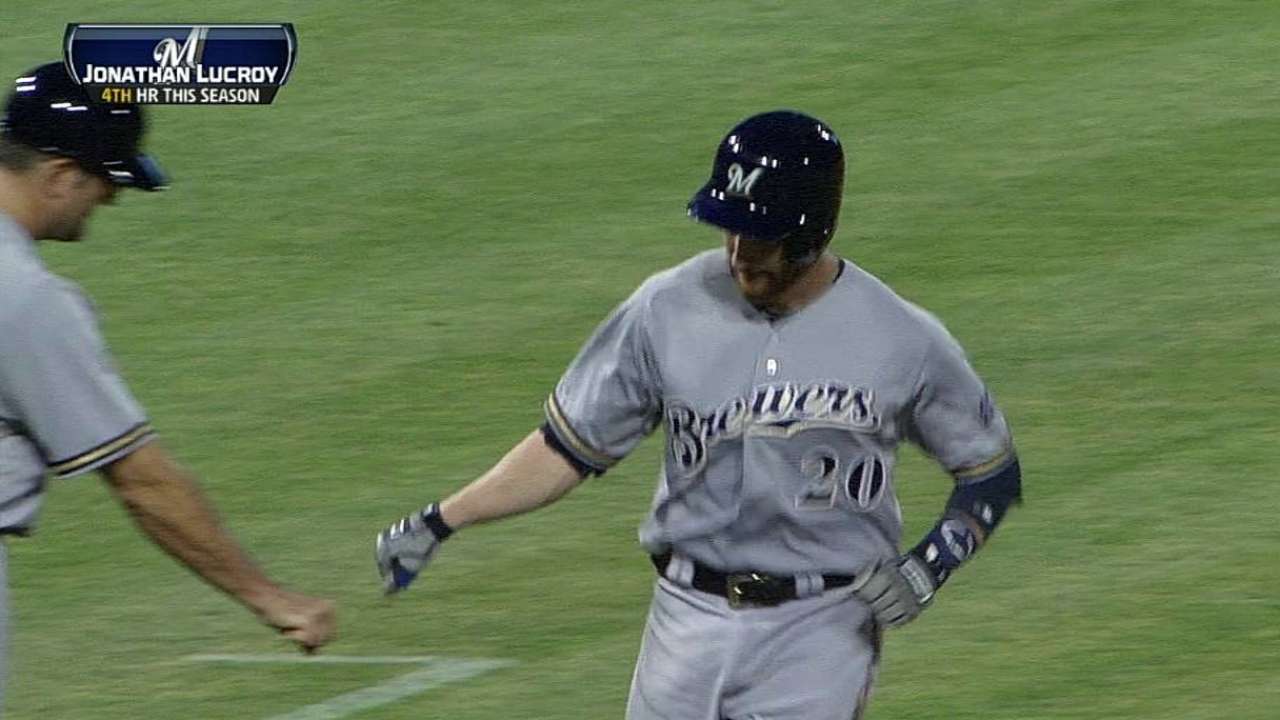 PHILADELPHIA -- The Brewers bid farewell to one of the worst months in franchise history by beating up on a pitcher going through tough times of his own.
They bounced, blooped and broken-batted Phillies left-hander Cole Hamels into submission during a four-run third inning that gave the Brewers their first lead in 62 innings, then held on with perfect relief pitching for an 8-5 victory at Citizens Bank Park.
Good riddance to May, Brewers catcher Jonathan Lucroy said after a breakthrough night at the plate.
"I'm very happy to be in June now," said Lucroy, who homered twice, set a career high with five hits and a season high with four RBIs, and finished a triple shy of the cycle. "May was a tough month. A tough, tough month. I think we all want to turn the page and move on."
The Brewers needed the victory to snap a six-game losing streak and finish 6-22 in May, merely matching their worst month, winning percentage-wise, in 45 years as a franchise. The 1969 Seattle Pilots were 6-22 (.214) in August in their only season before a hasty move to Milwaukee the following spring.
By winning Friday, the Brewers avoided what would have been only the fourth 23-loss month in franchise history, a dubious mark they have not matched since 1977. And by improving to 20-33 overall, they avoided entering the month of June shy of 20 victories for the first time since 2002, when they were 18-36 through May 31 and went on to lose 106 games.
"I still know that we're going to turn this thing around," manager Ron Roenicke said on Friday afternoon. "I don't know how good we'll be, but I know we're a lot better club than we've shown. I'm waiting to get to that part where all parts are working well. I know it's in there."
The Brewers showed him glimpses of it a few hours later, but only after the Brewers fell into a 3-0 deficit behind starter Yovani Gallardo.
The right-hander worked through a 36-pitch first inning, allowing a two-out single and a walk before Phillies left fielder Domonic Brown hit a 3-and-0 fastball -- Gallardo's 32nd pitch -- into the seats for the first of Brown's two home runs in the game.
Brown homered again off Gallardo in the sixth inning and belted 12 homers in May. Both of his big hits against Gallardo came on misplaced fastballs that were supposed to be low and away.
"He's hot, so that's the last thing you want to do against a hot hitter," Gallardo said. The first-inning homer allowed Hamels to pitch with a lead for the first time since April 7, but he couldn't hold it, and exited with nobody out in the sixth inning in a 7-4 deficit, having surrendered a career-high 12 hits. He lost his sixth straight start.
Hamels' trouble began with a two-run second inning that included Lucroy's booming double off the top of the right-field wall, and continued with four more Brewers runs in a third inning that began with a Norichika Aoki single that bounced over Hamels' head.
It was just the first of the Brewers' fortuitous bounces. Jean Segura followed Aoki and both runners were safe on an error by second baseman Cesar Hernandez. Ryan Braun loaded the bases with a single that blooped into right field, and Aramis Ramirez shattered his bat, but managed to push a tying single through the hole between first and second.
Carlos Gomez followed with a go-ahead sacrifice fly that gave the Brewers their first lead since their 2-1 win over the Pirates exactly one week earlier. It snapped a streak of 61 consecutive innings in which they trailed or were tied.
Lucroy added insurance with the only sharply-struck hit of the inning -- a ringing single to right field -- and Yuniesky Betancourt scored one last lucky break with an infield single that hit Hamels and dribbled toward the infield dirt. By the time Hamels escaped, he found himself in a 6-3 deficit.
"We got big hits, but we got really lucky today, too," Roenicke said. Added Lucroy: "I think it's about time we had some cheap hits go our way."
The Phillies fell to 1-11 when Hamels starts, and his ERA climbed to 4.86.
Some fans voiced some displeasure as Hamels walked off the mound.
"I understand," Hamels said. "I want to go out to win. The fans want to see me win. The fans want to see me win. My teammates want to win. When it doesn't go your way it's very unfortunate because of the competitiveness that I have."
Gallardo improved to 4-0 lifetime against the Phillies, despite an uneven effort during which he allowed five earned runs and needed 112 pitches to navigate 5 2/3 innings. Gallardo walked three batters and surrendered six hits, half of which were home runs, including two by the hot-hitting Brown.
Brewers relievers made the lead hold up. Burke Badenhop, Michael Gonzalez, John Axford and Francisco Rodriguez combined to retire all 10 Phillies hitters they faced, with Gonzalez striking out two batters in the eighth inning and Rodriguez recording his 296th career save in the ninth.
"I thought [Gallardo] pitched really well, considering he hasn't had his best stuff for a while," Lucroy said. "I saw some flashbacks of 'old Yo' tonight, for sure."
Adam McCalvy is a reporter for MLB.com. Read his blog, Brew Beat, and follow him on Twitter at @AdamMcCalvy. This story was not subject to the approval of Major League Baseball or its clubs.