Brett, Royals put in late hours against Cards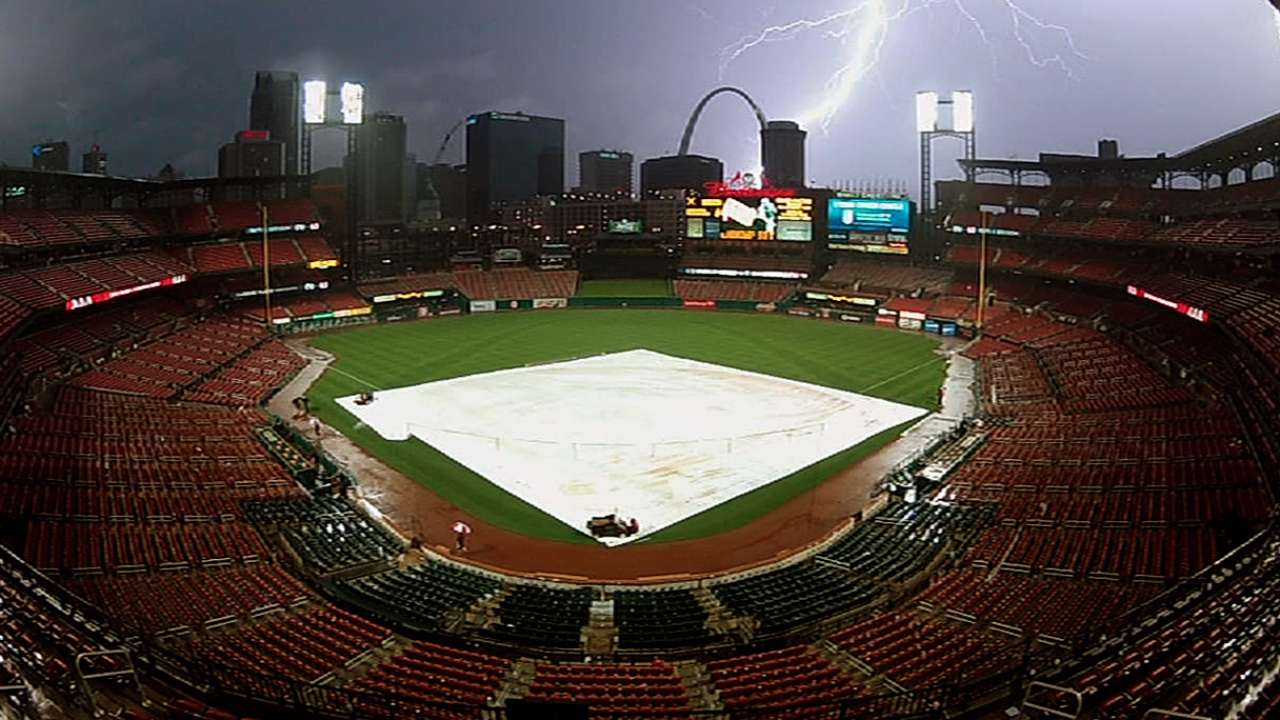 ARLINGTON -- Interim hitting coach George Brett remembered why he retired after the Royals' 4-2 win over the Cardinals on Thursday.
The team got to the hotel in Texas at 7 a.m. CT following two rain delays in St. Louis, the latter lasting just over 4 1/2 hours. The I-70 Series finale concluded at 3:14 a.m. on Friday.
The late evening took Brett back to his final season, when he brought his wife along for her first road trip to Seattle. Brett said the Royals got to Seattle at 4 a.m. local time following a road game.
"I wake her up and she says, 'What time is it?' I said, '4 o'clock in the morning," Brett said. "If this isn't a reason to retire, I don't know what is.
"My first day back, we get to the hotel at seven in the morning. I'm going, "What am I thinking? ... But it was a win, so I didn't mind."
Welcome back the majors, George.
As for the players, it was a late arrival to the clubhouse on Friday. Catcher Adam Moore was one of the first Royals to arrive. Moore said the team was hanging around in the Busch Stadium clubhouse the night before playing cards during the rain delay, waiting out for the window to play again.
"I'm the guy that usually sleeps in quite a bit," Moore said. "That flight was good to get some sleep on, plus when we got back here, I was still able to get enough sleep. You never expect to play a game at 3 a.m. after a five-hour rain delay."
Royals outfielder Jeff Francoeur said he got about six hours of sleep. The sun came up just as the team landed.
"I'm walking into my room and people are having breakfast, having meetings," Francoeur said. "I've played in a 21-inning game, some 18-inning games, some playoffs, but nothing like waiting four hours and 32 minutes. We started an hour late and it just felt so crazy. And once we got out there [when play resumed], the game took 12 minutes and it was done."
Master Tesfatsion is an associate reporter for MLB.com. This story was not subject to the approval of Major League Baseball or its clubs.