Marcum unravels as Mets' win streak halted
Righty solved in seventh as offense wilts in Miami to end five-game run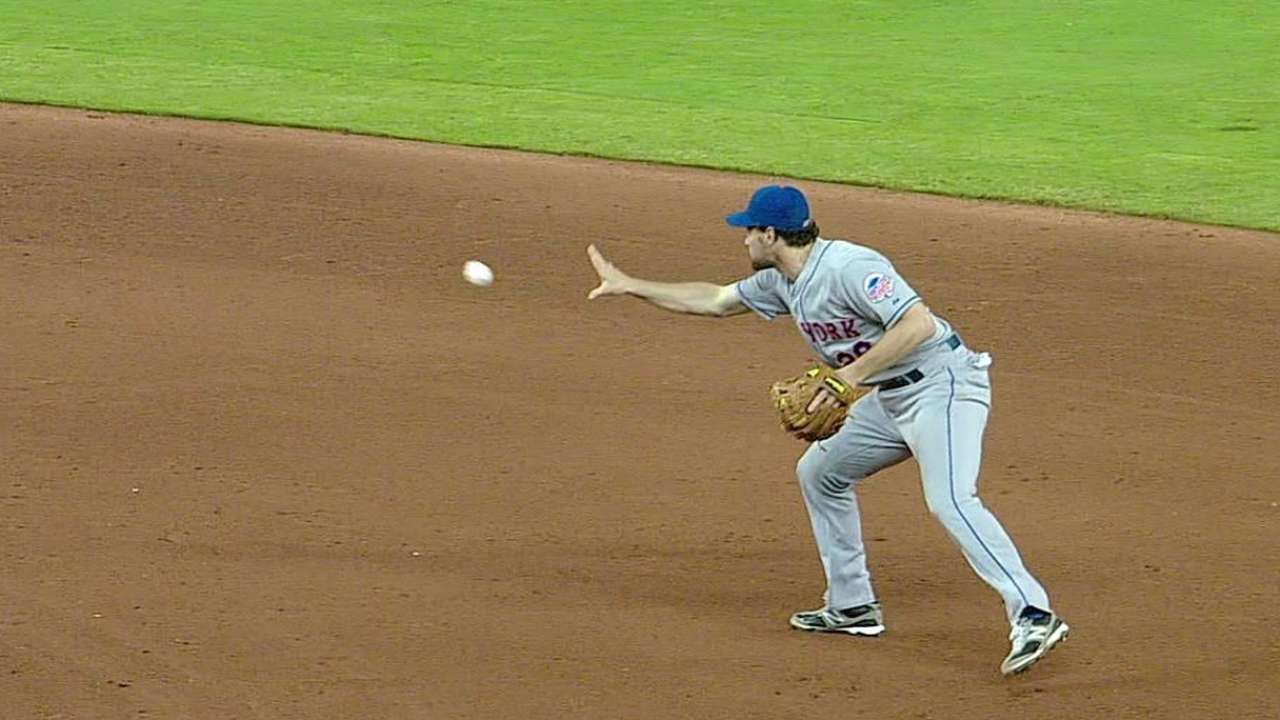 MIAMI -- Four emotional victories over the Yankees this week masked the fact that, for all their sudden pluck, the Mets are still not hitting. They averaged four runs per night during Subway Series play, much of that output coming against out-of-sorts Yankees starter David Phelps. In the 34 innings that Phelps did not pitch, the Mets scored 11 runs.
Without increased offensive production, their five-game winning streak was bound to end -- and soon. So it went unceremoniously on Friday, when the Mets' bats fell nearly silent in a 5-1 loss to the Marlins.
"We've had some big hits, which has allowed us to win some games lately," manager Terry Collins said. "We've had some big hits at the right time. And tonight, we didn't have any big hits."
Temporarily continuing his team's run of strong starting pitching, Shaun Marcum was nearly unhittable over his first six innings at Marlins Park, retiring nine in a row to start the game and escaping a bases-loaded, one-out jam in the fifth. But a quartet of rookies who opened this season in the Minors finally solved Marcum in the seventh.
Derek Dietrich led off the inning with a double, moved to second on Marcell Ozuna's hit and scored on a single by Ed Lucas, his first Major League hit. Another run came home on veteran Jeff Mathis' sacrifice fly, before Jordan Brown broke the game open with a two-run double to chase Marcum.
That washed away a nine-game run that saw New York's rotation post a 2.91 ERA. After Mets starters entered Friday's play with 47 strikeouts and one walk over their last 40 1/3 innings, Marcum issued two free passes and struck out only four.
Still, because most of the hits off Marcum were not particularly well-struck, both he and Collins considered it a positive outing.
"That's the frustrating part of the game is you can make quality pitches and still get hit," Marcum said. "But you've got to tip your cap to the other guys. They put enough wood on the ball to get them to fall in."
The result was hardly an insurmountable lead, if only the Mets could hit. They could not. Marlins starter Jacob Turner -- another player who began this season in the Minors -- stymied the Mets over seven innings, holding them to five hits and a walk and needing only 81 pitches to do it. The Mets' only run came on Daniel Murphy's two-out double against Mike Dunn in the eighth, plating new leadoff man Omar Quintanilla.
Murphy, who finished 2-for-4, is batting .382 over his last 19 games. But he could not take as many positives out of Friday night as Turner.
"He went out there tonight to prove something, and he did that," Marlins manager Mike Redmond said. "He went out there, he pounded the strike zone, he showed that he belonged here."
The Mets proved something, too: that their offense is still not where it needs to be. Despite their five-game winning streak against the Braves and Yankees, the Mets finished May with 88 runs in 27 games, second fewest in the Majors behind only -- guess who? -- the Marlins.
Statistically the worst team in Major League Baseball, the Marlins came into the night having lost nine in a row, making them polar opposites of the Mets. They struggled to do anything right throughout their funk, but particularly to hit -- which made Marcum's late meltdown all the more improbable.
"It's frustrating," Marcum said. "I think every pitcher will tell you it's more frustrating having bloopers fall in. If I'm going to lose, I'd rather make a mistake pitch and have them hit it over the fence."
The Marlins never did that, and neither did the Mets. Yet there was still a relatively upbeat vibe in the visiting clubhouse after the game, a hangover effect from this week's success in New York. The Mets have still won five of their last six games and eight of their last 15, giving them confidence that another positive streak may lie ahead.
"We won five in a row," Collins said. "OK, we lost one? Let's go win five more in a row. That's how you get back in it. You're not going to win 18 straight. You've got to take your streaks and when you get beat, start another one."
Anthony DiComo is a reporter for MLB.com. Follow him on Twitter @AnthonyDicomo. This story was not subject to the approval of Major League Baseball or its clubs.