After Strasburg scare, Nationals top Braves
Nationals' bullpen picks up the slack when ace exits with injury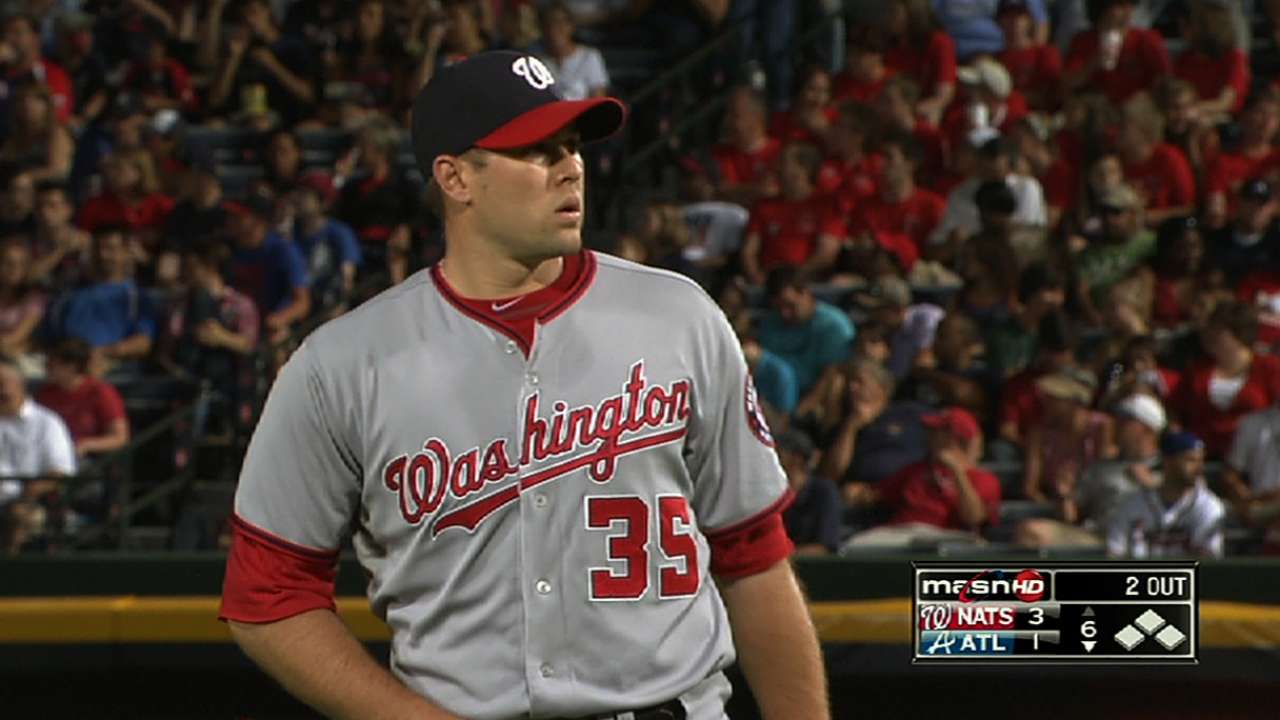 ATLANTA -- The Nationals couldn't be happier that May is over.
The month saw them lose almost as many games as they'd won while losing five players to the disabled list and another, Bryce Harper, possibly being the sixth. Then came one more scare.
After announcing that Harper would miss the entire weekend series with the first-place Braves because of continuing knee troubles, the Nationals lost ace Stephen Strasburg to a strained right oblique after only two innings.
But in what might be a good omen for June, things got better.
First there was relatively good news on Strasburg -- his ailment is a strained right oblique, nothing elbow-related.
Then the Nats held on to beat the Braves, 3-2.
"May has been a disaster, a lot of injuries and us just not playing our best baseball," said center fielder Denard Span, who had three hits, including a pair of triples, and scored twice. "If we can finish this month off on the right note against the first-place team in the division, that would definitely salvage our month and be a good confidence-booster going into June."
Steve Lombardozzi had a pair of sacrifice flies, both times scoring Span, and Roger Bernadina added a pair of knocks for the Nationals, who outhit the Braves, 9-4, and finally got the best of Atlanta rookie Julio Teheran (3-2).
Craig Stammen (3-1) led a tremendous effort by the bullpen, which held Atlanta to one run and two hits over the final seven innings to seal the win.
Washington scored nearly identical runs in the first and sixth innings off Teheran, as Span led off both frames with triples into the right-field corner, both just eluding Justin Upton, then scored on Lombardozzi's flyouts.
"It's real big to get to third with no outs. It increases our chances of scoring runs," said Span, who hit three triples in a game on June 29, 2010, as a member of the Twins. "Lombo did a good job hitting behind me and getting me in and getting us on the board."
The Nats added a run in the second on back-to-back one-out singles by Bernadina and Danny Espinosa and a run-scoring fielder's choice by Kurt Suzuki.
But the rest of the night belonged to the bullpen, as Stammen (3-1), Tyler Clippard and Drew Storen forged a bridge to closer Rafael Soriano.
Stammen was outstanding, retiring all 12 batters he faced from the third through the sixth, striking out three. Although he was caught a little off guard by the early entrance, he stayed true to what he does best.
"I try and stick to my routine of taking it one pitch at a time," Stammen said. "It may sound cliche, but it's really the only way you can look at it. If you put your heart and soul into every pitch every time, suddenly you look up, and you're through three or four innings. I knew I was going to have to do that, but it worked out in my favor today."
"Stammen, I heard, hadn't pitched in a while, so he was fresh," said Braves first baseman Freddie Freeman, who put Atlanta on the board with a solo homer off Strasburg in the second inning and later added an RBI single. "He went out there and gave them four strong innings, mowed right through us, and we just weren't able to get to him. But we got into the bullpen, so maybe that will help us out in the next two games."
The Braves nearly tied the score in an eventful seventh off Clippard, who threw 32 pitches and allowed one run on two hits. He plunked back-to-back lefties (Evan Gattis and Brian McCann) to put himself into a bases-loaded, one-out jam. He then fanned back-to-back righties (Dan Uggla and Chris Johnson) to get himself out of it.
Things then got back to normal, as Storen pitched a solid eighth before Soriano threw a 1-2-3 ninth, although he received a minor scare from Freeman, who chased Bernadina to the track in right-center in a bid for his second homer of the game and the equalizer.
In the end, Washington pitchers chalked up 10 strikeouts, eight of them coming from the relief corps.
Strasburg, who went into the game with a 0.96 ERA over his last four starts, allowed only a run and two hits while striking out two, but as he did in his previous start at Turner Field, showed signs of discomfort on the mound during the second inning.
After discussions with ptching coach Steve McCatty and manager Davey Johnson, Strasburg left the game. His status for his next start is uncertain, and he'll head back to D.C. to be further examined by the Nats' medical staff.
The Nationals passed their own internal examination, a gut-check that may get June off to a good start.
"Right now we're trying to get on track," said Span. "Being that it's Atlanta, it's a big series for us. If we can come here and take one more game out of the next two or the next two, that would be a big confidence-booster for us."
Jon Cooper is a contributor to MLB.com. This story was not subject to the approval of Major League Baseball or its clubs.