Behind CC's 10 K's, Yanks end five-game skid
Lefty allows one run over 7 1/3 as offense gets Teixeira, Youk back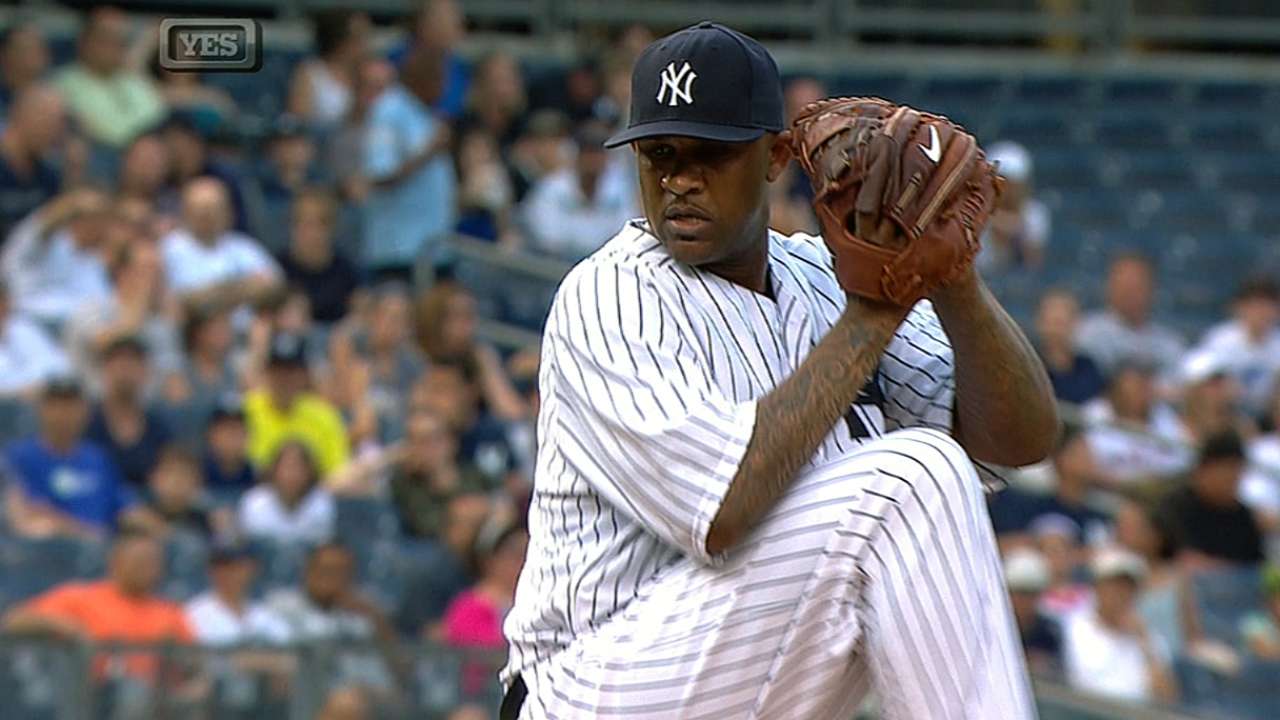 NEW YORK -- CC Sabathia said that he needed to help the Yankees out of their troubled patch and get the team back onto a winning track. His teammates appreciated that, but they're also thrilled that the big left-hander is pitching like an ace again.
Sabathia may have found the answers to his lingering problems in a sharp 10-strikeout performance, winning for the first time in more than a month as the Yankees snapped their five-game losing streak with a 4-1 victory over the Red Sox at Yankee Stadium on Friday.
"I always feel like it's my responsibility when I'm out there to give this team a chance to win -- go out and pitch well enough to try to win," Sabathia said. "With us having a tough week, getting swept by the Mets, you want to go out and have a good game. I was lucky enough to do that tonight."
The left-hander had not won since April 27, a span of five starts, and he said that his biggest struggles were coming in the departments of command and aggressiveness.
One start after lamenting that he was no longer helping the team, Sabathia was happy to showcase his good stuff on a steamy night in the Bronx, outpitching Boston's Jon Lester by completing 7 1/3 innings with a power fastball and his best slider of the season.
"CC was really good. When you have two aces out there, you just want to give them a few runs," said Mark Teixeira, who was activated from the disabled list on Friday. "Once we got that lead, you could just tell he wasn't going to give it up. He was upset at himself for giving up one run. That's how good he was tonight. He was pretty dominant."
Sabathia's 10 whiffs tied his season high set on May 14 against the Mariners, and marked the first time as a Yankee that he had recorded 10 strikeouts without issuing a walk.
"You don't really expect anything less from him," Lester said. "I know he hasn't really pitched well -- or probably up to his standards -- the past couple, so you knew coming in with us being here he was going to step it up and throw a good game, and he did that tonight. He threw the hell out of the ball tonight."
While Sabathia credited his improved command, his velocity also seemed to jump a tick, as manager Joe Girardi noted that the hurler seemed to sit at 92-94 mph instead of the 89-91 mph radar gun readings they'd been seeing.
"I felt a little better, but I couldn't really tell," Sabathia said. "I definitely felt like I got a couple swings and misses on my fastball and a couple guys were late, so it was definitely coming out a little better."
So did the Yankees' lineup, which at least looked more like the one envisioned this spring. Teixeira went 0-for-3 with a walk and run scored in his first game of the season, and Kevin Youkilis went 1-for-4 with an RBI single -- coincidentally, playing in his first big league game since Sabathia's last victory.
"These guys grind out at-bats," said Girardi, who was ejected for arguing a fifth-inning call at second base. "That's what they do, so I think their impact is big and we need to keep them healthy. It changes our lineup. It really does because it gives us a better balance."
Hoping to punch out of a skid that included the Mets' first sweep of a season Subway Series, the partially restored Yankees batting order produced four runs over 6 1/3 innings against Lester, who is winless in his last three starts after starting the season 6-0.
Jayson Nix and Ichiro Suzuki touched Lester for run-scoring hits in the second inning before Youkilis tacked on an RBI single in the fifth.
"Jon wasn't commanding the ball as much as he probably would have liked tonight, so our hitters really kind of played into that and made him throw more pitches and made him work," Youkilis said. "I think if you have a team that really focuses on that stuff, I think that's really a good thing, and I think this team does a good job of that."
That was enough for Sabathia, who said he only made a tiny change coming off a rough seven-run pounding his last time out against the Rays at Tropicana Field. Boston's only run against Sabathia came in the seventh inning, as Dustin Pedroia doubled and scored on a Mike Napoli double.
"It was a small difference," Sabathia said. "I didn't feel that much different than I did in Tampa, but just being aggressive in the strike zone and attacking guys, that was the biggest difference."
The Yankees added a run in the seventh as Brett Gardner laced an RBI single to greet reliever Andrew Miller, a run charged to Lester.
David Robertson got two outs in the eighth to set up closer Mariano Rivera, who put the Yankees back on a winning track by converting his 19th save in 20 opportunities, bouncing back from his blown save earlier in the week at Citi Field.
"I think it was an important game," Girardi said. "After the little stretch that we've been in and we've struggled a little bit ... all teams are going to go through it, that's the bottom line. But I thought it was an important win."
Bryan Hoch is a reporter for MLB.com. Follow him on Twitter @bryanhoch and read his MLBlog, Bombers Beat. This story was not subject to the approval of Major League Baseball or its clubs.