Keepsakes from milestones get different treatments
Players find many ways to display or store mementos earned on diamond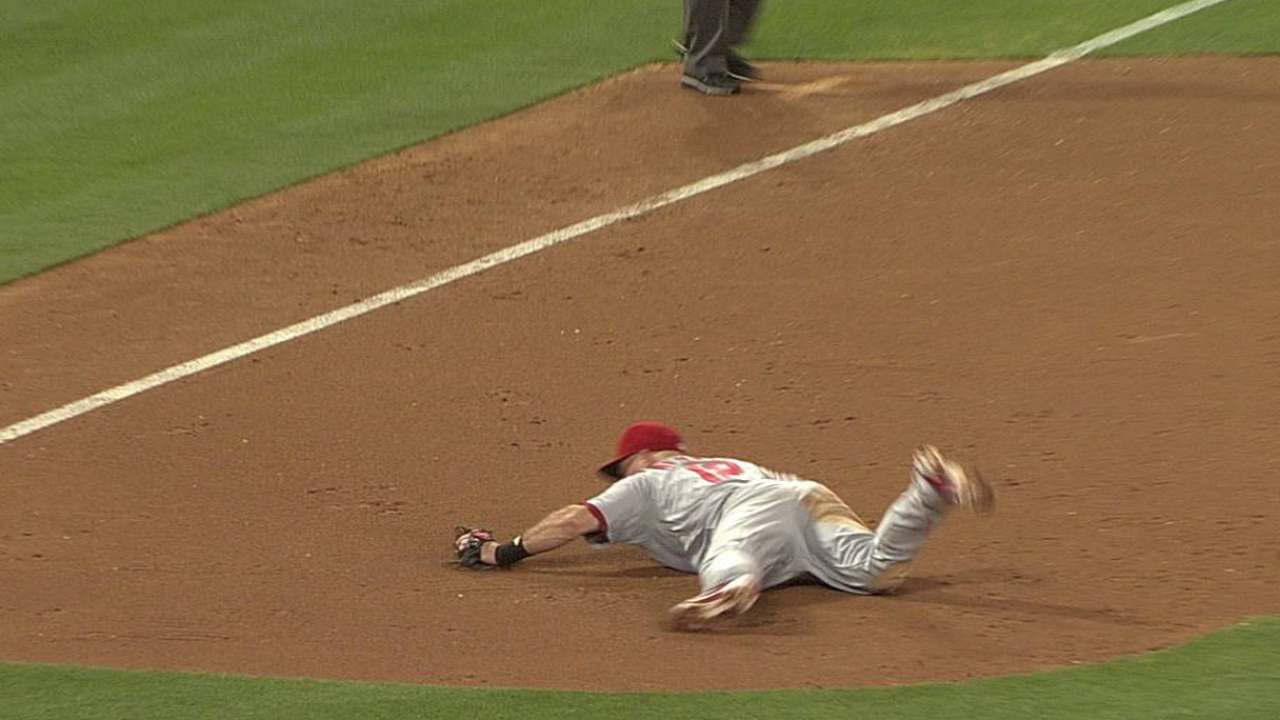 SAN DIEGO -- There are times when a baseball is a literal treasure, worth its weight in gold to a ballplayer.
On the night a player records his first hit -- or any other milestone, for that matter -- the best tangible keepsake he can procure from such a moment is the baseball itself. The glory of the evening soon fades away and the season continues, but the ball is meant to serve as a lifelong reminder of the occasion.
But what exactly happens to those baseballs? That all depends on which player you ask. Some have them stowed away in a box in the garage, collecting dust. Others have them proudly on display for visitors to see. It's truly a personal preference.
"I don't think you take a lot of stock in it while you're playing, but at some point, it'd be cool to look back. I think that's more or less why guys do it," said Cardinals utility man Ty Wigginton, who has the ball from his first hit, his first home run and his 100th home run in a display case at his home.
"It's your first Major League hit. Everyone who plays in the big leagues dreamed about being a Major Leaguer and that moment from the time they were 5 years old. I guess you look at it more as kind of a reward for all the hard work, all the long bus rides in the Minors."
To each his own. Carlos Beltran, whose locker is just a few away from Wigginton's in the Cards' clubhouse, takes a bit of a different approach to his mementos.
"I don't even know where a few of those balls are," Beltran laughed. "We have moved so much that sometimes you lose track."
Beltran -- a former Royal, Astro, Met and Giant -- qualified that he feels as though he doesn't need a baseball to appreciate the moment. All these years later, it's remembering the circumstances of the night that brings him back instead of the object.
Veteran Mariners catcher Kelly Shoppach keeps a number of baseballs from his biggest moments as a professional. He's currently working on a display for them in his home.
Every time Shoppach notches another milestone or records a memorable hit, he'll bring the baseball with him on his next trip to Tampa, Fla. There, he knows a calligrapher, who will pen the important information -- date, score, pitcher faced -- onto the ball.
"For me, it's just to show me, 'Wow, look what I've gotten to do, look what I've been able to accomplish,'" Shoppach said. "The game won't remember me. Fifteen years from now, no one will know who I was. We'll all be forgotten. Some guys won't. Some guys' names will live on forever, but for 98 percent of us, the game will move on and it will never think about us again.
"If we can take anything from this wonderful game, I think it's important to do so. Look what I got to do."
Padres closer Huston Street generally isn't one for scrapbooking. He's kept a few autographs from over the years, but doesn't save up much else -- except, of course, a ball from all 212 of his big league saves. Most of them are from the final out. If he gives that one away to a close friend or a teammate, he's sure to get a replacement ball from the night.
Street still hasn't figured out what to do with all of them yet, so he's marked every one and stored them in a big box (except for his 100th save ball, which sits on display in a plastic bag).
"It's more of a token that someone will figure out something cool to do with it later," Street said. "For me, I'm just content to get the next one. All I really think about is, 'Just get me one more.'"
Many ballplayers aren't exactly sure what to do with their milestone baseballs right now, but they've got future plans for them -- namely passing them along to future generations.
"There are a number of things that I'm proud of," said Padres manager Bud Black. "Whether it's a photo of me with a couple teammates or a moment or a ball or a lineup card. Some day I'll pass it along to my daughters."
Mariners slugger Raul Ibanez wastes no time passing along his mementos. He'd rather his son be in possession of them than him.
"It's cool for me, but I really just like giving it to him, more than anything," Ibanez said. "Someone will give it to me. I'll give it right to him."
Every so often, some new callup will notch his first big league hit. Whether it's a bloop or a blast is irrelevant -- the ball goes straight into the collection.
Sure, some mischievous veteran teammates may organize a prank to mess with the rookie's head. They'll toss a backup ball into the stands, or they'll use a decoy ball and misspell his name on it before presenting it. But in reality, those veterans wouldn't dare mess with such an important keepsake.
"When you look at the ball, what emotion," said Wigginton, clearly recalling his single off Randy Wolf on May 29, 2002. "You've accomplished your dream. At least for me, that's the way I look at it. Now it's a dream every night."
AJ Cassavell is a reporter for MLB.com. Follow him on Twitter @ajcassavell. This story was not subject to the approval of Major League Baseball or its clubs.