Cubs thump D-backs, notch fifth straight victory
Soriano, Hairston, Ransom homer; Garza goes seven in first '13 win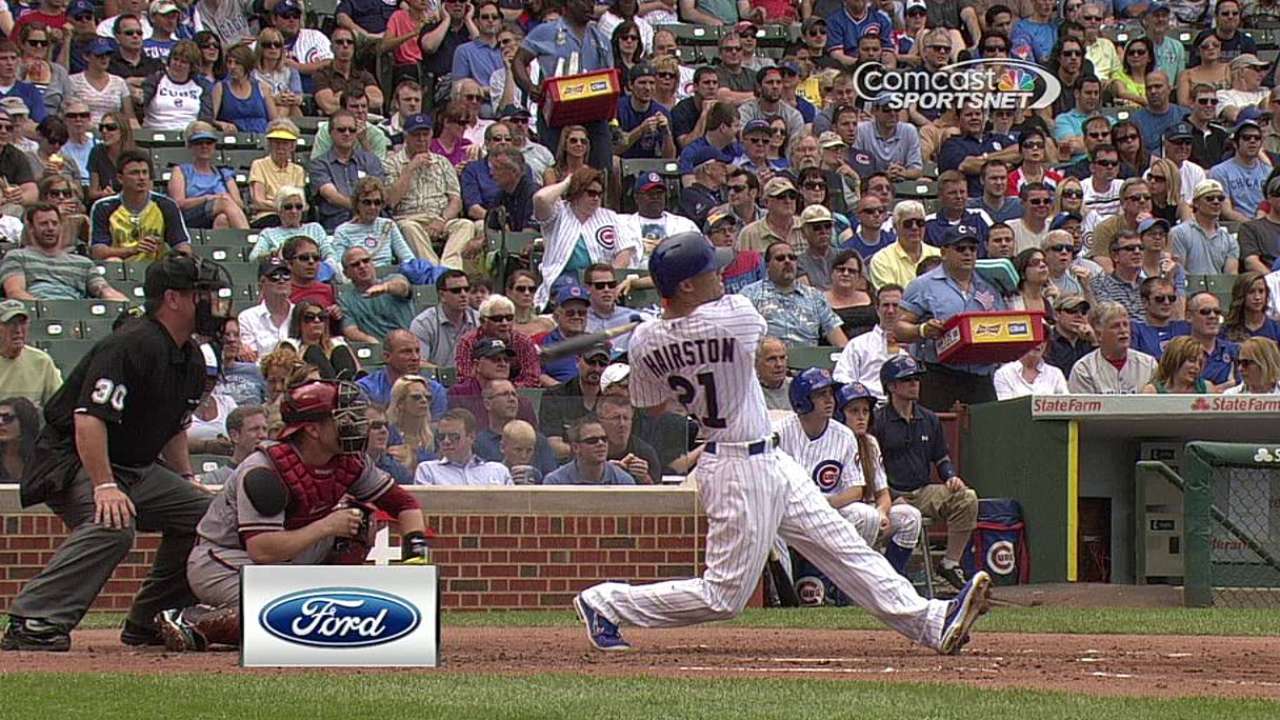 CHICAGO -- The Cubs welcomed Matt Garza back to Wrigley Field with a trio of home runs in Friday afternoon's 7-2 win against the D-backs.
Left fielder Alfonso Soriano (two-run homer), right fielder Scott Hairston (grand slam) and third baseman Cody Ransom (solo) each went deep for the Cubs, who won their fifth consecutive game for the first time since winning seven straight from July 31-Aug. 6, 2011.
The home run parade was plenty of support for Garza (1-0, 3.38 ERA), who turned in his best outing of the season in his 2013 home debut.
Making his third start after missing time with a strained left lat, Garza held the D-backs to two runs on six hits in seven innings. He also struck out four and walked zero on 93 pitches, 66 of which were strikes, to earn his first win since last July.
"I was more pumped about going deep. I wanted to keep going," Garza said of earning his first win. "I'm pumped to get it out of the way. Yeah, it's huge, but I'm just glad to keep this [winning streak] going."
The Cubs instantly backed Garza in the first, thanks to Soriano's homer, a wind-aided two-run shot to left-center.
The D-backs didn't want to face Soriano again in the third with one out and runners at second and third, opting to intentionally walk him. Hairston made Arizona starter Wade Miley (3-5, 5.01) and the D-backs regret that decision, launching Miley's 1-1 slider to left field for a grand slam.
Hairston's shot, following pitcher Travis Wood's on Thursday, marked the first time the Cubs hit grand slams on consecutive days since July 27-28, 1998, when Sammy Sosa hit one in each game at Arizona.
The last time the Cubs accomplished the feat at Wrigley Field was Sept. 15-16, 1972, when Jim Hickman and Burt Hooton did so against the Mets.
"You try not to get too excited in that situation, but the wind was blowing out, so I told myself not to get cheated," said Hairston, whose last grand slam came at Wrigley Field last June 27 while with the Mets.
Ransom launched his solo homer two batters later off Miley, who retired 13 of the final 14 batters he faced after Ransom's drive.
The Cubs have hit 11 homers in their last five games and have won four straight games by five or more runs for the first time since Aug. 23-26, 2008.
"It is hard to figure out. I don't think you can," Hairston said of the club's current winning streak following its six-game skid.
The D-backs scored twice against Garza in the sixth on shortstop Didi Gregorius' sacrifice fly and an RBI double by catcher Miguel Montero, but that was all Garza allowed.
The 29-year-old right-hander was in prime form, pounding the zone with his fastball. Garza threw 82 percent fastballs and issued first-pitch strikes to 15 of the 26 batters he faced.
"He kept it simple, fastballs to both sides of the plate, up and down, mixed in his breaking stuff and kept the balls off the barrel," D-backs first baseman Paul Goldschmidt said.
Garza acknowledged that was his focus.
"I"m just a guy who's going to go out there and pound the zone and attack and the last couple starts I've been pitching around it," he said. "I was getting high pitch counts early and that's not who I am. I go after guys and make them put it in play."
And Garza's defense backed him. Hairston made two nice plays in right field in the opening inning -- a running catch in the gap and another against the ivy -- David DeJesus made a sliding catch in center and second baseman Darwin Barney made a nice stab in right field to open the seventh.
"We've got guys making plays all over the place," Garza said.
Friday's outing extended Garza's streak of surrendering three or fewer earned runs at Wrigley Field to 19 consecutive starts, dating back to June 27, 2011. Garza is 8-4 with a 2.01 ERA in that stretch, the longest since Kerry Wood's 22-game streak from July 7, 2000-April 20, 2002.
Chicago as a whole, meanwhile, closed May on a high note and looks to extend its winning streak and hot play into June. The Cubs finished the month 13-14, increased their batting average (.263 from .235) and lowered their ERA (3.48 from 3.78) from the season's opening month.
"We've been really confident lately and catching our breaks," Hairston said. "A lot of balls we're hitting hard are finding holes now; before they weren't. Our pitchers are staying consistent not only on the mound but at the plate, so that's been a big lift. It's been a lot of fun."
Cash Kruth is a reporter for MLB.com. Follow him on Twitter at @cashkruth. This story was not subject to the approval of Major League Baseball or its clubs.