Tale of two outings for Miley in loss to Cubs
After allowing seven runs, lefty retires 13 of his final 14 batters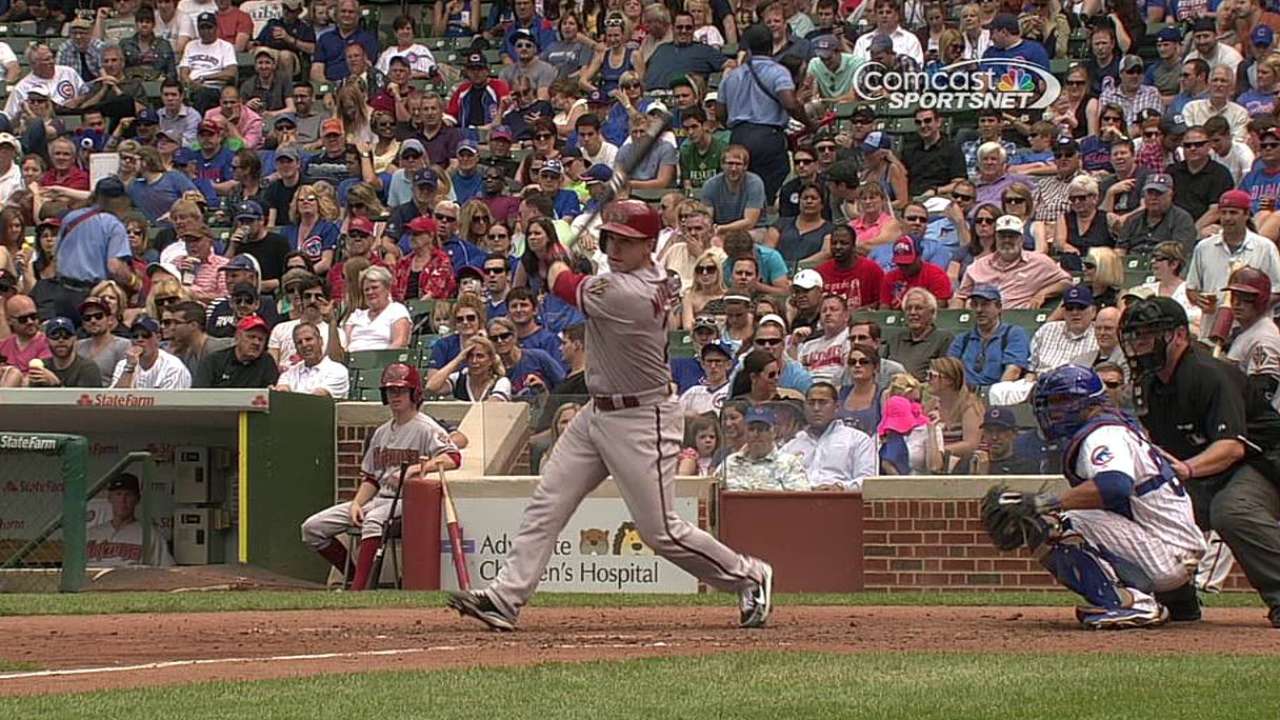 CHICAGO -- Generally, Kirk Gibson emphasizes the positive following games, but the D-backs manager was in no mood for that Friday.
He had just watched Wade Miley allow seven runs for the second consecutive outing as the D-backs fell, 7-2, to the Cubs at Wrigley Field.
To Miley's credit, he managed to go seven innings to save the bullpen.
"We're not here to save our bullpen," Gibson said. "We're here to win games. He didn't throw the ball very good. He made some mistakes."
The miscues began early for Miley, who is 0-4 with a 9.14 ERA over his last four starts.
He hit Cubs leadoff hitter David DeJesus with a pitch, then allowed a two-out, two-run homer later in the frame to Alfonso Soriano that appeared to be aided by a strong wind blowing out to center.
"When he hit it, I honest to God thought it was a popup to the infield," Miley said. "I knew he barreled it, but I thought he popped it up. That's just the way it goes."
Soriano continued his mashing of D-backs pitching. Of the 49 hits in his career against Arizona, 18 have been home runs.
With that in mind, the D-backs elected to walk Soriano with runners on second and third in the third.
That move backfired, though, when former D-backs outfielder Scott Hairston hit a grand slam to give the Cubs a 6-0 lead.
"You try not to get too excited in that situation," Hairston said. "But the wind was blowing out, so I told myself not to get cheated. I might have had a different swing if there were two outs, but with one out, I knew I had a little room where, if I just missed it, it'd be a sac fly. I'm glad I was able to hit it down the line."
One out later, another former Arizona player, Cody Ransom, also homered to left to increase Chicago's advantage to 7-0.
Whatever the reason, Miley seemed to settle in following Ransom's homer and he retired 13 of the final 14 batters he faced.
"I just tried to get over that little hump," Miley said. "I knew the bullpen was going to be short with the game [Thursday], so I just tried to go as deep as I could. I had a rough one in the third inning, let it escalate and just tried to log innings at that point and keep the score where it was at."
Trying to diagnose exactly what is the cause of Miley's struggles has been vexing.
As poor as he looked in the first few innings, he was outstanding in the final four.
"I'm pretty frustrated, but you've got to take those last four innings," Miley said. "I feel like that's more me. I've got to move on from there and put all that other stuff behind me. I've got to quit thinking, get the mental stuff out of my head and go out there and compete."
Miley said his stuff was the same throughout the game, he just had more confidence after he got rolling following the third. That would seem to indicate that his problem is between his ears and not with his arm.
"After that [third] homer, it was like a spark for him and hopefully it's the start and he'll kind of get his confidence back because he threw a real solid [four] innings after that," catcher Miguel Montero said. "He was like the old Wade, he just stopped thinking and started throwing the ball and let things happen instead of making it happen. He threw the ball really well after the third."
With Daniel Hudson set to come back sometime in the next month from Tommy John surgery Miley might not have a long leash to get things together.
"He better," Gibson said when asked if the way Miley finished the game could be something he could build on. "I'm not going to let him keep going out and doing that. That's a tough go when you're down six or seven nothing."
Especially when you're facing Matt Garza.
The Cubs right-hander, who was making his third start since coming off the disabled list, allowed just six hits and a pair of sixth-inning runs over seven innings.
"He's a good pitcher," D-backs first baseman Paul Goldschmidt said. "He was locating his pitches. He was getting ahead and he was making good pitches. He kept it simple, fastballs to both sides of the plate, up and down, mixed in his breaking stuff and kept the balls off the barrel."
Steve Gilbert is a reporter for MLB.com. Read his blog, Inside the D-backs, and follow him on Twitter @SteveGilbertMLB. This story was not subject to the approval of Major League Baseball or its clubs.