Bullpen can't hold on after Wacha dazzles in debut
Cards stumble in final frame that saw a 4 1/2-hour rain delay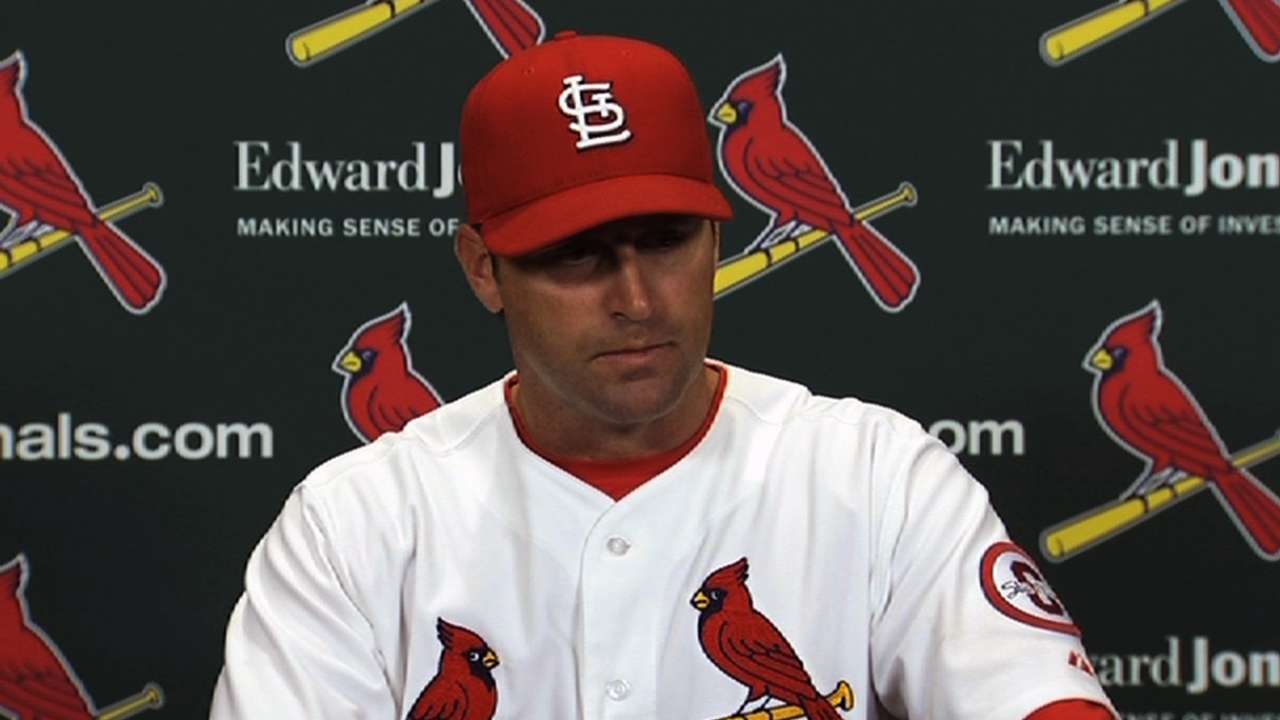 ST. LOUIS -- Michael Wacha's excellent Major League debut was almost in the books.
What looked to be an impressive first win -- two hits, one earned run, no walks and six strikeouts in seven innings -- for the highly touted rookie was quickly derailed by a bullpen implosion, allowing the Royals to steal a 4-2 victory after a 4-hour, 32-minute rain delay prolonged the Cardinals collapse.
The 3:14 a.m. CT end time marked the latest a game has ended at Busch Stadium III history.
"It's tough. Obviously we don't want to be in [the clubhouse], just sitting around, a bunch of nothing," Matt Carpenter said. "We wish we could have played. It's just unfortunate."
Because this was the last scheduled game between these two teams, the game would have flipped in the Cardinals favor had it been suspended, per rule 4.12(b)(4). The rule states that when the game is called while an inning is still in progress and the visiting team had scored one or more runs to take the lead and the home team had not retaken that lead, the final score is reverted back to the last completed inning. Because the Cardinals were leading 2-1 after eight innings, that would have given them the win.
"In all cases, when it's the last trip in," crew chief Joe West said, "the umpires make every effort to get the game played in entirety so that the game itself determines the outcome."
And so the Cardinals and Royals were forced to wait out the story. Once the rain stopped, it took the grounds crew about an hour of work for the umpires to deem the field ready to play, although Cardinals manager Mike Matheny said he was concerned about the length of the delay and the field conditions.
"I thought it was bad," Matheny said. "And I thought our grounds crew did a tremendous job getting it to where we could put people out there. It just got down to a situation -- and I explained it to the team, too -- that if this comes down to one of my guys getting hurt, it's a big deal. Fortunately, they got it to where we could play."
The game resumed play at 3:04 a.m., and Joe Kelly inherited an even bigger mess than the storm caused on the field, with a two-run deficit and the bases loaded with no outs.
With Edward Mujica unavailable after closing each of the last four games, Matheny had turned to Mitchell Boggs for the final three outs needed to seal Wacha's first big league win.
Matheny said reliever Trevor Rosenthal was also unavailable after warming up to pitch in the last five games.
"You have to take care of them," Matheny said. "You hate to sacrifice anything to do it, but sometimes you have to. We knew coming into today that he and Mujica both had been worked really hard and we needed others to come in and pick up the slack."
He opted for Boggs, the pitcher in his bullpen with the most experience closing games. Boggs was sent down to the Minors on May 3 to rework mechanics and rebuild confidence after allowing 17 hits, 12 walks and 15 earned runs in 10 2/3 innings as the Cardinals closer. He rejoined the team on May 19 and had allowed a run in two of his three relief appearances since.
But Boggs immediately surrendered a game-tying home run to Jeff Francoeur, who was 10-for-61 in May with only one other home run this season.
"Any time it happens it's tough, and Michael threw the ball outstanding tonight," Boggs said. "He's going to win a lot of games at this level. He's going to be really, really good. But it was disappointing not to get that done for him tonight."
Boggs then walked Alex Gordon and was pulled in favor of Victor Marte, who didn't fare any better.
Marte, who was making his first appearance in the Majors since last season, hit a batter, committed a throwing error and served up a go-ahead two-run double before the sudden downpour at 10:32 p.m. stalled the bullpen meltdown.
After the Royals couldn't covert on their opportunity with no outs and the bases loaded, Kansas City reliever Greg Holland retired all three Cardinals batters in the ninth to end the game that ended the 7-hour, 59-minute marathon match. Expectations were high for Wacha, the 19th overall pick in last season's First-Year Player Draft, and he didn't disappoint.
The crowd of 43,916 hung on his every movement early as the 21-year-old right-hander began his career by striking out Gordon on his way to retiring the Royals' first 13 batters. He was hit twice in the fifth inning, surrendering one run, but retired the next seven to complete his debut.
"Definitely just one to remember," Wacha said. "I'll never forget this day, that's for sure. Even if I wasn't pitching, I'm not used to playing too many ballgames at 2:30 in the morning. It's been pretty crazy.
"No-hitter, I was thinking it," Royals hitting coach George Brett said. "He almost got it."
St. Louis jumped out to a two-run lead in the first behind three consecutive two-out singles, and despite notching eight hits in six innings against Royals starter Jeremy Guthrie, the Cardinals spoiled plenty of opportunities to build a comfortable lead by stranding nine runners on base.
Chad Thornburg is an associate reporter for MLB.com. This story was not subject to the approval of Major League Baseball or its clubs.