Royals wait out rain to complete late comeback
Losing streak ends with ninth-inning rally interrupted by lengthy delay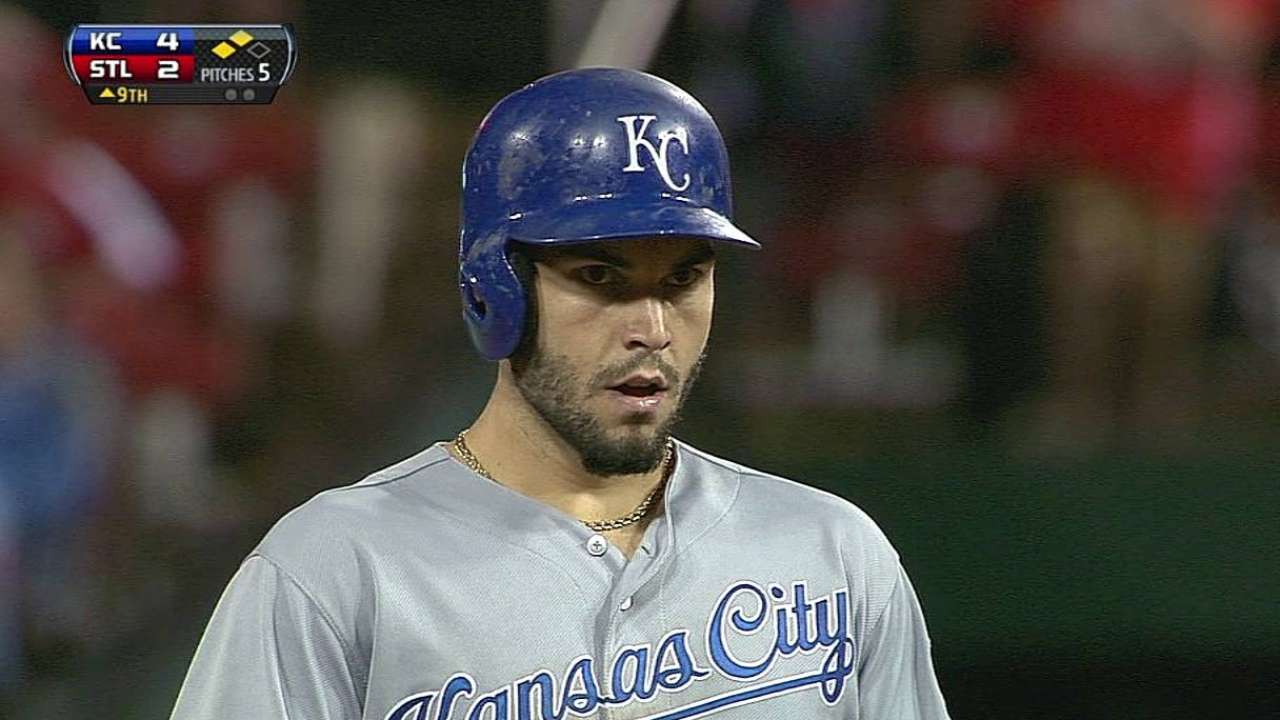 ST. LOUIS -- Heavenly days. George Brett must be a miracle worker.
On Brett's first day on the job as Kansas City's interim hitting coach, the Royals came from behind to beat the St. Louis Cardinals, 4-2, on a bizarre Thursday night and Friday morning at Busch Stadium that featured baseball past 3 a.m. CT.
"Look, when you're trying to break a streak, you'll play at 5 in the morning," Royals manager Ned Yost said.
There was no massive thunderous roar from the Royals' bats but enough to break an eight-game skid. In fact, they had just four hits.
"Four hits, four runs," Brett said. "I'll take a run a hit every time."
There was a very long wait for the finish, however. The heavens opened up and there was a rain delay of just over 4 1/2 hours in the midst of the Royals' ninth-inning rally. If the game had not resumed, according to a new rule, the score would have reverted to what it was at the end of the last full inning and the Cardinals would have been winners by a 2-1 margin.
A game can usually be suspended, which in this case would have preserved the Royals' lead, but under a new rule, 4.12(b)(4), adopted prior to this season, suspending a game is not an option in the final game scheduled between two teams in a season. The Royals and Cardinals will not meet again this year.
Therefore, umpire Joe West, the crew chief, had two choices: Wait out the rain and complete the ninth inning, or call it, awarding St. Louis a victory.
So the Royals were relieved when the game finally resumed at 3:04 a.m. CT before a mere handful of onlookers. There appeared to be as many cleanup workers as fans in the stands.
"Even the elements were against us," Yost said. "I wasn't sure we were going to get that game. And to lose a game in that fashion after coming back in the ninth inning just wouldn't have been right. But I credit Joe West for hanging in there. I credit their grounds crew for getting the field playable. It worked out."
The Royals' biggest bang was Jeff Francoeur's leadoff home run off reliever Mitchell Boggs in the ninth inning that pulled the Royals into a 2-2 tie.
"Frenchy got us going. Sometimes you talk about that one big hit and that was it," Yost said.
But there was more to come.
Alex Gordon walked and Boggs was relieved by Victor Marte, an ex-Royal recently called up. The Cardinals were resting closer Edward Mujica who had pitched four days in a row. Marte drilled Alcides Escobar with a pitch and then fielded David Lough's bunt, tried for a force-out but threw low to third base for an error and the bases were loaded.
Perhaps Brett sprinkled some magic dust on Eric Hosmer's bat. Hosmer's chopper hopped over first baseman Allen Craig and rolled into right field for a two-run double.
"That's the first thing we worked on when he got in here," Hosmer said, laughing. "But the way things have been going for us and the luck we've had, we needed a break like that."
At this point, Marte was instructed to intentionally walk pinch-hitter Chris Getz.
Then there was some real thunder and lightning rumbling, and the skies opened up with a drenching downpour that had umpires and players scattering while the grounds crew scampered to cover the infield.
So the Royals had the bases loaded with no outs, Miguel Tejada at the plate and a wait of four hours and 32 minutes ahead of them until play finally resumed. When it did, Joe Kelly was pitching for the Cardinals on a field heavily treated with absorbent clay.
Tejada jumped on Kelly's first pitch and rapped into a home-to-first double play. Elliot Johnson was intentionally walked to again load the bases and Adam Moore's liner down the right-field line was picked off by Carlos Beltran.
"Moore gets up there and hits one in the corner, a right-handed hitter going to the right-field corner, and Beltran makes a great running catch with the bases loaded," Brett said. "That could've really put the game out of reach."
But two runs were enough for Royals closer Greg Holland, who pitched a perfect inning to close out the night at 3:14 a.m. CT.
"We were all pretty amped up to go out and win a ballgame. It's been a while," Holland said. "We needed that one."
These types of games are generally suspended but under a new rule, 4.12(b)(4) adopted for this year, it does not include the final game scheduled between two teams in a season. The Royals and Cardinals will not meet again this year.
The ninth-inning stoppage was the second of the evening. Rain delayed the start of the game for an hour before the Cardinals unleashed their latest pitching prodigy, right-hander Michael Wacha, on the Royals.
Wacha's credentials included a 4-0 record and 2.05 ERA for Triple-A Memphis. A first-round pick last year out of Texas A&M, he made the fastest rise from the Draft to a Cardinals pitching debut since Cris Carpenter in 1988.
The Royals soon learned why.
Wacha, 21, retired the first 13 batters he faced. The red-clad crowd of 43,916 was cheering him like he was the reincarnation of Bob Gibson. What's he going to do, break in with a no-hitter?
"That Wacha threw good for his debut," Brett said. "No-hitter? I was thinking it, especially with rain in the forecast. He almost got it."
Lorenzo Cain spoiled things for Wacha by ripping a double to left-center field. After the second out, Johnson singled to right and got Cain home. Wacha recovered to pitch two more perfect innings and that was it for the raw rookie. Quite a debut with just two hits and one run in seven innings with no walks and six strikeouts.
Royals starter Jeremy Guthrie, meantime, was kept busy dealing with messy situations. There was nothing so clean-cut for him.
Matt Carpenter opened the Cardinals' first with a double and, after two outs, scored on Craig's single. Yadier Molina and David Freese also punched singles and Craig crossed the plate for a 2-0 lead.
The Cardinals loaded the bases in the second inning on singles by Wacha -- yes, the guy does everything -- and Beltran and a walk, but they failed to score. Guthrie went on to finish six innings with no further damage.
By the time the game finished, the starting pitchers were just a distant memory.
But victory was fresh in the Royals' minds. They hadn't experienced that in a long time. George Brett must have worked some magic.
"We could definitely use some more of it," Hosmer said. "It was cool to get a win for George's first day."
Dick Kaegel is a reporter for MLB.com. This story was not subject to the approval of Major League Baseball or its clubs.