Six-run sixth dooms Nicasio, Rox vs. Astros
Missed opportunities early come back to haunt Colorado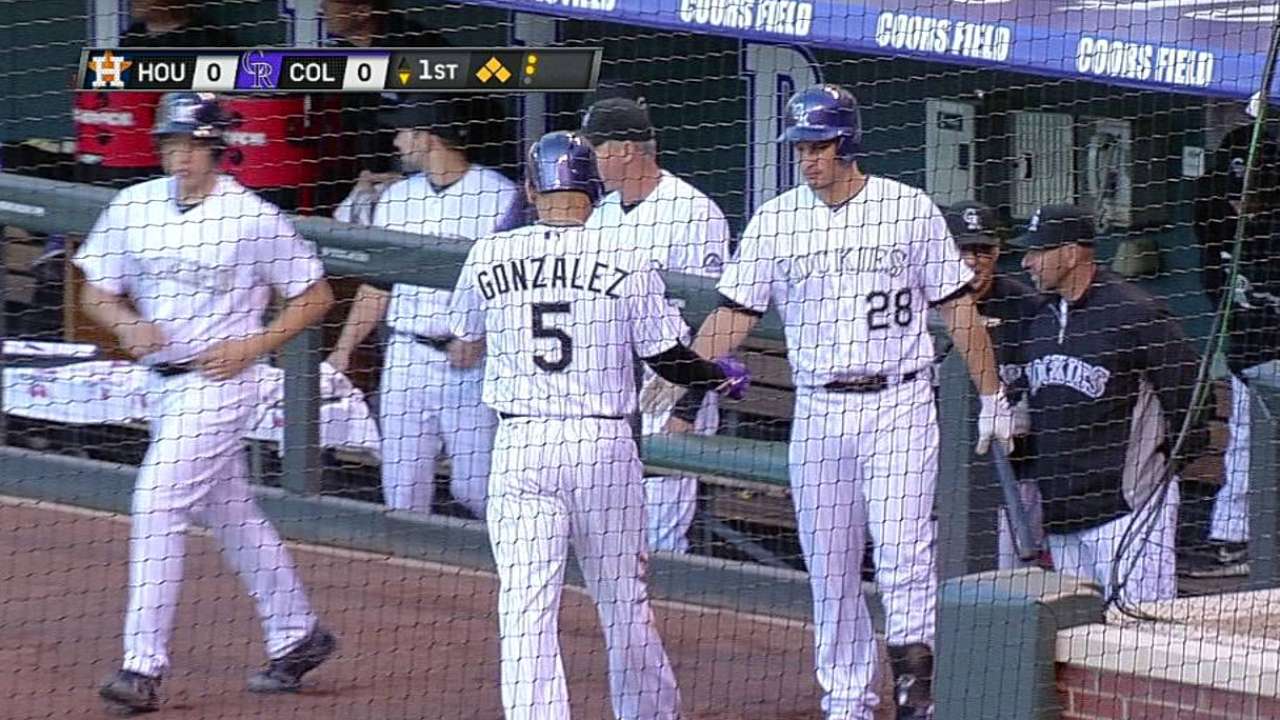 DENVER -- Through the first five innings Thursday night, Rockies right-hander Juan Nicasio limited the Astros' offense to one run despite working without his best pitches.
But in the sixth inning, Nicasio ran into trouble, giving up four straight hits and two runs to open the floodgates to a six-run frame that put Houston on track for a 7-5 victory at Coors Field.
The win gave Houston its third in the four-game, home-and-home Interleague series, including both in Colorado. The Rockies, who have lost five of their last six, will attempt to get back on track starting Friday against the Dodgers at Coors.
Reliever Wilton Lopez compounded the damage when he relieved Nicasio and immediately served up back-to-back home runs that brought four more runners home -- two of them credited to Nicasio -- and handed the Astros a comfortable lead they never surrendered.
Rockies catcher Yorvit Torrealba said the first home run Lopez tossed up came on a cutter that hung over the plate, and the second on a belt-high changeup.
"He was pulling off a little bit," Torrealba said. "I will talk to him tomorrow, and hopefully he'll stay on the top of the ball and have that pitch sink like it did in Spring Training."
Manager Walt Weiss said he felt like Nicasio grinded through the entire game, working hard for every out even before the Astros made their sixth-inning comeback. Torrealba -- who has experience catching Nicasio -- agreed that the Rockies' starter did an impressive job of containing the Houston offense early without his best pitches.
"I give a lot of credit to [Nicasio], because I don't think he had very good stuff today, and he definitely kept us in the game for the first five innings," Torrealba said.
Nicasio (4-2, 4.79 ERA) finished the game having allowed seven hits and five runs while walking three and striking out three over five-plus innings.
Houston entered the sixth down 3-1 when second baseman Jose Altuve started the rally with an infield single off Nicasio. Jason Castro followed with a double, and after a single from J.D. Martinez, Carlos Pena tied the game at 3 with an infield single.
Pena's single was an especially tough break, because when Nicasio ran to cover first base, he cut off first baseman Todd Helton's path to throw out the runner at home and left the Rockies still searching for their first out.
"I don't know what happened in the sixth inning," said Nicasio, who left the game after the Pena single. "I was winning, 3-1, and I tried to throw good pitches down and away and down the middle, and it was base hit, every time."
Right after Nicasio exited, left fielder Chris Carter greeted Lopez by blasting a pitch well over the left-field wall to bring three more runs home and give the Astros a 6-3 lead. Just three pitches later, third baseman Matt Dominguez hit another home run off Lopez to a nearly identical spot in left field.
The Rockies threatened in the seventh when a broken bat single from left fielder Carlos Gonzalez brought home Dexter Fowler to pull Colorado withing three runs. But with only one out to spare, a groundout from shortstop Troy Tulowitzki dampened any hopes of a quick rally.
Colorado left 11 men on base in the game, letting several chances to run up a big lead on the Astros -- who committed four errors -- in the first several innings slip away. The Rockies did not fully capitalize on the Astros' three errors in third inning, as Fowler hit into one of four double plays Thursday that limited the Colorado's production in that inning to one run.
"I felt like we had an opportunity to put the game away early, and we didn't do it and it cost us. It's happened a few times this year," Weiss said. "You have a team in trouble and a starter in trouble, you [need to] put him away, win that game."
Colorado's offense opened the game with renewed energy, as a patient at-bat and smart baserunning from Gonzalez allowed him to score a first-inning run off an infield chopper from right fielder Michael Cuddyer. In the second, a blooper into right field off the bat of Fowler brought Torrealba home.
Astros starter Lucas Harrell (4-6, 5.37 ERA) pitched well enough to earn the win in 5 2/3 innings of work, giving up three earned runs and walking four to keep his team within reach of the lead.
"It was one of those games we had to grind it out, and I was just trying to keep the game close and give us a chance to win and hopefully we would score a few runs and that's what happened tonight," Harrell said. "The bats came through in a big situation and scored some big runs."
The Rockies tried to mount comeback in the ninth when Gonzalez and Tulowitzki reached on singles to open the inning. Helton then stepped to the plate with one out and drove a ball deep into left field, but it didn't quite have home run distance and went for a sacrifice fly that plated Gonzalez.
"They won three games because all we did was just leave a lot of runners on base, and it's tough to win games like that," Gonzalez said. "When you have so many opportunities in front of you and you don't get the job done, it's going to be a long series for you if you don't execute.
"But I know that we're a really good offensive team, we're going to come through this."
Ian McCue is an associate reporter for MLB.com. This story was not subject to the approval of Major League Baseball or its clubs.