Colome dazzles in debut; Rays win fifth straight
Rook cruises after first, Joyce hits go-ahead HR, Tampa Bay adds on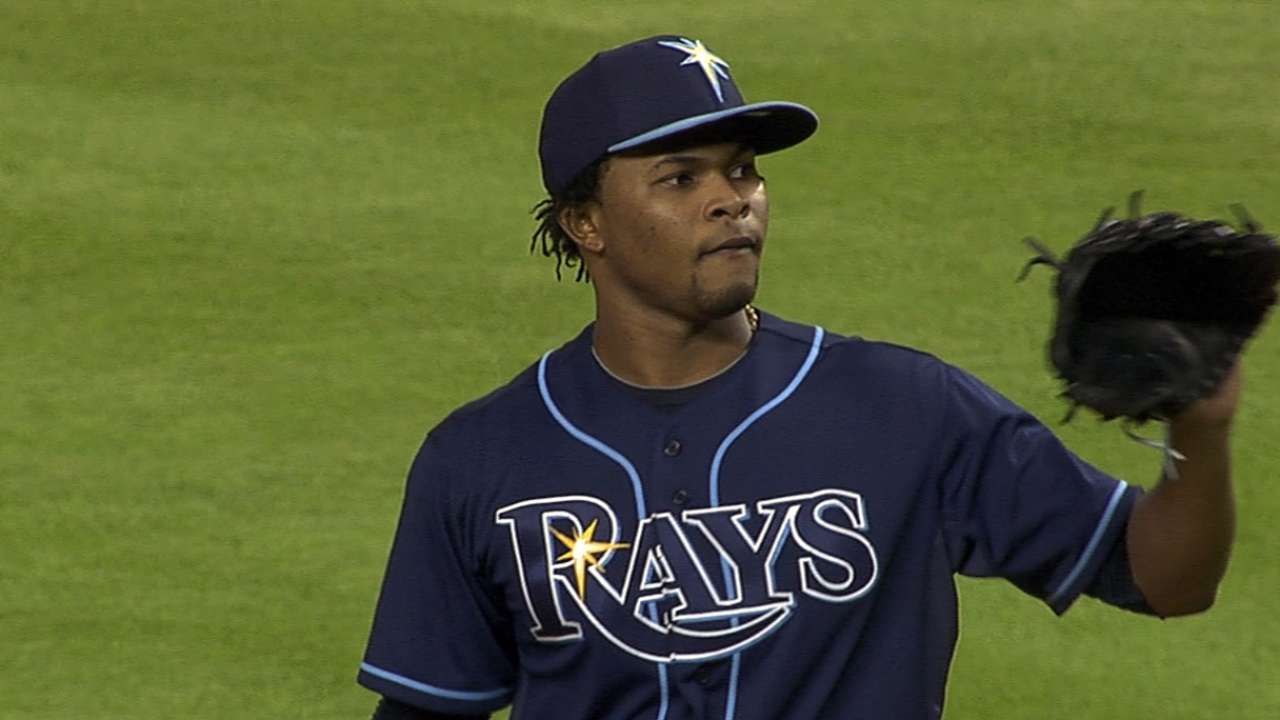 MIAMI -- A palpable buzz could be felt inside the Rays' clubhouse prior to Thursday night's game. The new kid with the big fastball would be making his Major League debut, so everybody eagerly awaited what they might see.
Alex Colome did not disappoint.
The 24-year old Dominican's pitching, coupled with home runs by Matt Joyce and James Loney, led the Rays to a 5-2 win over the Marlins on Thursday night in front of 23,199 at Marlins Park.
The Rays moved to 29-24 on the season while claiming their fifth consecutive win, four of which came against the Marlins.
"Expectations were probably exceeded a little bit," Rays manager Joe Maddon said. "We knew he was good. We knew about the fastball, the cutter/slider kind of new. ... It looked really sharp. And the changeup is outstanding also. So he has definite swing-and-miss stuff."
Colome struck out the first hitter he faced, Chris Coghlan. After stopping the game to retrieve the ball to commemorate the occasion, the right-hander experienced his first Major League trouble.
Placido Polanco and Derek Dietrich walked before Marcell Ozuna singled to load the bases. Colome recovered to strike out Justin Ruggiano, but Jose Molina's passed ball allowed a run to score on the play. Greg Dobbs grounded out to end the inning with just one run scoring, earning Colome an A-plus for damage control.
"It's not nervous, it's like too excited," Colome said, explaining his emotions in the first. "I look up and I say, 'Oh my god, you have to help me.'"
The hard-throwing Colome settled into a nice rhythm and posted zeros in his next four innings, looking poised and confident while doing so.
Colome was "a little bit nervous in the beginning," Maddon said. "We all were. After that, he started getting into a rhythm with his cutter/slider, whatever it was, and his RPMs on it also. Most impressed with his ability to stay calm throughout the whole thing. But the stuff is a little bit overwhelming. It's really good."
The defense helped Colome in the fifth after Ricky Nolasco blooped a double into right field and advanced to third with one out and a runner on first. Polanco grounded into a 5-4-3 double play to end the threat.
The double play "saved my life," Colome laughed. "It was very important."
Joyce connected for a two-run homer off Nolasco with with one out in the sixth to give the Rays a 2-1 lead, and Loney homered to lead off the seventh to push the lead to 3-1.
"Nolasco was really good himself, mixing speeds," Maddon said. "He threw really well. That's probably one of the best games I've seen him throw in person. He was very good. But Matty's ball really helped, and Loney's was pretty important."
Joel Peralta opened the eighth for the Rays and walked Polanco to start the inning. Two outs later, he walked Ruggiano before Dobbs reached on a fielding error by Loney at first to load the bases.
Josh Lueke took over for Peralta and walked pinch-hitter Miguel Olivo to force in the Marlins' second run before he struck out Rob Brantly to end the threat.
Ben Zobrist gave the Rays a little cushion with a two-run double in the top of the ninth. Fernando Rodney then retired the Marlins in order in the bottom half of the inning to preserve the win and earn his 11th save of the season.
Colome allowed just the unearned run on five hits and two walks while striking out seven in 5 2/3 innings to get the win. He became the second pitcher in Rays history to make his Major League debut as a starter and allow no earned runs. Scott Kazmir also turned the trick on Aug. 23, 2004, at Seattle.
"He's got some good stuff," Marlins manager Mike Redmond said. "He has a good fastball. I think most of those pitches he was throwing were changeups. I couldn't tell if he had a slider, too. If he did, it was good. I think a lot of changeups had some different action.
"He's one of those guys who throws 95 [mph]. He'd throw two at your neck and then paint the corner three times. He was one of those guys."
Colome became the seventh pitcher in Rays history to win his Major League debut as a starter, and the first since Jeremy Hellickson (Aug. 2, 2010 vs. Minnesota).
"I feel really excited," Colome said. "This is my first outing in the big leagues and I waited a long time for that. So I'm very happy about that. ... It's my dream. Very excited."
Bill Chastain is a reporter for MLB.com. This story was not subject to the approval of Major League Baseball or its clubs.