Four homers later, Twins secure fourth straight win
Parmelee, Dozier, Mauer, Doumit go deep as Minnesota gets sweep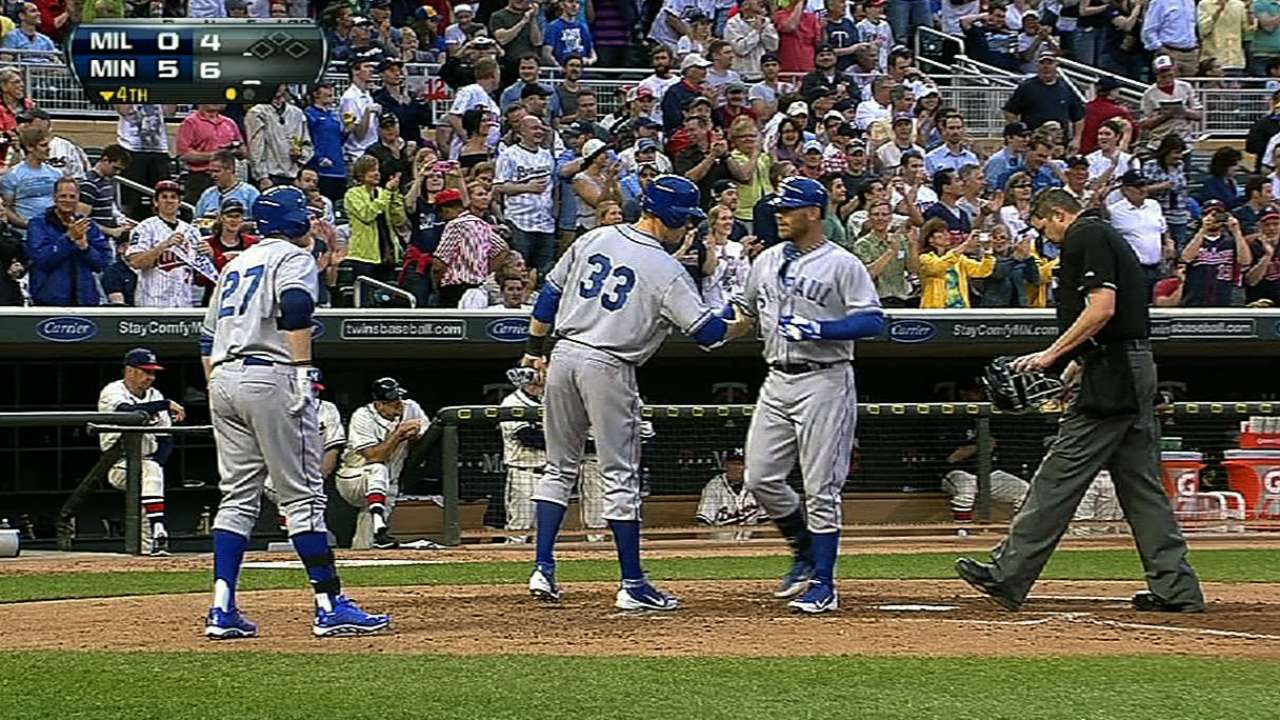 MINNEAPOLIS -- Maybe the Twins should think about wearing their 1948 St. Paul Saints throwback uniforms every game.
The Twins put on a power display in a turn-back-the-clock game against the Brewers, hitting a season-high four homers off former Minnesota right-hander Kyle Lohse, including three in the fourth inning, en route to an 8-6 win over the Brewers on Thursday night at Target Field.
Chris Parmelee, Brian Dozier, Joe Mauer and Ryan Doumit all homered to help the Twins to their fourth straight win over the Brewers, as they swept two games each in Milwaukee and Minneapolis.
"Guys were swinging pretty good," Twins manager Ron Gardenhire said. "The ball was jumping here pretty decent. Parm hit a bomb, and Joe, the ball he hit usually doesn't carry, but it was carrying tonight. He hit it good, and same with Doumit, who hit a bomb, and Dozier, who hit a rocket. So we got a hold of them pretty good."
Lohse, making his first career start against the Twins since being traded by them in 2006, gave up six runs on eight hits and a walk over just 4 2/3 innings.
Chris Parmelee was the first to go deep for Minnesota, crushing a solo shot onto Target Plaza in right field to lead off the third inning.
Brian Dozier then led off the fourth with a solo shot of his own before Joe Mauer followed up with a solo blast to left field. It marked the first time the Twins hit back-to-back homers this season.
"I just didn't locate the ball," Lohse said. "That's the bottom line. You can't throw fastballs in the zone, or you're going to get hurt. A guy like me, I've got to locate, change speeds, and I didn't do a very good job."
The Twins were not done in the fourth, as Justin Morneau singled with one out and scored on a two-run homer from Ryan Doumit. It was the first time the Twins had three homers in an inning since Josh Willingham, Morneau and Doumit did it Aug. 6 against the Indians.
"We're doing the same things," Parmelee said of the four homers. "We've been putting some good swings on the ball in the previous games -- lineouts to some guys, and sometimes we were just getting under them -- today we got all of them."
Mauer added another RBI with a single in the fifth to score Pedro Florimon, and it knocked Lohse out of the game in favor of reliever Donovan Hand. The Twins tacked on another run in the sixth on an RBI groundout from Parmelee off Hand.
It was enough offense for right-hander P.J. Walters, who cruised through five scoreless innings before unraveling with two outs in the sixth. Walters loaded the bases with two outs and gave up a three-run triple to Logan Schafer but was able to strike out Rickie Weeks to end the inning.
Walters again struggled in the seventh, as he gave up back-to-back singles to Jeff Bianchi and Carlos Gomez before coming out of the game. Right-hander Josh Roenicke came in and walked Jean Segura to load the bases but was able to retire Ryan Braun with a sacrifice fly to center before striking out Aramis Ramirez and getting Yuniesky Betancourt to ground out on an impressive play from Florimon.
"The way I felt tonight and through the first five innings, I should've gone deeper in the game, but our bullpen did their job," Walters said. "It just stinks they had to throw tonight. But it's a win, so we'll go from there."
The Twins tacked on an insurance run with an RBI single from Willingham with two outs in the seventh after Dozier was hit by a pitch and stole second. It proved important, as the Brewers scored twice in the eighth on two RBI groundouts from Bianchi and Gomez. But Jared Burton was able to pick up his seventh career save with a scoreless ninth. Closer Glen Perkins was unavailable after pitching in three straight games.
It gave the Twins their fifth win over their last six games coming on the heels of a season-long 10-game losing streak.
"When it gets up to 10, a lot of guys haven't been through that," Gardenhire said. "It's deflating not to be shaking hands, so to be able to come out and get some wins and go back-to-back-to-back-to-back is pretty cool."
Rhett Bollinger is a reporter for MLB.com. Read his blog, Bollinger Beat, and follow him on Twitter @RhettBollinger. This story was not subject to the approval of Major League Baseball or its clubs.