Lohse shaky in return as Brewers fall to Twins
Crew drops final game of series after starter allows four homers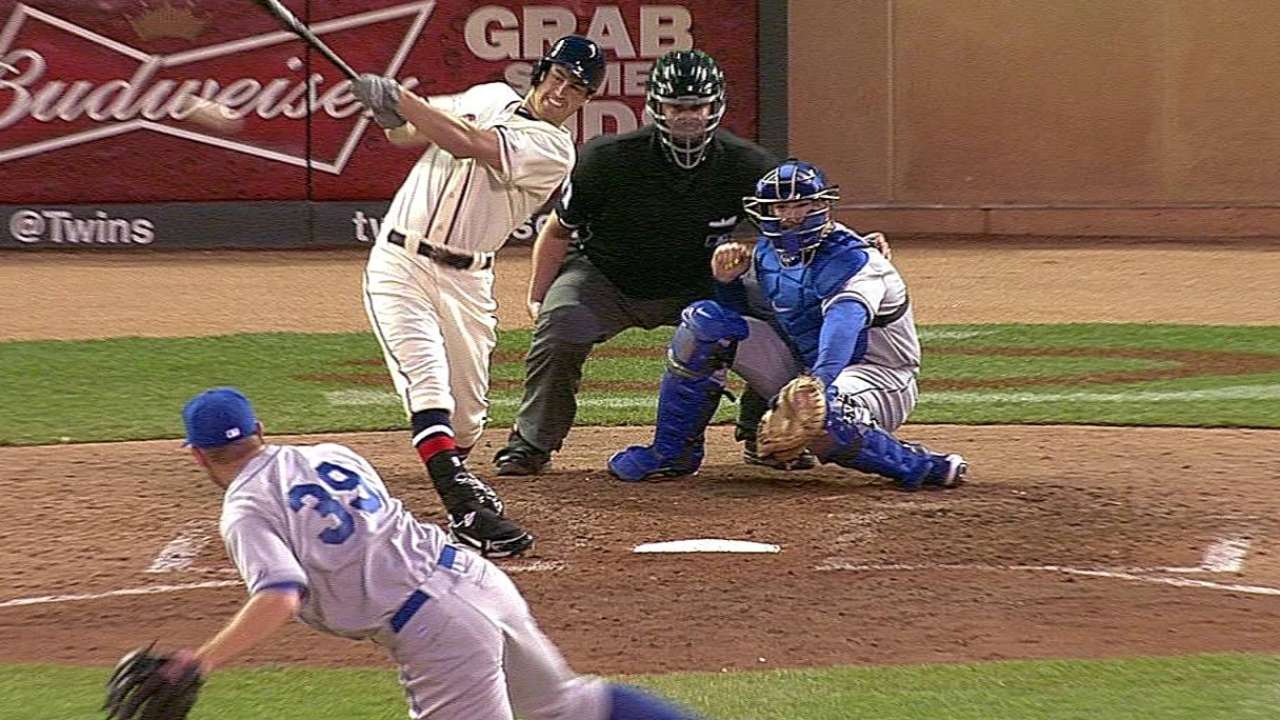 MINNEAPOLIS -- Stuck in their worst stretch of baseball since the Nixon administration, the Brewers are searching for any sign that their luck is about to turn.
They finally got something to cling to. It did not lead to a win, but it is something.
Milwaukee's bats woke up from a month-long slump, staging a furious late-inning rally that ultimately fell short as the Brewers dropped an 8-6 decision to the Twins on Thursday night at Target Field.
Trailing, 6-0, in the sixth inning, the Brewers threatened with six runs over the next three innings, but the Twins nevertheless completed a four-game sweep of the home-and-home series and sent Milwaukee to its sixth consecutive loss.
Brewers manager Ron Roenicke was left lamenting the missed chances that could have made a big difference, chances like the one in the first when Aramis Ramirez banged into an inning-ending double play with runners on the corners.
"Even scoring one run is important in the first," Roenicke said. "You get one run, and you know you can score -- it just puts a different mindset on the guys as you go through the next few innings."
Instead of taking the lead, the Brewers kept their scorecard clean until they were already down by six. Kyle Lohse (1-6) struggled, allowing a season-high six runs -- all earned -- and a career-high four home runs against his former team. It was Lohse's return to the rotation after missing a start with a sore elbow, but he said his arm was not the problem.
"Physically, I wasn't having the pain in the elbow where I had it before; I just didn't locate the ball," Lohse said. "That's the bottom line. You can't throw fastballs in the zone, or you're going to get hurt. A guy like me, I've got to locate, change speeds, and I didn't do a very good job."
Minnesota struck first on a Chris Parmelee home run leading off the bottom of the third. Parmelee fouled off three pitches before depositing a 1-2 slider onto the plaza in right field to put the Twins on top, 1-0.
The longball stung Lohse again one inning later, when the Twins hit three homers to build a 5-0 lead. Brian Dozier led off the inning by driving a full-count pitch into the left-field stands for his second home run of the year. Joe Mauer made it back-to-back homers with an opposite-field shot, and after Justin Morneau singled, Ryan Doumit deposited a Lohse fastball into the flower bed above the 23-foot wall in right-center.
Doumit wore out the Brewers this week, homering twice and driving in two runs in each of the four games, but he was not the only part of the Twins' power surge. In the four-game series, Minnesota out-homered Milwaukee, 10-3, including 8-0 in the last three games.
Mired in what might become the worst calendar month in franchise history, the Brewers have lost six straight and are 5-22 in May with one game to play. Even if Milwaukee wins Friday, it will match the worst winning percentage in a full month in 45 seasons as a franchise. The 1969 Seattle Pilots were 6-22 that August, a .214 winning percentage. The franchise record for losses in a month is 23, in August 1975 (7-23), September 1976 (8-23) and August 1977 (11-23).
On Thursday, Lohse was looking to win against his 30th different Major League club. Instead, he wound up like so many Brewers -- pitchers and hitters -- the past month, trying to figure out what went so wrong and how to fix it.
"It's been tough to stomach," Lohse said. "We're not giving up, but it's frustrating. I just look at it from my perspective -- today was my shot to go out there and try to help things out, and I didn't do it. ... I can't speak for everybody, but obviously we're not going through a great time right now. You try to gut it out. You saw the guys tonight -- they didn't quit. I kept grinding. I just couldn't make pitches. Nobody's quitting in here. We've just got to figure it out. Obviously that starts with the starting pitcher, and this one is on me."
The Brewers' bats sputtered until the sixth inning, when they suddenly came to life after being dominated by Twins starter P.J. Walters. With two outs and nobody on, Walters walked Ramirez before Jonathan Lucroy and Yuniesky Betancourt singled to load the bases.
Then Logan Schafer, who had three hits while spelling Norichika Aoki in right field, cleared the bases with a triple to cut Milwaukee's 6-0 deficit in half.
They missed an opportunity to do some real damage in the seventh inning after loading the bases with nobody out. Ryan Braun's sacrifice fly plated one, but reliever Josh Roenicke struck out Ramirez and retired Betancourt on a nice play by shortstop Pedro Florimon to keep the Brewers at bay.
Constantly playing from behind can wear on a team, but for one night at least, the Brewers' offense showed signs of life. Now, it is a matter of getting all phases of the game cleaned up at the same time, and perhaps May will soon become a distant memory.
"I was glad to see the offense swing the bats today, but we've got to get the pitching lined up," Roenicke said. "Instead of always trying to catch up like we've been doing, we need to get some leads."
Patrick Donnelly is a contributor to MLB.com. This story was not subject to the approval of Major League Baseball or its clubs.