Sox bats awaken, back Morales' solid '13 debut
Papi, Gomes swat solo shots; lefty goes five, allows two early runs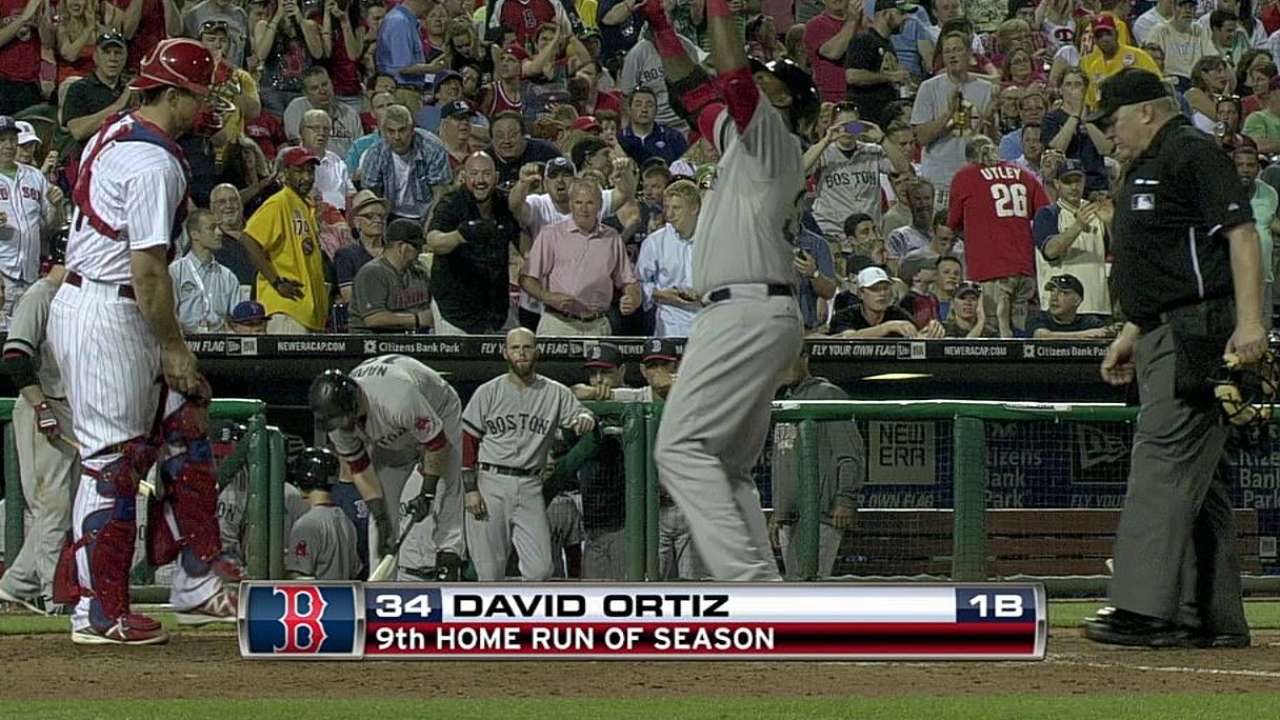 PHILADELPHIA -- Franklin Morales wasn't just making a spot start on Thursday night against the Phillies. He was making his first appearance of any kind in the Major Leagues this season after a prolonged battle back from nagging injuries.
The lefty's 2013 debut was a solid one, as he helped lead the Red Sox to a 9-2 victory over the Phillies at Citizens Bank Park in the finale of a unique four-game set, in which the teams played two games in each city. The clubs split the series.
Morales went five innings while giving up four hits. Both the runs he allowed came on a first-inning home run by Delmon Young. He walked two and struck out two, throwing 79 pitches.
"I feel very excited to come back this year and pitch and try to get the hitters out," Morales said. "I felt great with my pitches. I missed both sides to plate. I use in any count and in any situation. I feel pretty good."
Jacoby Ellsbury helped pace the offense, going 3-for-4, and setting a club record with five stolen bases. Ellsbury, who has 21 steals this season, reached base in five of his six plate appearances.
"It's pretty neat," said Ellsbury. "As long as the Red Sox have been around, to have a single-game record like that is pretty special."
The Red Sox did their best to take the pressure off Morales by posting a four-spot in the first.
Ellsbury and Daniel Nava led off with singles, putting runners at the corners. Dustin Pedroia got the first run home with a fielder's choice grounder. Following a walk to David Ortiz, Mike Carp smacked an RBI single to right. Jarrod Saltalamacchia capped the damage in the inning with a two-run double to right.
The Sox got home runs from Jonny Gomes and Ortiz to create some breathing room in the late innings.
Following their win over the Phillies, the Sox geared up for a bus ride to New York, where they will face the Yankees in a three-game weekend showdown that starts Friday night.
Contrary to many of the prognostications before the season, the Red Sox and Yankees are the top two teams in the American League East, with Boston holding a two-game lead entering the series.
"Through the first 50-plus games, both teams have answered some questions and have met challenges head-on with personnel and changes to the roster," said Red Sox manager John Farrell. "I would expect fully that it'll be not only a focal point around the game, but one that our guys are certainly looking forward to. We know more about ourselves, which is most important to us -- where guys slot in, how guys perform.
"We're going in there not at full strength because of some injuries, but we haven't used that as a crutch, and the expectation stays the same regardless of who's in the lineup, and that is to win and compete and win a division title."
But before leaving for New York, the Red Sox made sure to take care of business in the Philly finale.
Morales ran into some trouble in the first. Cesar Hernandez lined a single to left for his first Major League hit. With two outs, Young ripped a two-run homer to right-center, slicing Boston's lead to 4-2.
The biggest pitch Morales made came with the bases loaded and one out in the fourth. Eric Kratz tapped one to short, and Stephen Drew and Pedroia turned a textbook 6-4-3 double play, with Ortiz -- making his first start of the season at first base -- stretching out to corral it.
"Huge play," said Farrell. "It wasn't a hard-hit ball. Stephen gives him a good firm feed and Pedey hangs in tough and turns a double play with I believe it was [Kevin] Frandsen right down his throat. Like I said, he gave us the ability to just keep the two runs on the board and the momentum shift, I think on our part."
If the Red Sox felt the momentum swing in their dugout after the double play, so, too, did the Phillies.
"The game is sitting there for us and we couldn't do [anything] to take it," said Philadelphia manager Charlie Manuel.
It stayed a 4-2 game until the sixth. With two outs, Gomes delivered a pinch-hit homer to left against Phillies lefty reliever Jeremy Horst. Perhaps Horst didn't like how long it took Gomes to round the bases.
He drilled Ellsbury with the next pitch, prompting a warning from home-plate umpire Bill Miller. Both sides were warned. Meanwhile, Ellsbury stole second and third, giving him 20 on the season.
"It definitely lit the fire a little bit," said Ellsbury. "I knew I was going to try to get to third in the least amount of pitches as possible."
Ortiz added some insurance in the seventh when he unloaded for a solo shot to right, No. 9 on the season.
The Boston bats broke it open with a three-spot in the ninth, backed by doubles from Saltalamacchia and Jose Iglesias.
Ian Browne is a reporter for MLB.com. Read his blog, Brownie Points, and follow him on Twitter @IanMBrowne. This story was not subject to the approval of Major League Baseball or its clubs.