Spark nowhere to be found for skidding Yanks
Offense shuts down after Cano's homer; series with Red Sox awaits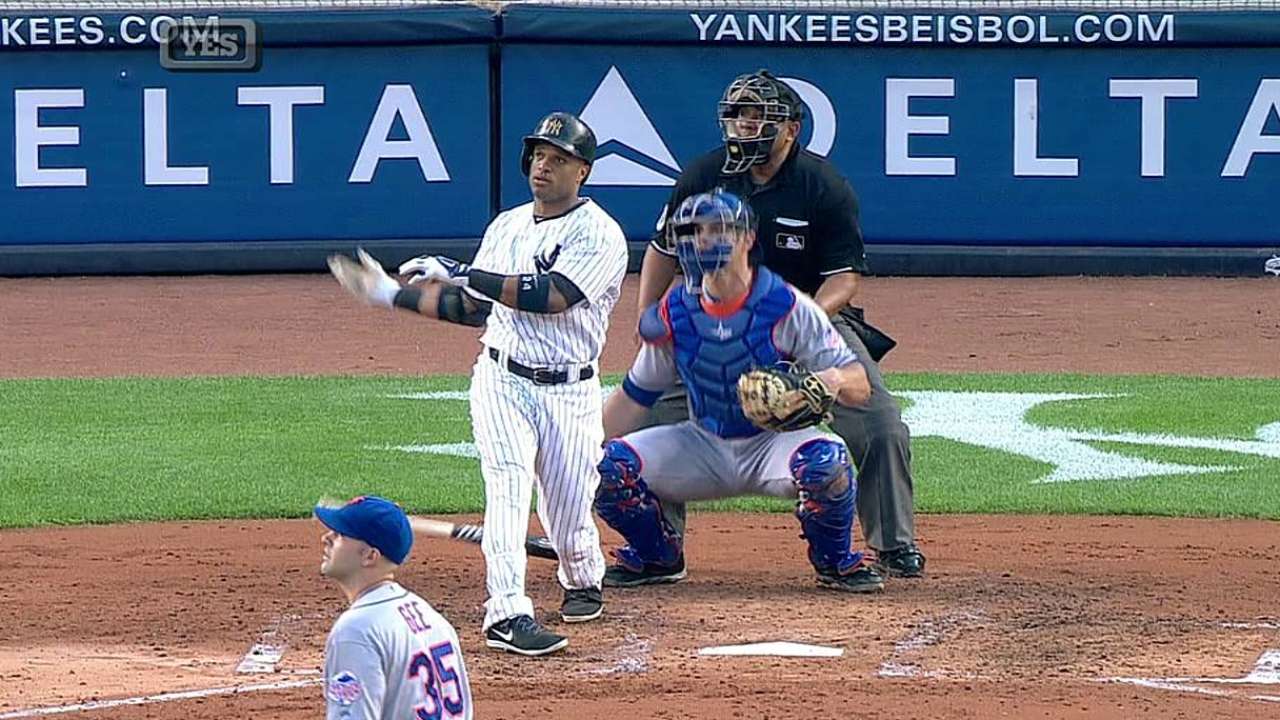 NEW YORK -- The final flicker of life that the Yankees' slumbering lineup produced in this year's Subway Series came in the third inning on Thursday with Robinson Cano's line drive into the field-level seats in right.
From that point on, it was all Mets, all the time -- which is exactly how this edition of the Subway Series will be remembered. The Mets broke out the brooms and completed their season series sweep in the Bronx, peeling off a 3-1 victory that sent the Yankees to their season-high fifth consecutive defeat.
"You know there's a competitive edge in all of those guys in that room," Yankees manager Joe Girardi said. "It's hard when you lose to your crosstown rivals; you don't want to be part of a team that gets swept by your crosstown rivals. Over time, it's going to happen, but you don't want to be the team that it happens to."
That was evident in the way the Yankees quickly shuffled out of their clubhouse, with most dressing and departing without offering a word of analysis. Perhaps there wasn't much to be said; after Cano's third-inning homer, Mets pitchers retired the next 20 Yankees, 15 of them by winning pitcher Dillon Gee.
"I can't speak for other guys' at-bats; I didn't see much on TV or video," Yankees outfielder Brett Gardner said. "[Gee] didn't leave a whole lot of balls over the middle of the plate. Robbie and I took advantage of some pitches to hit in the first inning, we didn't get anything out of it and from there, he had his way with us."
The Yankees were shut out in the season series by the Mets for the first time since Interleague Play began in 1997, and it is the first time in franchise history that the Mets have swept a season series of four or more games from any opponent, according to the Elias Sports Bureau.
"It's fun to play these guys, just because the fans get to see us play," Mets closer Bobby Parnell said. "It means a lot to us. But any four games mean a lot to us. We needed to start winning some ballgames."
Now that the intracity competition is in the rearview mirror, the Yanks must focus on the arrival of their division rivals, as the first-place Red Sox visit New York on Friday to begin a three-game weekend series.
Mark Teixeira and Kevin Youkilis are expected to be in the Yankees' lineup on Friday, activated after their respective two-game Minor League rehab stints for Double-A Trenton, and Girardi hopes their return will spark his overexposed lineup.
"The bottom line is, they're very good players and it could," Girardi said. "You hope they come back when they come back and they feel really good and are productive and continue to help us win games."
Rookie left-hander Vidal Nuno turned in another sharp starting performance on Thursday, holding the Mets to three hits and two walks over six innings, but he departed on the losing end after serving up Marlon Byrd's two-run homer in the second inning.
"I couldn't get in a rhythm [early] -- I don't know what happened, but I just found it," said Nuno, who didn't allow a hit after Anthony Recker's second-inning double. "A light switch came on the third inning, and I got in a nice little rhythm.
"It's a big plus just knowing I can do that, and it just goes on to my next outing."
Byrd's homer was all Gee needed against the punchless Bombers, striking out a career-high 12 over 7 1/3 innings.
"It's hard to put into words," Gee said. "I needed that on so many levels, it's crazy. Obviously, it's fun to go out there and pitch like that, but the guys did an awesome job to put up runs early for me. My only goal was to try to hold that."
The Mets added an insurance run in the eighth as John Buck's slow roller off Joba Chamberlain kicked the third-base bag for a run-scoring single, allowing Omar Quintanilla to score a run charged to Shawn Kelley.
The Yankees had previously lost just two season series to the Mets, having done so in 2004 and again in '08.
"We had good pitching again today, and we didn't do enough to support them," Gardner said.
Through the first seven weeks of the year, the Yankees' replacement lineup was one of the feel-good stories of the early season, helping boost the club into the top spot in the American League East.
But as general manager Brian Cashman said earlier this week, while the Yankees appreciate the contributions of the "B" squad, he's eagerly looking forward to getting the "A" team back on the diamond.
After the Yankees absorbed four straight defeats at the hands of a crosstown rival and with a division rival finding its Gotham hotel rooms, there is no better time than now to become closer to whole.
"It's frustrating, but what's done is done," Gardner said. "I still feel like we're in a good place, so we've got a big series coming up this weekend, [we'll] forget about what happened with the Mets and try to win a ballgame tomorrow."
Bryan Hoch is a reporter for MLB.com. Follow him on Twitter @bryanhoch and read his MLBlog, Bombers Beat. This story was not subject to the approval of Major League Baseball or its clubs.