Gee sensational as Mets sweep Subway Series
Righty hardly challenged; club earns first season series shutout of rival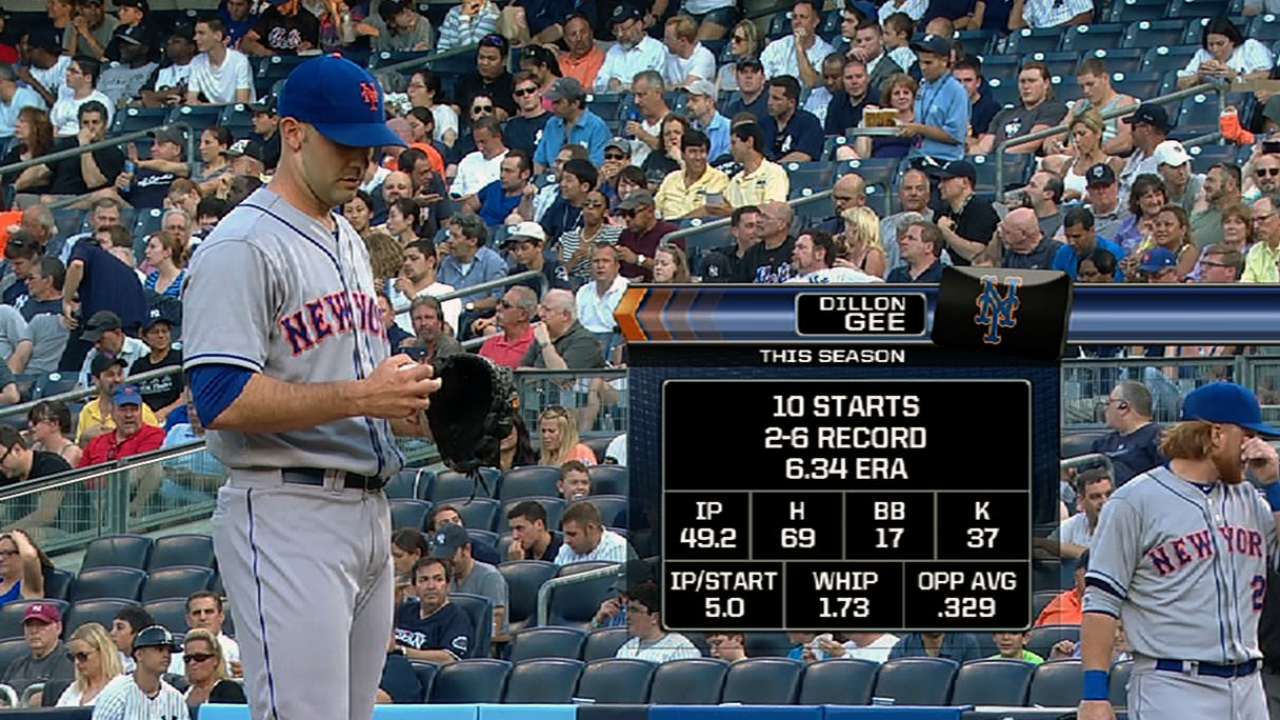 NEW YORK -- Dillon Gee had just recorded 22 of the most significant outs of his career, putting the Mets on track for a 3-1 victory over the Yankees, their fifth straight, and their first Subway Series season sweep in history. More important from a personal standpoint, those outs had already begun cooling the heat setting over his job security.
Sensing that Gee had reached his limit and desperate for him to finish on a positive note, manager Terry Collins walked to the mound, took the ball from his starter, then spoke.
"Finally, he told me, 'Good job,'" Gee said.
The pitcher laughed.
"Well, he didn't say, 'Finally.' But he said, 'Good job' for once when I came out of a game."
Consider that a criminal understatement of a job artfully done. Gee struck out a career-high 12 Yankees over seven innings of one-run ball, saving one of the finest performances of his career for one of its most critical junctures. With Zack Wheeler knocking on the door and Jeremy Hefner continuing to pitch well, Gee took the mound on Thursday at Yankee Stadium knowing his rotation spot was in danger. Collins related as much to Gee between starts, telling him he was at risk of heading to the bullpen once Wheeler arrives.
But Collins' message did not come with an hourglass. Wheeler woke up on Thursday in Las Vegas, a member of the Mets' Triple-A affiliate. And so Gee still had time to hang onto his post.
He began that process in almost clinical fashion, roaring after hitters with an increasing number of fastballs. After Robinson Cano smacked a line-drive homer with one out in the third, Gee retired his final 15 batters. He whiffed nine of the last 13 Yankees he faced, including the final five in succession.
"I needed that on so many levels, it's crazy," Gee said.
Hardly able to match their offensive output from Wednesday's blowout, the Mets nonetheless did enough damage to support Gee's effort. Yankees starter Vidal Nuno's critical mistake was walking Lucas Duda to lead off the second; the next batter, Marlon Byrd, drilled his second homer in two nights over the left-field fence.
It was all the Mets could muster against Nuno, who allowed only two other hits in six innings. But they plated a critical insurance run in the eighth, when John Buck's dribbler down the third-base line stayed fair, scoring Omar Quintanilla.
Scott Rice and Bobby Parnell combined on the final five outs, and with that the Mets swept the season Subway Series for the first time.
It was a nice carrot for the Mets, though their opponent hardly mattered. In danger of losing all relevance before the dawn of June, the Mets have responded by playing four dozen innings of inspired baseball.
"The hardest thing I've done is try to keep these guys positive," Collins said. "It wasn't about changing stances or shuffling bullpens. It was about trying to keep the guys in the clubhouse positive. Everybody goes through some bad times. You've got to work your way out of it."
Collins reserved sterner words for Ike Davis and Ruben Tejada, holding a closed-door meeting with those two earlier this week to warn them of their tenuous roster spots. When he delivered a similar message to Gee, it came as no surprise to a pitcher who entered Thursday's start with a 6.34 ERA.
"I'm not stupid," Gee said. "I know that that many bad outings in a row, you're probably hanging on a thread."
Knowing that is one thing. Doing something about it is entirely another. But Gee toed the rubber on Thursday with a different "look in his eye," according to catcher Anthony Recker, and a more aggressive approach on the mound. Fifty-one of Gee's 88 pitches were fastballs, including a low-90s four-seamer and a sinker that faded away from left-handed hitters. Supplementing those offerings with his signature changeup, Gee finally resembled the pitcher he was before last July's season-ending right shoulder surgery.
"He didn't leave many balls over the middle of the plate," Yankees outfielder Brett Gardner said, referencing his team's only real rally off Gee, in the bottom of the first. "Robbie and I took advantage of some pitches to hit in the first inning, we didn't get anything out of it and from there, he had his way with us."
And so Gee delivered a message to Collins, just as the manager had delivered one to him. David Wright said that this week was "not about proving anything," and the Mets' captain very well may be right.
But do not underestimate the power of messages in a time of transition for the Mets.
"You could sense there was tremendous frustration," Collins said. "Guys were down. I heard some guys that I've known for three years now starting to say, 'I don't know if I can do this. I can't do it anymore.' And you can't listen to that."
Anthony DiComo is a reporter for MLB.com. Follow him on Twitter @AnthonyDicomo. This story was not subject to the approval of Major League Baseball or its clubs.