Tribe tops Reds with remarkable seven-run inning
Indians had six two-out RBI hits in the fourth to back a sharp Kazmir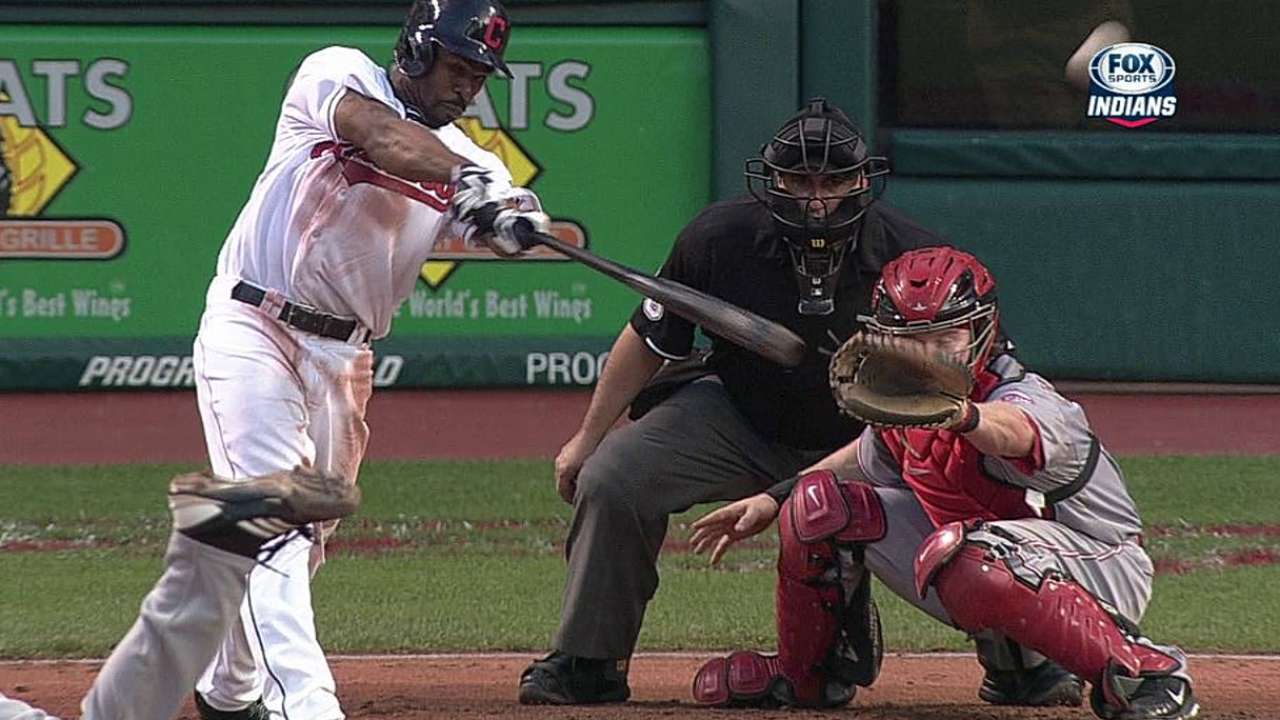 CLEVELAND -- The ball Michael Brantley laced into left-center in the fourth inning of Thursday's game was nearly snared by Reds shortstop Cesar Izturis, who leapt but found it just out of his reach.
Had Izturis gloved the liner, the Indians would have missed out on quite an offensive outburst. Brantley's single was the first of six two-out, run-scoring base knocks, which fueled Cleveland's 7-1 victory, supported a solid effort from Scott Kazmir and gave the Tribe a split in the season series with Cincinnati.
"I think hitting's contagious," Brantley said. "That was a big two-out rally we had. It kept going. Momentum was great. The positive vibe we had in the dugout was great. That was a big inning for us, and that won the game for us. Just clutch hitting by everybody. It's a team effort."
Brantley's rip came on a low pitch in an 0-2 count. He described the offering from Reds starter Homer Bailey as a "pitcher's pitch." If he makes an out in that instance, the Indians' eruption simply doesn't happen.
"That was impressive," Tribe manager Terry Francona said. "We were having a tough time breaking through. Bailey's got good stuff. Brantley staying on that two-out, two-strike pitch -- that was a tough pitch -- and he hit that line drive that kind of gave us a little bit of a break. And then we just kept extending the inning. That was really fun to watch."
In addition to Brantley's single, the Indians scored runs on doubles by Ryan Raburn, Michael Bourn and Asdrubal Cabrera and singles by Yan Gomes and Jason Kipnis. As Nick Swisher's routine fly ball to center brought the frame to a close, many in the Progressive Field seats were on their feet to applaud the bat work Cleveland had just demonstrated.
After Thursday's performance, the Indians are at or near the top of the leader board in virtually every two-out offensive statistic. They lead baseball with 119 runs, a .475 slugging percentage and an .827 OPS, and they're ranked third with 27 home runs, 166 hits, a .276 batting average and a .352 on-base percentage.
Brantley can't speak for the rest of the clubhouse, but for him, nothing changes when there are two outs on the board, two strikes in the count, or both.
"I don't want to say I concentrate more or try to do anything else," said Brantley, who's batting .400 (10-for-25) with two outs and runners in scoring position. "I really try to stay within myself and put a good swing on the ball, and luckily I've been finding some holes with two outs.
"I believe in myself ... I'm very confident in my ability to make sure that, even with two strikes, I'm going to put a good swing on the ball. I don't change, I don't choke up, I don't try to slap it. I just make sure I get a pitch out over the plate that I can handle and just try to put a good swing on it -- same as I do all along."
The seven runs of support were much more than Kazmir (3-2) needed to secure the win. The left-hander turned in a fine outing for the second start in a row, allowing just one run over seven innings, while racking up five strikeouts to go with one walk. The outing was Kazmir's longest since May 22, 2010, when he tossed seven innings for the Angels against St. Louis.
"To be able to stretch it out that far, it felt good," Kazmir said. "Getting [through] that seventh inning today really meant a lot."
Kazmir lowered his ERA to 5.13 in the win.
"I was attacking the strike zone," he said. "Mainly, that helped me out, being able to expand the strike zone after that, after I got my first strike of the at-bat.
"Everything was working for the most part. Breaking ball was a little erratic, but at the same time I was able to get it in a location where I wouldn't get hurt."
Bailey (3-4) matched Kazmir's pace early, but his act fell apart during the fourth, when he exited the game. In a season-low 3 2/3 innings, he allowed seven runs on seven hits, a walk and a hit batter. He also struck out five.
"A hit here, a hit there, and I just couldn't stop the bleeding," Bailey said. "They hit some pitches that I couldn't have placed any better and put it in play. Then they hit some pitches I couldn't have placed any worse."
In the top of the third inning, Bailey's teammates loaded the bases with three singles, but Kazmir wiped out the threat by inducing a groundout from slugger Joey Votto, whose roller to second led to an inning-ending 4-6-3 double play.
Cincinnati scored its only run in the sixth inning, when Jay Bruce followed a Brandon Phillips double with a single.
The majority of the game's offense, however, belonged to the Indians, as the two teams split the Showdown of Ohio, two games apiece.
"Let's face it, I was apprehensive about playing these guys in the first [place]," Reds manager Dusty Baker said. "They have all those left-handed hitters over there. They've got a good lineup. They can hit. The Cleveland Indians have always been able to hit. The last two nights were indicative of that."
Mark Emery is an associate reporter for MLB.com. This story was not subject to the approval of Major League Baseball or its clubs.