Bailey's rough inning sinks Cincinnati
Righty gives up season-high seven runs in the fourth frame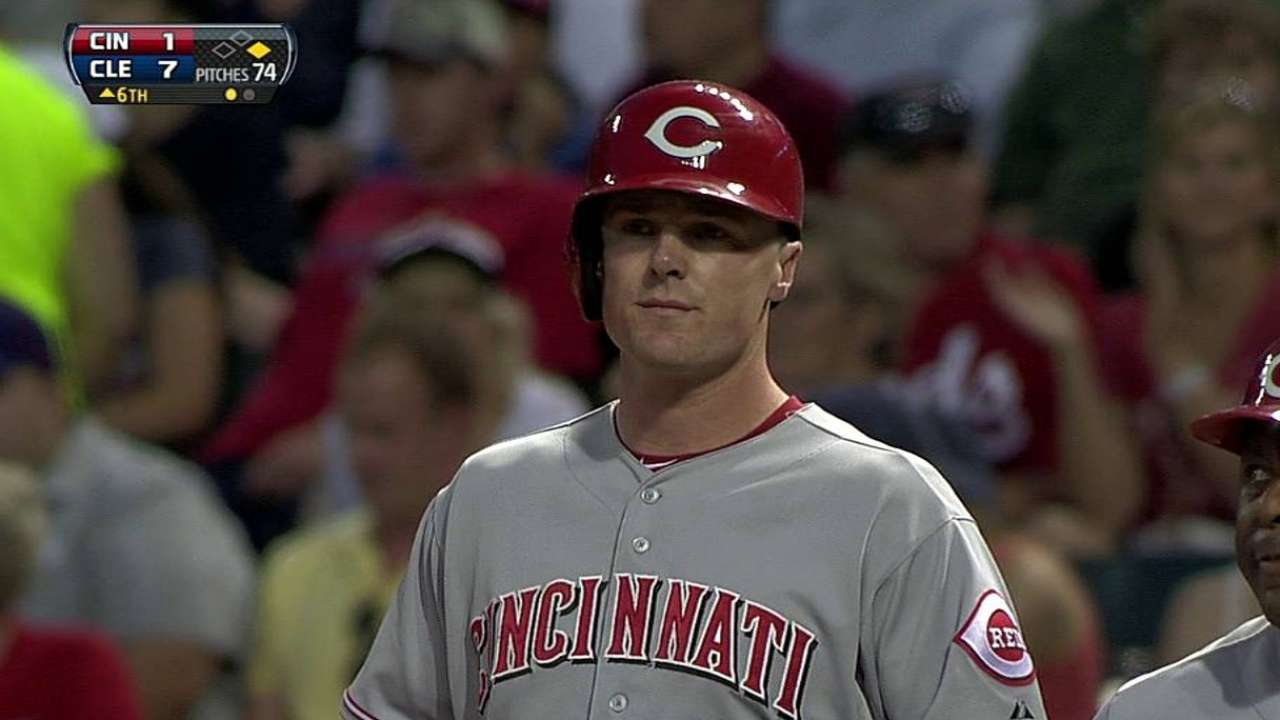 CLEVELAND -- Progressive Field? There's been little sign of any progress for the Reds at Cleveland in recent years. On Thursday, the Indians inflicted damage on pitcher Homer Bailey that even the ubiquitous "Flo" couldn't cheerfully have fixed.
Cleveland scored seven runs in the fourth inning -- all with two outs -- as the Reds were handed a 7-1 loss. After Cincinnati claimed the first two games of the odd intrastate set, the Indians took both games at their yard. It was the first time Cincy had been handed back-to-back defeats since losing to the Cardinals on April 30 and May 1.
"A hit here, a hit there, and I just couldn't stop the bleeding," Bailey said.
The Reds have now lost nine straight games played at Progressive Field, with their last win occurring on May 22, 2010.
Bailey lasted a season-low 3 2/3 innings and tied a season high with seven earned runs, while giving up seven hits and a walk, hitting a batter and striking out five. The last time Bailey worked an outing that short and gave up that many runs was on July 1, 2007, vs. the Cards during his rookie season.
The rotation came into town 9-0 with a 1.95 ERA over 15 games, while the Reds had won seven of eight games. In two losses at Cleveland on Wednesday and Thursday, Bailey and Bronson Arroyo gave up a combined 12 runs over 9 1/3 innings.
Through his first three innings, Bailey allowed no balls out of the infield -- including the one hit he surrendered.
"We were cruising through it the first time through the order," said Bailey, who entered the night 2-0 with a 1.64 ERA over his previous three starts.
Although Bailey hit leadoff batter Asdrubal Cabrera in the fourth and gave up a one-out single to Carlos Santana, things were still going swimmingly with Michael Brantley in a 0-2 count.
Brantley's RBI single to center field extended the inning, and it would be the first of six-straight RBI hits.
"Things just went awry from there," Reds manager Dusty Baker said. "It's been a long time since I've seen any team get five or six consecutive two-out hits. That usually doesn't happen. At the time, we were hoping Homer could get the last out, which he didn't. We didn't want to tear up our whole bullpen."
Yan Gomes followed with his own single, lined to left field. Ryan Raburn then hit an RBI double to left field. Michael Bourn's double to the left-field corner scored two more runs and opened the flood gates in a span of just nine pitches.
"It wasn't like we were really falling behind," Bailey said. "We made some pretty good pitches, and [they] just happened to hit them where we weren't."
The inning's ninth batter, Jason Kipnis, lined an RBI single to right field to end Bailey's night. Alfredo Simon took over and gave up an RBI double to Cabrera.
"I think hitting's contagious," Brantley said. "That was a big two-out rally we had. It kept going. Momentum was great. The positive vibe we had in the dugout was great. That was a big inning for us, and that won the game for us. Just clutch hitting by everybody. It's a team effort."
Cleveland leads the Majors with 119 two-out runs.
"It's hard to get consecutive hits off of Homer," Baker said. "He got some balls over the heart of the plate. Let's face it, I was apprehensive about playing these guys in the first place. They have all those left-handed hitters over there. They've got a good lineup. They can hit. The Cleveland Indians have always been able to hit. The last two nights were indicative of that."
The Reds can usually hit, too, but the National League's leader in runs scored and RBI hits with the bases loaded missed out on a bases-loaded opportunity for the second night.
In the top of the third inning against Scott Kazmir, the bases were full with one out. Joey Votto grounded to second base to start an inning-ending double play.
"Then he settled down from there," Baker said of Kazmir, who threw seven innings. That was the lefty's longest outing in three years.
The only run off Kazmir came in the sixth inning. Following Brandon Phillips' one-out double off the top of the left-field wall, Jay Bruce slashed an RBI single into center field.
With these four games, the two teams evenly split their season series for the second year in a row. But this is a tough time to lose momentum for the Reds. Up next on the road trip is a short bus ride to Pittsburgh for three games vs. the Pirates. Last month at PNC Park, Cincinnati was swept in a three-game series.
Mark Sheldon is a reporter for MLB.com. Read his blog, Mark My Word, and follow him on Twitter @m_sheldon. This story was not subject to the approval of Major League Baseball or its clubs.