Vargas keeps rolling as Angels edge Dodgers
Lefty finishes May with 5-0 record to help Halos split Freeway Series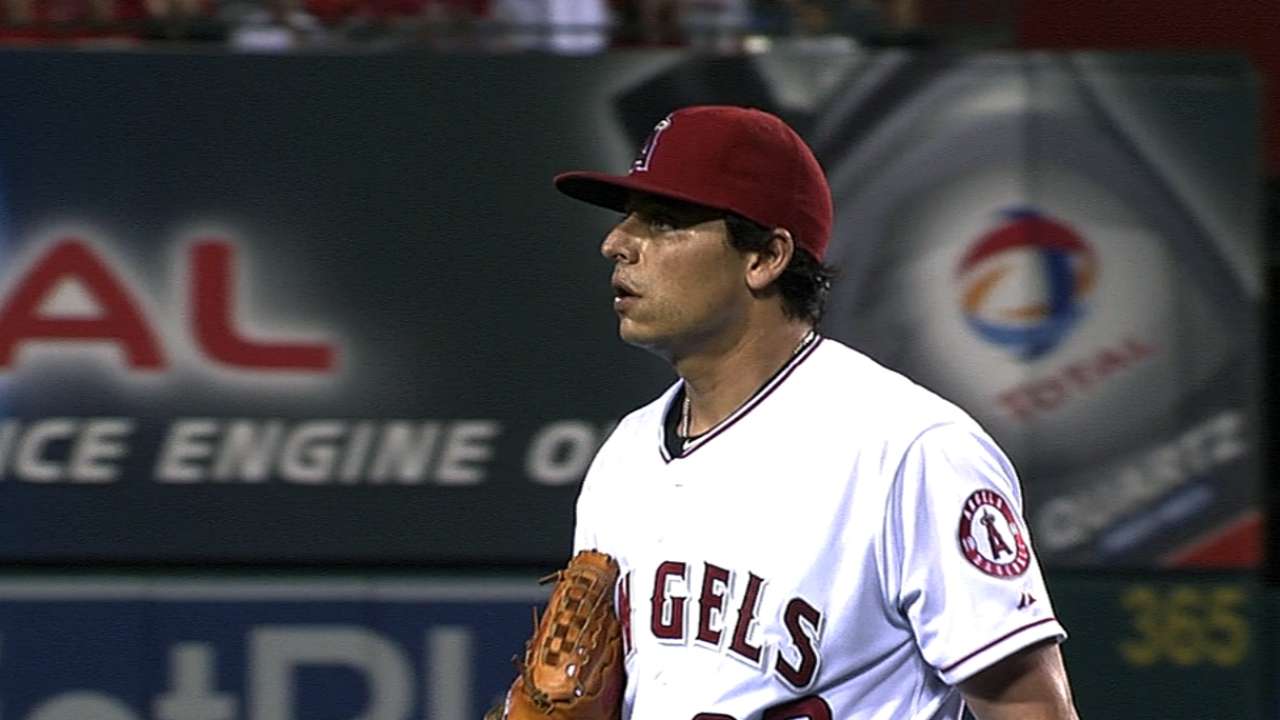 ANAHEIM -- Jason Vargas continued his dominance in the month of May, Howie Kendrick scored three times and the Angels defeated the Dodgers, 3-2, on Thursday night at Angel Stadium.
With the game tied at 2 and runners on the corners in the sixth inning, Angels infielder Chris Nelson hit a dribbler off the glove of Dodgers reliever Ronald Belisario. The ball trickled to second baseman Mark Ellis, but Nelson was safe at first base and Kendrick had already crossed home plate -- giving the Angels a 3-2 lead they would not relinquish.
The result, the Angels' eighth win in the past 10 games, gave the teams a split in the four-game Freeway Series with each team winning its two home games.
"We've been playing good baseball," Kendrick said. "We've been having a lot of fun, too. We're a lot more relaxed, guys are just enjoying it. We haven't thought much about anything, we've just been going out and playing."
A night after Angels ace Jered Weaver electrified the Angels crowd in his return from the disabled list, Vargas kept the momentum rolling as he pitched seven innings and allowed just two runs on five hits.
The left-hander became the first Angels pitcher to register five wins in a month since Shawn Boskie in 1996. Vargas is 5-0 with a 2.30 ERA in May.
"I don't really have an answer for that, other than getting more out," said Vargas, who was a dismal 0-3 with a 4.85 ERA in April. "There wasn't anything that I tried to change or tried to do differently. I'm just being more consistent."
However, Angels manager Mike Scioscia believes the change may be the result of Vargas finally settling into a rhythm and routine with his new team.
"His first couple starts, I thought he was trying to get settled into a new staff," Scioscia said. "This guy is a consistent winner, he knows how to pitch. He had a great run up in Seattle and he got more comfortable with not only the team, but our catchers. It's been a system coming in here, working with new catchers. Chris [Iannetta] has worked well with him. I thought he pitched a great game and he's been on a roll."
While the Angels knew what they were getting when they traded for Vargas in December, the Dodgers knew what they were facing Thursday.
"He's a guy that's basically going to change speeds, going to try to beat you with add, subtract, use his changeup, elevate the fastball a little bit," Dodgers manager Don Mattingly said. "He's going to have to beat you by changing speeds and hitting spots, that type of thing."
And that's exactly what he did.
Coupled with Vargas' performance, the Angels got another good game from Kendrick, who is hitting .327 in May and has hits in five of the past six games.
Scioscia said Kendrick -- who went 2-for-4 -- has been the Angels' most consistent hitter of late, but the second baseman said his approach against Dodgers starter Ted Lilly was not anything special.
"See the ball and hit it, I'll be honest with you," Kendrick said. "He's kind of crafty because he's got that windup that kind of throws off your timing a little bit. I think the biggest thing is to try to get a mistake and hit it."
Lilly pitched 5 2/3 strong innings for the Dodgers, but was not able to get the final out of the sixth and it proved to be the difference.
Belisario took over for Lilly with two outs and runners on the corners, but was unable to retire Nelson.
"Belisario is tough, he stayed on a pitch that was down and hit it back up the middle and got the infield hit," Scioscia said of Nelson. "And obviously we made that run hold up."
The Dodgers wasted no time getting on the scoreboard as Carl Crawford hit the second pitch of the game -- an 87 mph fastball from Vargas -- to right field for a triple. Following a lineout from Ellis, Adrian Gonzalez hit a sacrifice fly to give the Dodgers the early advantage.
The Angels responded in the second when Iannetta laced an RBI double. Six of the catcher's last 10 hits have gone for extra bases.
The Angels then took a 2-1 lead on triple from Kendrick and Alberto Callaspo's single in the fourth, but Dodgers catcher Ramon Hernandez hit the first pitch of the fifth inning over the left-field wall to tie the game at 2.
The Angels (25-29) have won six straight home games and have six games left in a homestand that could see the team climb back to -- and even over -- .500.
"We've been playing really strong baseball the last couple weeks," Scioscia said. "It was good to get back here. We controlled the games on the defensive end, starting with our pitching and we won two close ballgames. That's really what we need to be about."
William Boor is an associate reporter for MLB.com. This story was not subject to the approval of Major League Baseball or its clubs.