Quintanilla up as Mets place Tejada on DL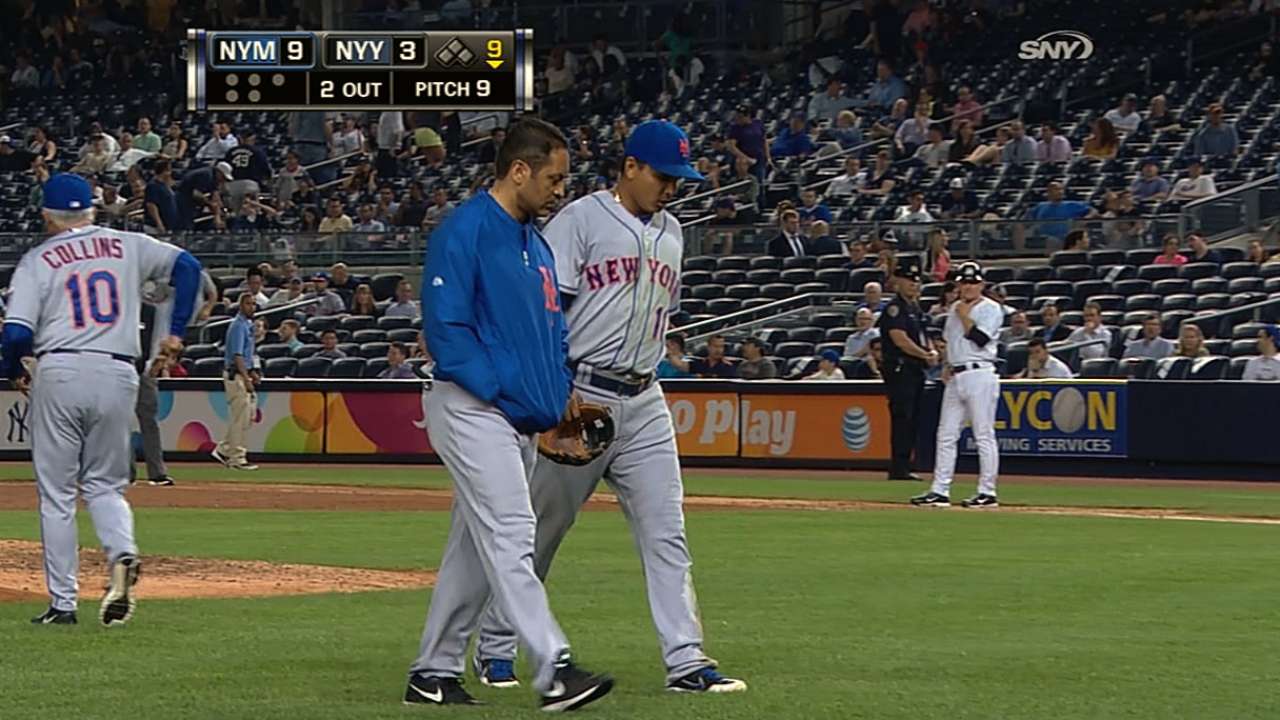 NEW YORK -- Ruben Tejada's assignment to the disabled list on Thursday came at a most inopportune time for the shortstop, who had been battling a massive slump and fighting daily for his job.
There are no guarantees it will be waiting for him when he returns.
Mets manager Terry Collins indicated that Omar Quintanilla, who joined the team on Thursday from Triple-A Las Vegas, could steal playing time from Tejada if he performs well in his predecessor's absence.
"If Omar Quintanilla is playing tremendous and he's doing what we know he can do, Ruben's going to have to make sure he's ready to play," Collins said. "A lot of things can happen in the next six weeks."
That six-week window was a reference to how long it took Tejada to recover from a similar right quad strain last season. Shortly after re-injuring the muscle on Wednesday at Yankee Stadium, Tejada said he does not believe this year's strain is as bad.
Still, the Mets exercised quick caution with Tejada, placing him on the DL and giving him an injection in his quad, which was tender to the touch. Tejada will fly to Port St. Lucie, Fla., on Friday to begin a period of rest and rehab.
Until Tejada recovers, Quintanilla will start almost every day at shortstop, looking to build upon the momentum he established at Vegas. In 47 games, Quintanilla batted .333 with a .419 on-base percentage, going 15-for-25 with seven RBIs and nine runs scored over his last nine games.
A positive contributor to the Mets last season before Ronny Cedeno's return made him expendable, Quintanilla is a career .220 hitter over 292 big league games with the Mets, Orioles, Rangers and Rockies. He nearly broke camp with the Mets this spring as Tejada's primary backup.
"I don't know how long he's going to be out," Quintanilla said of Tejada. "I'm just going to take it day by day and go out there and give it all I've got each night. I don't make the decisions, so I'll leave it on them."
Anthony DiComo is a reporter for MLB.com. Follow him on Twitter @AnthonyDicomo. This story was not subject to the approval of Major League Baseball or its clubs.