Griffin's fine start, A's streak vanish vs. Giants
Starter allows one hit until San Francisco's four-run sixth inning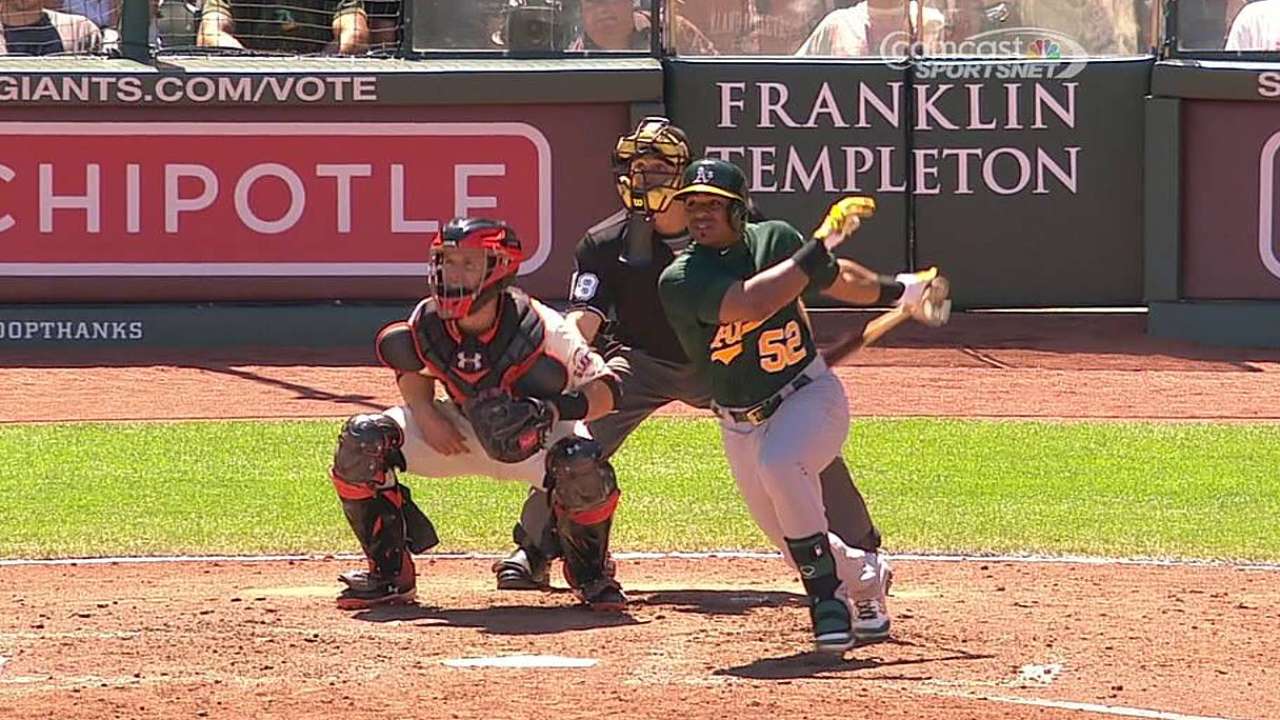 SAN FRANCISCO -- A.J. Griffin may have been more economical than Barry Zito, but the A's second-year starter didn't have enough gas mileage to outlast the Giants veteran Thursday at AT&T Park.
After taking the first three games of the Bay Bridge Series, the A's lost the fourth, 5-2, with the Giants using a four-run sixth inning that knocked Griffin out of the game after he had allowed just one hit prior.
The loss snapped a six-game winning streak for the A's, who had their bid for a third straight series sweep ruined, along with the chance to stand at nine games above .500 for the first time all season.
"At the beginning of the series, if you say three out of four you might say, 'OK, we may take that,'" A's manager Bob Melvin said, "but when you've won three in a row, you certainly want to go for the last one."
Despite the loss, the A's have still won 11 of their last 13 games and trail Texas by three games in the American League West after gaining 4 1/2 games in the standings over the last 14 days.
The A's struck first in the second inning when Coco Crisp pulled the ball to left field to drive in catcher Derek Norris, who, along with Griffin, reached base via walk after seven- and five-pitch at-bats, respectively. They were two of a season-high six walks issued by Zito, as Oakland out-walked the Giants 25-9 in the series.
But while the A's succeeded at reaching base through their patience at the plate -- drawing seven walks Thursday to the Giants' one -- they rarely capitalized. Five Oakland runners were abandoned in scoring position with two outs, with first baseman Nate Freiman stranding runners in scoring position in three separate innings.
"You keep putting guys on base consistently, you're going to have your chances to get some guys in, and recently we have," Melvin said. "We just didn't do it today."
Griffin cruised through the first five innings behind a strong overhand curveball until losing control of the game in the sixth, when Brett Pill knocked a ball into right field that grazed off the top of the 6-foot-8 Frieman's outstretched glove to lead off the inning -- just Griffin's second hit allowed.
Two batters later, Brandon Crawford doubled to send Pill to third base and set up an RBI opportunity for Pablo Sandoval, who broke up Griffin's no-hit bid two innings prior.
Sandoval came through once again, singling in both runners to gain the 2-1 lead -- the Giants' first in 22 innings dating back to Tuesday. Two additional runs were charged to Griffin after Hideki Okajima failed to limit the damage, giving up a two-run double to Brandon Belt.
"It was just the third time through the order," Griffin said. "They did a good job -- Crawford jumping on a first-pitch curveball, one I was trying to use ahead in the count. Sandoval, he stayed inside that ball well to get the grounder up the middle. I was still executing my pitches well. They were just doing a good job of staying on them. They hit them where we weren't that inning."
"It was one of his better outings of the year," Norris said. "They just happened to piece a couple of hits together to get some runs."
Griffin left the game after 5 2/3 innings having thrown 92 pitches, compared to Zito's 117 pitches of one-run ball in six full innings.
"The ball-strike ratio wasn't very good but he made pitches when he had to," Melvin said, referencing the 63 strikes Zito threw compared to 54 balls.
"Against Oakland it's obviously a big series," Zito said. "I get some juices because it's a tough game."
The A's made a short-lived run at a comeback behind Yoenis Cespedes' seventh-inning RBI single that extended his career-best hitting streak to 12 games and trimmed the deficit to two, but the Giants responded with a run of their own in the bottom of the frame.
The A's didn't make things easy on themselves defensively when the normally reliable shortstop Adam Rosales sailed a throw to first into the stands that resulted in the insurance run.
"Any time you can take three of four from the defending champs -- I mean they play good baseball," Norris said. "We just came up a little short today."
Jeff Kirshman is an associate reporter for MLB.com. This story was not subject to the approval of Major League Baseball or its clubs.