Giants reward Zito's stalwart effort vs. Oakland
Sandoval, Belt drive in two each to back lefty's gutty six innings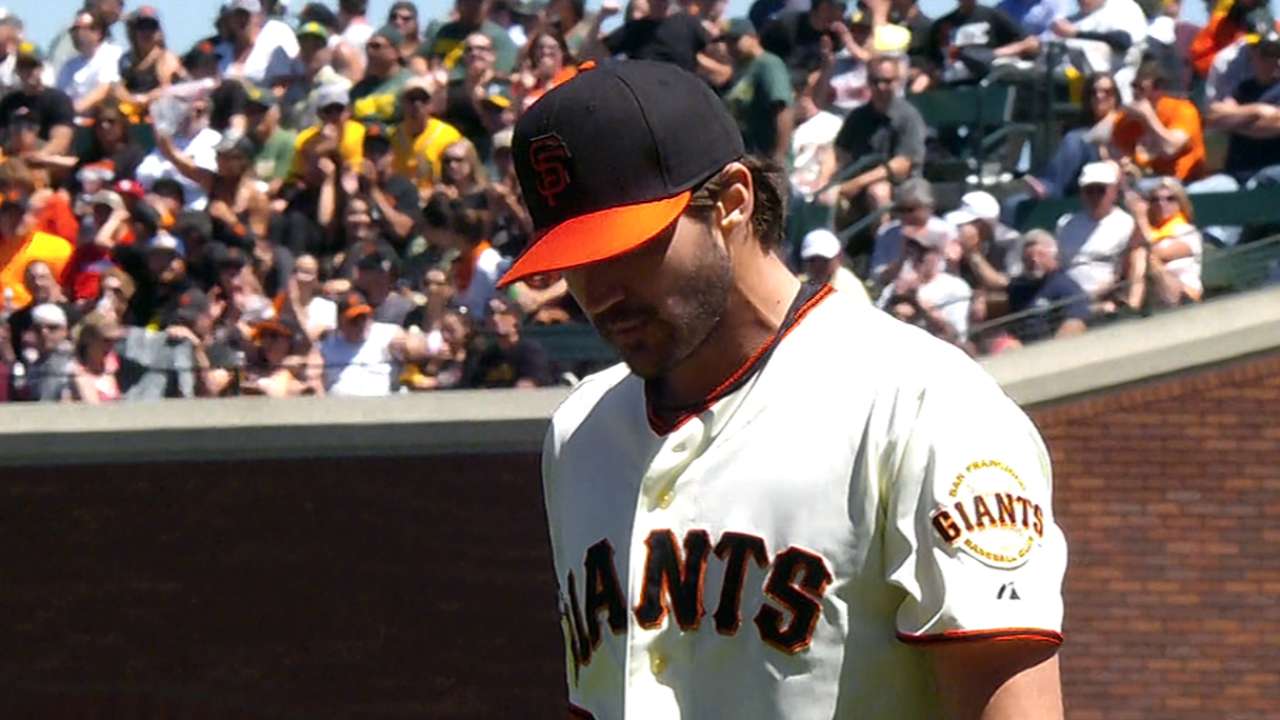 SAN FRANCISCO -- Gregor Blanco Jr., the toddler son of the Giants outfielder, innocently crawled into the media horde surrounding Barry Zito following Thursday's game. Young Gregor went untouched as he sat at the feet of reporters who began questioning Zito. But one unsuspecting move might have harmed the child.
Noticing the boy and sensing the potential for danger, Zito smoothly scooped up the youth and hoisted him to a grateful Blanco. It was a fitting coda to Zito's afternoon, since he had spent the day rescuing the Giants.
Zito was flawed against the Oakland A's, but he also was fearless. The left-hander survived walking a season-high six batters and lasted six innings to help the Giants triumph, 5-2.
The outcome ended Oakland's six-game winning streak and enabled San Francisco to avoid losing all four games to the A's, which would have been the first sweep by either side since the Interleague series began in 1997.
Said Giants manager Bruce Bochy, "It's one thing if you lose a series. But there's some pride involved when you get swept."
Pablo Sandoval and Brandon Belt contributed by driving in two runs apiece during a four-run, sixth-inning rally. But without Zito's stubborn effectiveness, the Giants might have needed a bigger offensive surge to compete.
Zito constantly skirted disaster. He escaped a second-and-third, nobody-out predicament in the first inning, yielded a run but stranded two A's in the second inning, walked two batters before coaxing a double-play grounder in the third and marooned runners on the corners in the fifth. Oakland went 1-for-7 off him with runners in scoring position.
"Amazing, really," Bochy said of Zito's performance. "He was quite the Houdini today. I don't know how he did it. Sheer determination. ... It's a credit to Z for keeping his poise and making his pitches when he had to."
The Giants hiked their record to 7-0 in games started by Zito this year at AT&T Park. He ended San Francisco's stretch of six consecutive games without a quality start. In typical fashion, the left-hander remained matter-of-fact about his success.
"I didn't like walking all those guys, obviously," said Zito, who threw only 63 strikes in 117 pitches -- his highest total since Aug. 6, 2010. "But it's a good feeling when you can pitch out of those jams and keep the team in the game."
A's starter A.J. Griffin yielded one hit in five innings and took a 1-0 lead into the sixth, which Brett Pill christened with a single off leaping first baseman Nate Freiman's glove. Brandon Crawford doubled one out later. Sandoval, whose eighth-inning RBI single Wednesday interrupted a 7-for-44 (.159) skid, scored Pill and Crawford with his second single of the afternoon.
Sandoval's technique impressed Griffin.
"He stayed inside that ball well to get the grounder up the middle," Griffin said. "I was still executing my pitches well. They were just doing a good job of staying on them. They hit them where we weren't that inning."
Hunter Pence's two-out single prolonged the sixth and finished Griffin. Facing Hideki Okajima, Belt defied the lefty-on-lefty percentages by doubling to left field on a 3-1 split-fingered fastball, scoring Sandoval and Pence.
Belt, hitting .265 off lefties, felt confident against Okajima.
"I kind of knew what his plan was, so I just tried to stick with my approach and make him come across the plate," Belt said.
Citing Okajima's "funky" delivery, Belt added, "You really have to try to focus in on the ball, especially with a guy you haven't faced before. With guys in scoring position, sometimes you want to go after the first thing that's across the plate. Luckily for me, he gave me a few pitches to see up there before he came after me."
The next opponent to go after the Giants will be St. Louis, which owns the Major Leagues' best record. The Giants needed a relatively clean effort against the A's to gird themselves for the Cardinals.
"That's why I thought today's game was really important to find a way to win," Bochy said. "We have to be on top of our game."
Chris Haft is a reporter for MLB.com. This story was not subject to the approval of Major League Baseball or its clubs.