Fister superb, but bats turned away in 11th-inning loss
Tigers starter fans 12 over seven; offense sets table, can't find home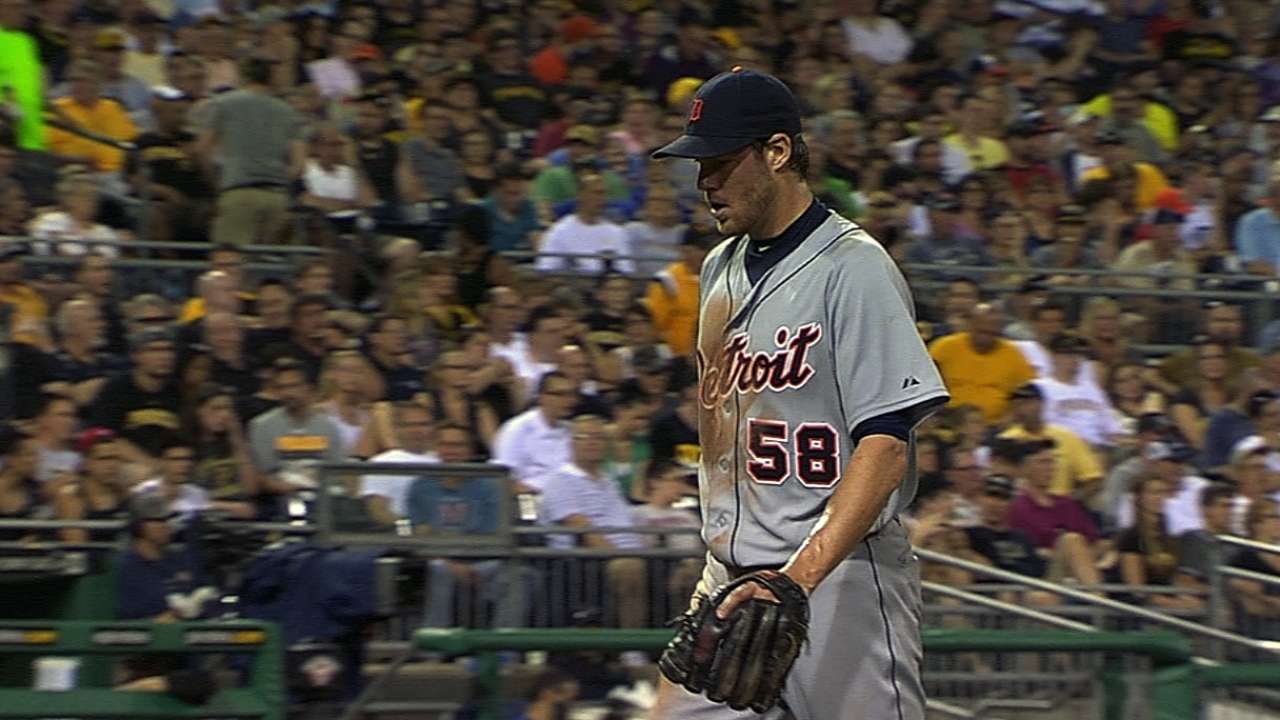 PITTSBURGH -- Four consecutive singles couldn't earn the Tigers a run. Three hits with runners in scoring position couldn't get them a run, either. As a result, seven scoreless innings with 12 strikeouts couldn't get Doug Fister a win, a first for a Tigers pitcher.
It was that kind of Thursday night at PNC Park. It was that kind of series for the Tigers against the Pirates.
"With all due respect, that's not going to happen a lot with this ballclub," catcher Brayan Pena said.
After going five years without a scoreless game in extra innings, the Tigers -- owners of one of baseball's most potent offenses -- had two in three nights, again taking a 1-0 loss in 11 innings. There were different pitchers with gems squandered, different hitters seeking a run, but the same Tigers nemesis trotting home with the game's only run at the end of the night.
It wasn't a home run, but Neil Walker's leadoff single set the rally in motion in the 11th. Once Russell Martin drove Luke Putkonen's 2-2 pitch off the left-field wall, Walker could trot home all the same, bringing Pittsburgh's fourth 1-0 victory in 11 games with him.
With that, Pittsburgh took the final three games of this four-game, two-city Interleague set after the Tigers took the opener Monday at Comerica Park. Over those final three games, Detroit scored in one out of 31 innings.
"We played a heck of a ballgame," manager Jim Leyland said. "Hey, this is all part of it. First of all, you tip your cap to them. They pitched us well for four games. They pitched us very well. We're not clicking on all cylinders offensively right now, and you put that combination together.
"This is hard. Hey, I'm disappointed that we didn't get at least another win out of this, but that's part of the game. It's not easy."
As Pena said, it won't happen often with this lineup. It also isn't the first opponent the Pirates have shut down this season.
"Right now, our guys are focused," Pirates manager Clint Hurdle said. "The game-calling [Martin] has been exceptional. We've just done a very good job of taking care of business on the mound."
The Pirates didn't do much more offensively, scoring in just four innings in that same stretch. Except for one rough seventh inning from Anibal Sanchez on Wednesday night, Tigers pitchers did everything they could to give their team a chance.
In Fister's case, that included hitting a single with runners in scoring position and making a diving stop and throw to deny a leadoff single to Starling Marte in the sixth.
In the end, Fister suffered a more historic fate than Rick Porcello, who on Tuesday became just the second Tigers pitcher since at least 1916 to toss eight scoreless innings with 11 or more strikeouts and not get a win.
No Tigers pitcher in that same span had struck out 12 or more batters over seven scoreless innings without earning a victory. Fister became the first.
If he was supposed to play the hard-luck hurler, though, he wasn't.
"Our guys are out there selling out," Fister said. "They're out there busting their butt every out, every pitch. We've got guys diving in the stands selling out, and that's all we can ask for. Unfortunately, sometimes the ball doesn't go our way, but we're playing well, playing together. That's the biggest thing for us. We're a team."
A hit-by-pitch to Walker -- Fister's league-high 12th hit batter of the season -- was the only baserunner Fister allowed until three consecutive singles leading off the fourth gave the Pirates a scoring chance.
Fister used a nasty breaking ball to strike out Martin on his way to stranding Andrew McCutchen at third base.
"Terrific, gutty performance," Leyland said.
It was Fister's version of the jam Pirates lefty Jeff Locke somehow escaped in the fifth inning, when four consecutive singles yielded no tally. Matt Tuiasosopo, who began the stretch, was thrown out at home by Travis Snider trying to score on Avisail Garcia's single to right, then Omar Infante's bases-loaded grounder to third turned Pena into a force out at the plate.
Third-base coach Tom Brookens sent Tuiasosopo home with Fister on deck. With nobody out, however, Leyland said that didn't play a role.
"Runs have been scarce, and sometimes you get a little antsy," Leyland said. "With nobody out, I always say there's times when the third-base coach would like to have one back. If there's two outs, that's a no-brainer, maybe even with one out. But with no outs, I'm sure Tommy would like to have that one back."
While the Tigers had runners in scoring position in three ensuing innings, including runners at the corners and one out in the seventh before Vin Mazzaro retired Andy Dirks and Miguel Cabrera, no other Pirate reached second base until Josh Harrison in the eighth. Cabrera's diving stop and throw left him there, robbing McCutchen of a potential go-ahead single. Cabrera also had two doubles, including No. 400 of his career.
The pitch Walker hit through the middle for a single, Pena said, was a good offering low and outside from Putkonen (1-1). The arguably key miscue followed with a four-pitch walk to McCutchen, putting the deciding run in scoring position.
Gaby Sanchez's single through the left side wasn't enough to score Walker, but it loaded the bases. Officially, Martin's drive counts as a single, but it was as effective as Walker's go-ahead homer Tuesday night.
Jason Beck is a reporter for MLB.com. Read Beck's Blog and follow him on Twitter @beckjason. This story was not subject to the approval of Major League Baseball or its clubs.