A's succeed by making opposing pitchers work hard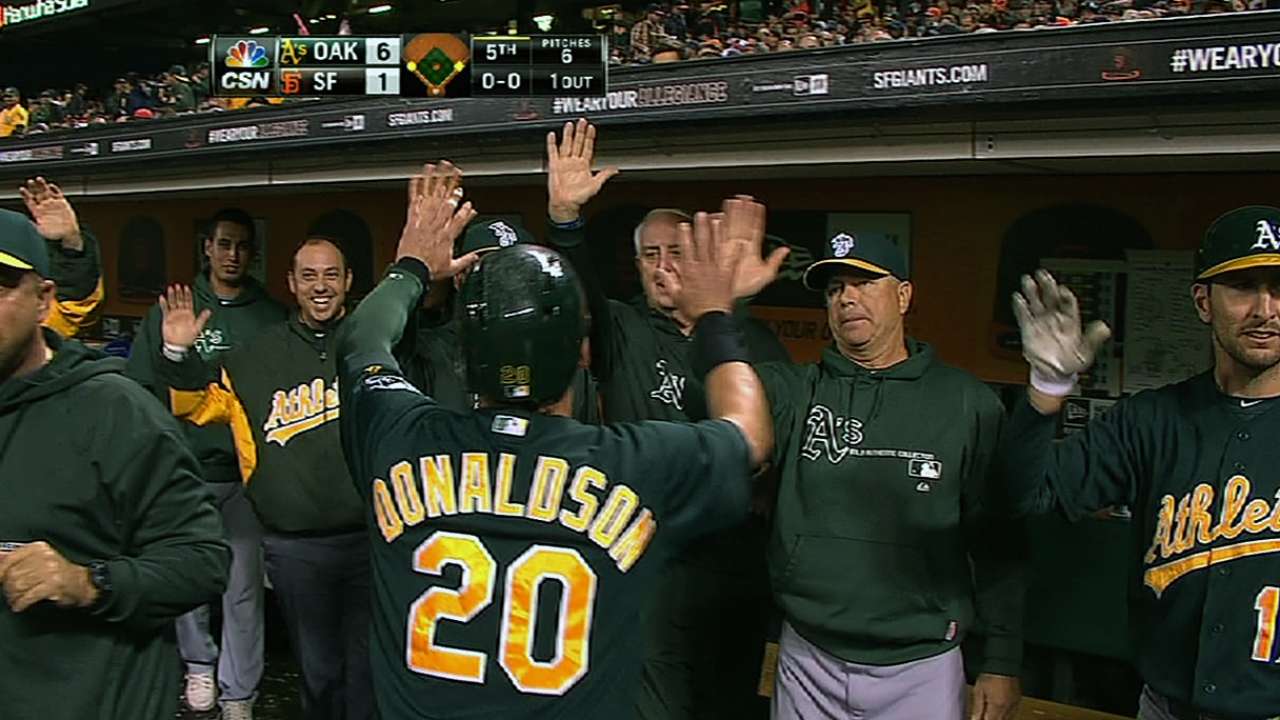 SAN FRANCISCO -- There's a reason the A's have one of the best records in the American League despite carrying around one of the lowest team averages.
Oakland's .246 clip entering Thursday, which comes in at fourth lowest in the AL, is offset by the club's ability to find different ways to get on base by way of patience.
The A's have long been tied to a Moneyball approach that advocates walks, and lots of them. They entered Thursday's series finale in San Francisco with a Major League-leading 224, putting them on pace for 672. That's more than 100 more than the 550 they tallied last year, which ranked fourth best in the AL.
"They're not as sexy as big hits, but you start putting a little bit of pressure on pitchers and make them throw a lot of pitches and make them work hard and all of a sudden they have nowhere to go," said manager Bob Melvin. "It's been a big weapon for us this year. The amount of walks we've had has been a big part of our game."
On Wednesday night, the A's knocked a starter out of the game before the fifth inning ended for the fourth time in the last nine games. They're getting to bullpens earlier, and they've plated 74 runs in the seventh inning or later, fourth most in the AL.
No matter the inning, the A's are seeing a lot of pitches -- more than any other team, in fact.
Coming into Thursday, the A's had seen 8,496 pitches spanning 2,123 plate appearances. The Red Sox have seen slightly fewer (8,483) than Oakland but in just 2,078 plate appearances, for an average of 4.08 pitches per plate appearance, best in the Majors. The A's rank second to them with 4.00. But no other team really comes close.
"That's what the organization profiles players coming in," Melvin said. "Not all but most have that attribute.
"If you can get to bullpens in the fifth or sixth inning, it's usually not the guys teams finish games out with. You have better chances against bullpens when you're not always facing the eighth- or ninth-inning guy."
Jane Lee is a reporter for MLB.com. This story was not subject to the approval of Major League Baseball or its clubs.