Early deficit too much for Phillies to overcome
Pettibone gives up four in first; bats quiet after Young's early homer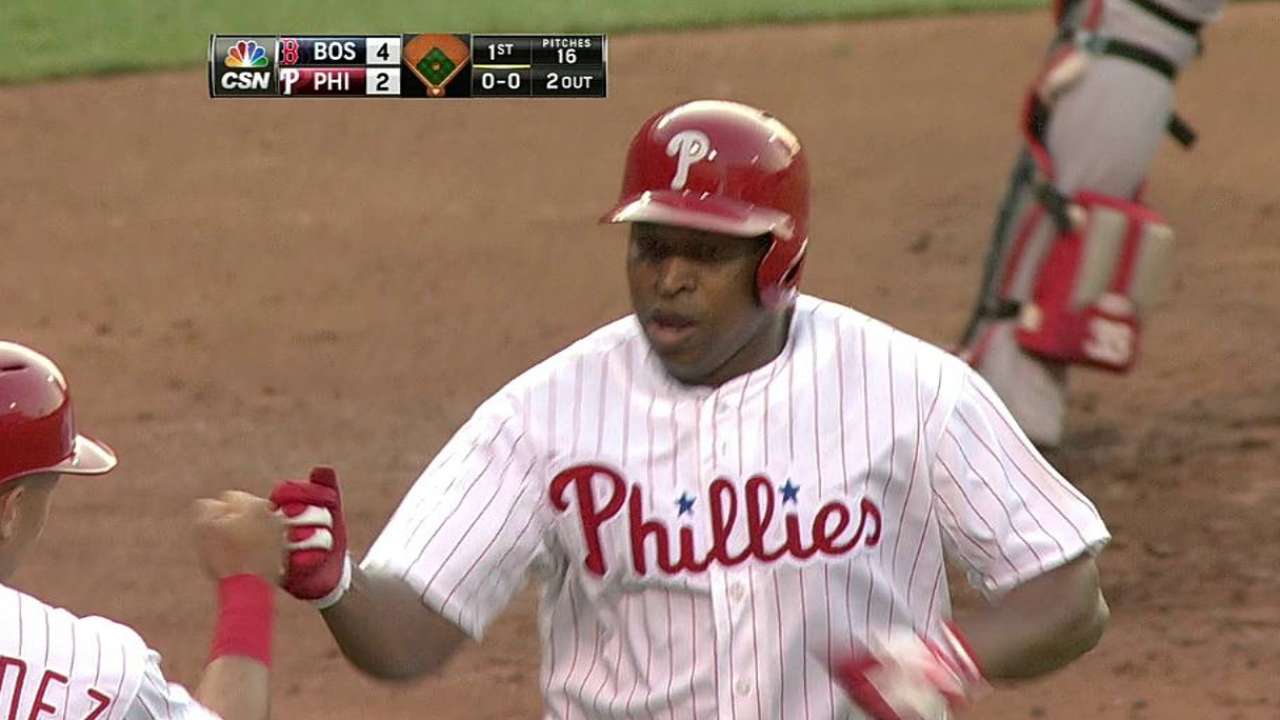 PHILADELPHIA -- A lack of offense has been the main reason the Phillies have been below .500 for nearly the entire season.
With a chance to get back to the .500 mark Thursday, the bats were again dormant, and the Red Sox hammered the Phillies, 9-2, to earn a split in a four-game set. Meanwhile, the Phils squandered their third chance in the last eight days to get their win total even with their loss column.
"We talk about the same thing every night," manager Charlie Manuel said, alluding to the team's offensive struggles. "That's where that .245 batting average comes into play. This is a game of percentages, averages, that's what happens. We didn't muster enough offense."
Thursday marked the fourth time the Phillies have had the opportunity to get back to .500 since they were 6-6 in mid-April. They have come up short each time, and the most recent loss slid their record to 26-28.
The Phillies, who have scored five or more runs just 15 times in 54 games, were quieted by Franklin Morales. The left-hander made his first start of the season, as the Red Sox saved Jon Lester for the series opener against the Yankees on Friday.
Delmon Young launched a two-run homer off Morales -- who came in with a 4.36 career ERA -- in the first inning. That would be Philadelphia's only source of offense.
Morales lasted five innings, allowed four hits and struck out two. He was the second Red Sox spot starter who limited the Phillies in the series. Alfredo Aceves, who entered the week with an 8.20 ERA, held the Phils to one run in six innings on Monday.
"He threw a lot of fastballs," Manuel said of Morales. "When he got ahead of us, he mixed other pitches, but basically he threw a lot of fastballs. He was maybe effectively wild. If you stayed in and were patient, he'd give you fastballs to hit."
The Phillies' only true threat after Young's homer came in the fourth when they loaded the bases with one out. Erik Kratz, however, softly grounded into a double play to end the inning, and the team had just two hits the rest of the game.
"I have to get at least one run in there," Kratz said. "It would have been 4-3. A one-run game definitely changes it."
Jonathan Pettibone got the start, and though he had not allowed more than three runs in any of his seven starts before Thursday, Boston got to him early. The towering righty allowed four runs on four hits in the first, capped off by a Jarrod Saltalamacchia two-run double.
Pettibone would settle down and last five innings, but the bad inning would lead to his first Major League loss.
Jacoby Ellsbury got Boston's rally started in the first, and his presence on the basepaths became a theme throughout the game. Ellsbury reached base five times and stole a club-record five bases.
Dating back to 1916, Ellsbury is the only player to accomplish the feat against the Phillies.
"I know how leadoff hitters are. He was hot today and he was running," Pettibone said. "I should have done better stopping his feet at first and giving Kratz a chance to throw him out. I don't think I gave him a chance."
Pettibone left the game with the Phillies behind by just two runs, but the team's bullpen couldn't keep it close.
In his two innings, Jeremy Horst allowed solo home runs to Jonny Gomes and David Ortiz. In the ninth, Chad Durbin surrendered three runs on four hits to raise his season ERA to 9.00.
The Phils have not been above .500 this season, but the next 10 days may provide them with their best opportunity. In their next three series, the Phillies will host last-place Milwaukee and last-place Miami, then travel to face the Brewers.
"We want to get further than .500, don't get me wrong," Manuel said. "I'm not looking at .500 as no big championship move or nothing like that. I'm looking at .500 as a place where we can get going a little bit and win five, six games in a row and might be back right even with the top of the league."
Stephen Pianovich is an associate reporter for MLB.com. This story was not subject to the approval of Major League Baseball or its clubs.