Franklin hits first two homers in series finale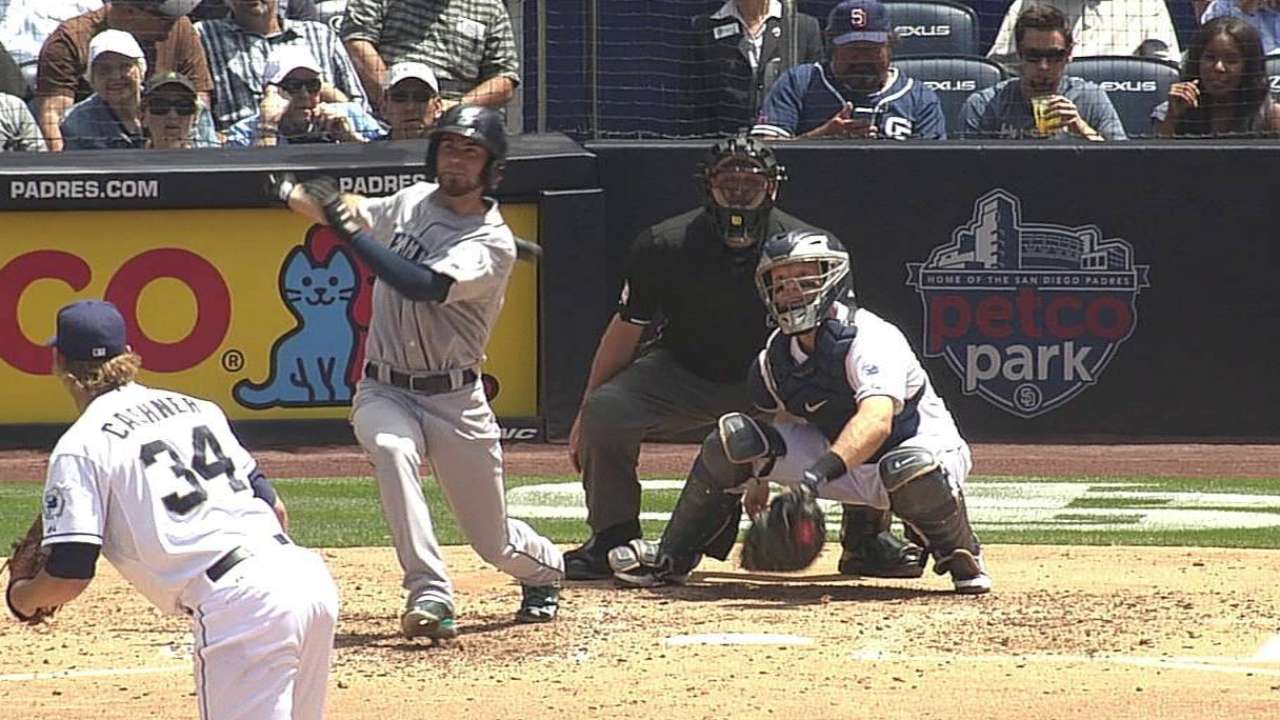 SAN DIEGO -- Mariners rookie second baseman Nick Franklin got his first Major League hit on Wednesday and followed that up with a two-homer day on Thursday as the youngster got off to a hot start in his first week since being called up from Triple-A.
Franklin showed some fancy footwork, as well, dodging a postgame Gatorade shower from teammate Aaron Harang while doing a television interview after Seattle topped the Padres, 7-1, in the series finale.
"I wasn't expecting that," Franklin said, after he eventually did succumb to a beer shower in the clubhouse locker room. "But it's awesome. I'm glad we won. It's a great win coming back from last night. I'm really happy we won."
The night before, Franklin had been more reluctant to bask in the glow of his first big league hit, given his single to left in the fifth inning off Padres lefty Eric Stults came in a 3-2 loss.
That time, he watched Felix Hernandez fake throwing the ball into the stands after it was taken out of play and knew what was coming.
"I saw that," Franklin said with a smile. "I was actually kind of expecting it, because I remember one of the Mariners games a few years ago -- I don't remember which player -- but somebody else with their first hit and he did the fake. So I've remembered that."
Franklin, 22, is trying to keep it all in perspective as he whirlwinds through his first week of Major League ball after getting called up from Triple-A Tacoma on Monday.
He gave the ball from his first hit to his parents, who traveled to Seattle for his debut and are now on the road trip to San Diego and Minneapolis before returning to their home in Florida. He got his third straight start on Thursday as manager Eric Wedge said he wants to get him as comfortable as possible as quickly as possible.
"I'm starting to settle in a little bit and starting to feel a little more comfortable," Franklin said, "Not just in the box, but being in the environment and with the pitching and everything. It's taken a while to get used to. But this is just the beginning and hopefully not the end."
Franklin is just the fourth American League player since the start of the 2011 season to hit his first two career home runs in the same game, joining Manny Machado of the Orioles, Ryan Lavarnway of the Red Sox and Jesus Montero when he was with the Yankees.
At 22 years and 89 days, he's the third-youngest Mariners player to record a multi-home run game. Ken Griffey Jr. and Alex Rodriguez both achieved that three times before they reached that age.
Greg Johns is a reporter for MLB.com. Follow him on Twitter @GregJohnsMLB as well as his Mariners Musings blog. This story was not subject to the approval of Major League Baseball or its clubs.