For Ryan, Cabrera's hit the one that got away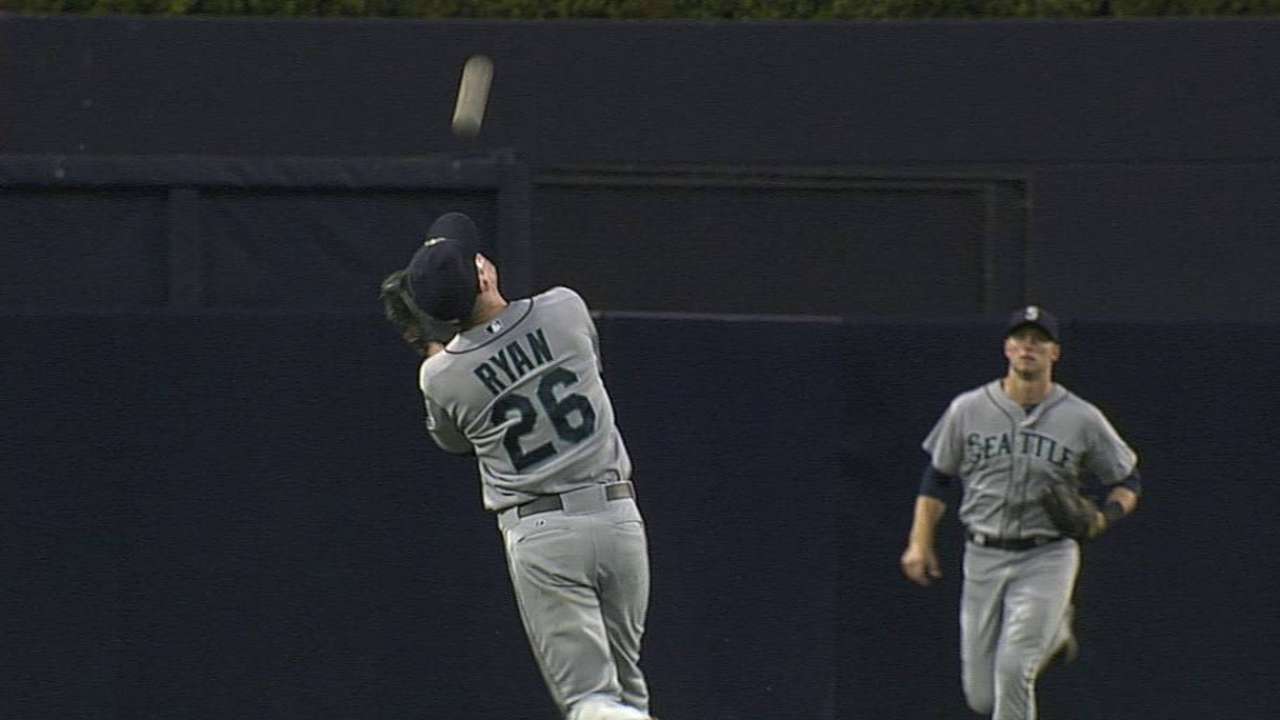 SAN DIEGO -- If you want a glimpse into the intricacies of one baseball play, listen to Brendan Ryan talk about how he should have played a hit-and-run by the Padres' Everth Cabrera in the 10th inning of Wednesday's 3-2 loss.
Ryan, an outstanding defensive shortstop, couldn't reverse course and make a diving stop on Cabrera's shot through the hole after he'd already taken several steps toward the bag when Chris Denorfia took off for second on the pitch.
But Ryan said he never should have been in that position in the first place, having anticipated that Cabrera would hit the ball towards the shortstop hole, and feeling he should have switched the play so second baseman Nick Franklin was responsible for covering the bag on any steal attempt against pitcher Yoervis Medina.
"There's only two things that are going to happen: They're either going to bunt it or slash hit-and-run it," Ryan said. "I wasn't caught off-guard there. I should have switched the coverage and stayed home, and we could at least get one and maybe two out of it. That whole inning could have been completely different and I feel that was on me."
How much of that was just hindsight?
"Maybe none of it, because I see every pitch that's coming and I know what Medina's ball does and what kind of swing he's going to get on it," said Ryan. "There's only one place that ball is going to go in my mind, and I still thought I had it measured, but I should have stayed home there, for sure."
How often do middle infielders switch coverage? Cabrera was hitting left-handed, so normally the second baseman would be the one to stay put and the shortstop would cover.
"It depends on the pitch, the count, the action on the guy pitching," Ryan said. "He's got good running sink. In my mind, there's only one place that ball is going to go and that's to my right. I don't know. I just shouldn't have been going to second there. I should have been staying home."
Manager Eric Wedge appreciated Ryan shouldering the blame for both that situation and a near-incredible play on the batter before that led to an infield single.
"It's him being sincere, but it's not his fault," Wedge said. "We talked about it late last night. He was the last one here. That's the passion and how genuine he is. It's personal to him. That's why he's a special defensive player. The fact of the matter is, most players don't even get to that first ball or if they do, they can't do anything with it. And like I told him about the second play, you have to tip your cap to the other team now and again. You can't do everything. You're not Superman. But I appreciate how much that means to him."
As for Ryan being aware enough to see things before they play out?
"That's huge," said Wedge. "His court awareness out there is unbelievable. From what the catcher is calling, he sees everything there and understands situations and where he needs to be. When I go out to the mound, he's right there with me. He's ahead of the game. He's got it. That's a big part of what he does defensively."
Greg Johns is a reporter for MLB.com. Follow him on Twitter @GregJohnsMLB as well as his Mariners Musings blog. This story was not subject to the approval of Major League Baseball or its clubs.