Padres fall to Felix, Mariners in finale
Cashner allows four runs on seven hits over six innings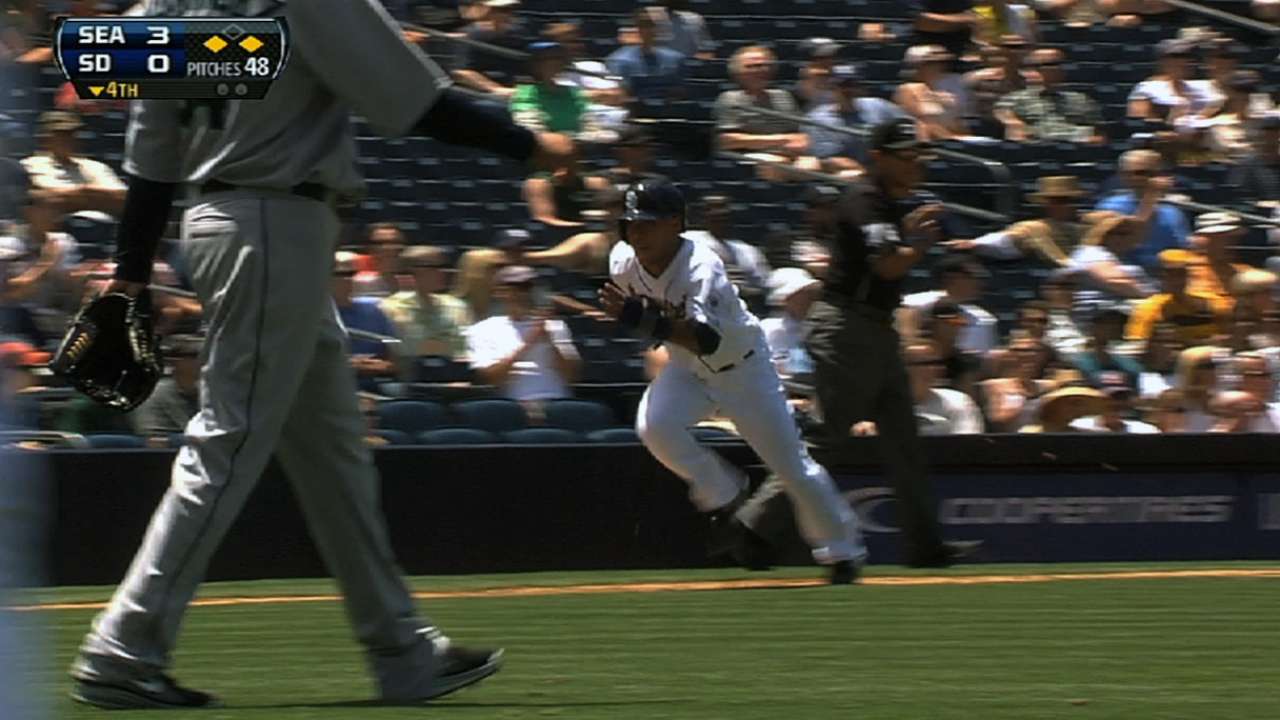 SAN DIEGO -- On his way out to the mound during the seventh inning, Mariners pitcher Felix Hernandez paused and made sure he jumped over the third-base line. There was no need to tempt any bad luck the way he was pitching.
Hernandez was dominant and was aided by five Mariners' home runs as Seattle cruised to a 7-1 victory over the Padres on Thursday in front of 18,809 fans at Petco Park and earned a split of a four-game Interleague series.
The five home runs by the Mariners tied for the most-ever by an opponent at Petco Park, most recently on July 14, 2006, by the Braves. It was also a single-game high for the Mariners this season and the most homers surrendered by the Padres pitching staff in 2013.
"The ball was carrying today, but I think it was more of a function of location, more than the ball traveling," Padres manager Bud Black said. "Those were functions of balls elevated, and when a Major League hitter gets a ball up and out over the plate with a Major League swing and barrels it up, it has a chance to go over the fence."
Hernandez (6-4) worked quickly as he scattered three hits during eight innings, allowing one run while striking out six. It was his first victory since May 8 against the Pirates, when he also went eight innings and allowed one run.
"Today, I just needed to step up," Hernandez said. "I was coming from two struggling outings and I had to go out there and throw good pitches. That's what I did today and we played unbelievable defense back there."
The Padres are now 4-5 against the American League with 11 more games remaining, and begin a three-game series with the Blue Jays on Friday.
Kendrys Morales and Brendan Ryan led off the second and third innings respectively with solo home runs off Padres' starter Andrew Cashner. Mariners rookie Nick Franklin hit the first two home runs of his career, one of which came off Cashner in the sixth. Most of his mistakes came on his off-speed pitches.
"Today was the best my breaking ball has been in the 'pen," Cashner said. "It just didn't translate to the game. I felt I made a lot of mistakes with my changeup. They were flat and up in the zone. I've got to be better and not give up home runs."
The home runs were the only real mishaps for Cashner. He lasted six innings and threw a career-high 105 pitches, allowing seven hits and four runs.
Cashner (4-3) had won his past three decisions and the Padres had won each of his past four starts before Thursday.
Tim Stauffer came on in relief of Cashner in the seventh and only allowed two hits in two innings, but both of them left the yard. The first was a two-run homer from Endy Chavez in the seventh, then Franklin's second homer of the day in the eighth.
"I'm still getting my feet wet and I'm enjoying every bit of it," said Franklin, who was playing in only his third career game. "Just trying to stay relaxed and hopefully I can help the team and contribute to wins."
Hernandez wouldn't need that much help.
He didn't allow the Padres' first hit until the fourth inning, the same inning when the Padres scored their only run. After a leadoff walk, Alexi Amarista came around and scored on a Carlos Quentin sacrifice fly.
The Padres had two hits in the fourth, but wouldn't get another until Jedd Gyorko's two out single in the bottom of the eighth.
Hernandez improved to 5-0 with a 1.54 ERA in six career starts at Petco Park.
"Not only has he been around a long time, but he's a great competitor," said Padres first baseman Yonder Alonso. "He was in control of his pitches at all times. Not only commanding his pitches in the strike zone, but was keeping the ball down."
Jamal Collier is an associate reporter for MLB.com. This story was not subject to the approval of Major League Baseball or its clubs.