Rangers' bats come alive to end three-game slide
Moreland, Murphy homer, Profar has three hits, starter Grimm solid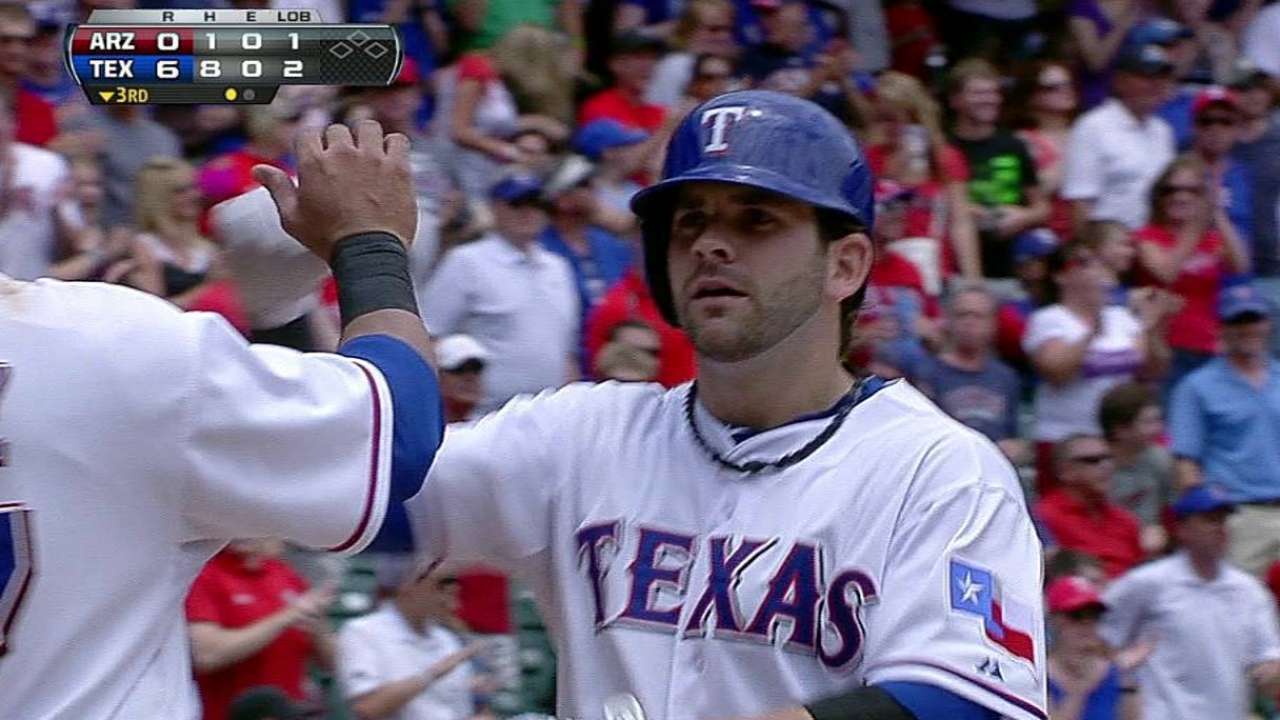 ARLINGTON -- D-backs manager Kirk Gibson can be quite direct, and was so after a long afternoon at the Ballpark in Arlington on Thursday.
"They kicked us pretty good early…" Gibson said in beginning his review of the Rangers' 9-5 victory over the D-backs.
The Rangers, safely ensconced in their home ballpark on a warm dry afternoon, did exactly that in ending their three-game losing streak. The brief skid isn't exactly what one would call a complete collapse, but when the two closest teams chasing you -- the Athletics and Angels -- also happen to be two of the hottest teams in baseball, the Rangers really can't afford an extended losing streak.
"It was a good offensive game and a good way to get back on the right track," catcher A.J. Pierzynski said after the Rangers won for the 16th time in 23 games at home.
"I don't think anybody was worried, we just go out and play our style of baseball," first baseman Mitch Moreland said. "We just came back today and made it work. Everybody knows you have to have a short memory. You're going to have wins and losses, you've just got to limit your losses. If we go out and play our style of baseball, we'll do that."
The Rangers had 15 hits and were particularly rough on D-backs starter Brandon McCarthy. He allowed six runs on nine hits after facing only 17 batters, and was out of the game with two outs in the third inning. Moreland hit a two-run homer in the third, his 11th home run of the year.
The Rangers were 5-for-13 with runners in scoring position, equaling the number of hits they had in those situations during the three-game losing streak. This was just the fifth time this season the Rangers had five hits in a game with runners in scoring position, and they've won all five. They were 21-3 last season in games in which they had five hits with runners in scoring position.
"Every good lineup does it," McCarthy said. "They're going to find pitches over the middle that aren't thrown well and they're going to hit it. This one especially, in this ballpark, it's not an easy lineup to get through at all."
Every Texas player in the starting lineup had a hit. Jurickson Profar led the way with three, and is now 10-for-27 (.370) since being called up from Triple-A Round Rock.
"I'm getting comfortable, I'm trusting myself and I'm trusting my teammates," Profar said. "We have a good team here, and I'm comfortable here."
Justin Grimm earned the victory by holding the D-backs scoreless for five innings while his teammates built up a 9-0 lead. The D-backs scored three off Grimm in the sixth, but he is still 5-3 with a 3.93 ERA after his third straight victory.
Grimm allowed eight hits but did not walk a batter. In his five wins, Grimm has pitched 32 innings and allowed 36 hits but has walked only two. In his other four starts -- three losses and one no-decision, he has pitched 20 2/3 innings and allowed 26 hits and 12 walks.
"That's the name of the game," Grimm said. "If you don't give up any free passes, things have a tendency to work out. I'm giving up a lot of hits because I'm keeping the ball up. I need to work on getting the ball down in the zone."
Grimm left with a 9-3 lead. The D-backs scored two more off of Michael Kirkman in the seventh, but with two on and two outs, Neal Cotts struck out Miguel Montero to end the threat. He also retired the side in order in the eighth before Robbie Ross finished off the ninth. Opponents are now 3-for-24 with one walk and eight strikeouts against Cotts over five appearances since he was called up from Triple-A.
"He has been a big part of our bullpen and he showed that today," Rangers manager Ron Washington said. "Neal is throwing the ball well and he's healthy and he's throwing strikes. He's attacking hitters. His veteran presence is important."
T.R. Sullivan is a reporter for MLB.com. Read his blog, Postcards from Elysian Fields, and follow him on Twitter @Sullivan_Ranger. This story was not subject to the approval of Major League Baseball or its clubs.