McCarthy knocked around; D-backs' streak snapped
Right-hander pounded in 2 2/3 innings; Goldschmidt records four hits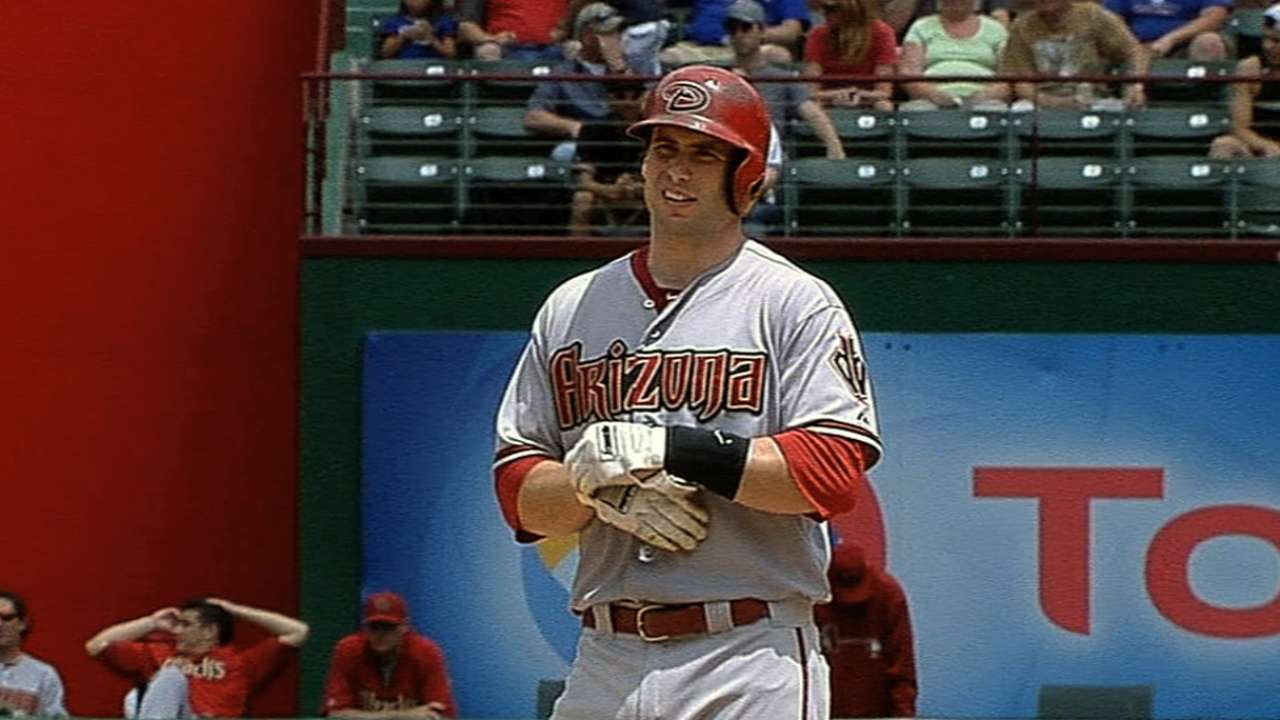 ARLINGTON -- The last time Brandon McCarthy was knocked out of a game this early, he was pitching for the Rangers, not against them.
McCarthy lasted only 2 2/3 innings, his shortest start since 2008, giving up six runs on nine hits as the D-backs fell to the Rangers, 9-5, at the Ballpark in Arlington on Thursday afternoon.
"It was just dead. I didn't have any life on my stuff," McCarthy said. "I had no ability to finish or command where I needed it to go. They took advantage. It was a fight right from the get-go. If you're not at your best, you're probably going to spend a lot of time backing up bases."
McCarthy's start was pushed back a day after Wednesday's game was postponed when heavy rain rendered the field unplayable. He pitched a scoreless first before Nelson Cruz began a second-inning rally by lining a ball at center fielder A.J. Pollock, who took one too many steps in as the ball sailed over his head, for a double.
"It was just a bad read," Pollock said. "The wind was kind of swirling. I thought off the bat I might have to come in, and that wasn't the case. I'm sure the wind definitely helped that ball. It was just a bad read. I wish I could take it back."
Cruz scored on a double down the left-field line by A.J. Pierzynski, who came home on an RBI single by Leonys Martin to put the D-backs in a 2-0 hole.
"He didn't throw the ball where he needed to," manager Kirk Gibson said of McCarthy. "He got behind, left balls over the plate and that's a very good hitting team. In his defense, we misplayed a ball we probably should have had with Pollock. We didn't help him out."
The Rangers nearly batted around in the third, when David Murphy led the inning off with a single to left. Adrian Beltre doubled off the left-field wall to bring Murphy home before Beltre scored on Cruz's single to give the Rangers a 4-0 lead. Mitch Moreland made it 6-0 by sending a 0-1 fastball off the top of the right-field foul pole, his 11th home run of the year.
"We just created some opportunities early," Moreland said. "A guy like that, he has been throwing the ball well and he mixes it up well. We just wanted to get guys on base and make something happen. It was a good game for us."
McCarthy faced two more batters before being replaced by Josh Collmenter with two outs in the third. It was McCarthy's shortest outing since he left a start against the Tigers on Sept. 15, 2008, with a strained tendon in his right middle finger after recording only two outs.
"When he threw the ball in the strike zone, we didn't miss it," Rangers manager Ron Washington said. "He had his cutter working, but when he got behind in the count, he had to come in and we didn't miss it."
Collmenter pitched the next 2 1/3 innings, allowing a solo homer to Murphy in the fourth and a two-run single to Elvis Andrus in the fifth. The Rangers held a 9-0 lead going into the sixth, allowing rookie right-hander Justin Grimm to cruise to his third straight win. Grimm retired 10 straight D-backs at one point.
But the D-backs touched him up for three runs in the sixth, as back-to-back one-out RBI singles by Martin Prado and Miguel Montero, followed by a Jason Kubel RBI groundout, cut the deficit to 9-3.
"He was throwing a lot of strikes early," first baseman Paul Goldschmidt said of Grimm. "He had good command of all three of his pitches. We were able to scratch three off him in the sixth. It was a good job of getting back in the game, but he didn't give up a run through five innings."
Run-scoring singles by Goldschmidt, who had his fifth career four-hit game, and Prado made it 9-5. But, with runners on the corners, Montero struck out swinging to end the inning. Didi Gregorious and Goldschmidt singled in the ninth, but Cliff Pennington grounded into a game-ending, 4-6-3 double play.
"We're going to keep fighting whether we're down nine or up nine," Goldschmidt said. "It's been preached to us since the first day of Spring Training. We're not going to give away any at-bats. We've been able to come from behind and tack on runs when we're ahead. Sometimes it's enough and other days it's not."
The loss broke a three-game winning streak for the D-backs, whose lead in the NL West was cut to two games over the Rockies.
Christian Corona is a contributor to MLB.com. This story was not subject to the approval of Major League Baseball or its clubs.