Nathan unsure if extra time off will be beneficial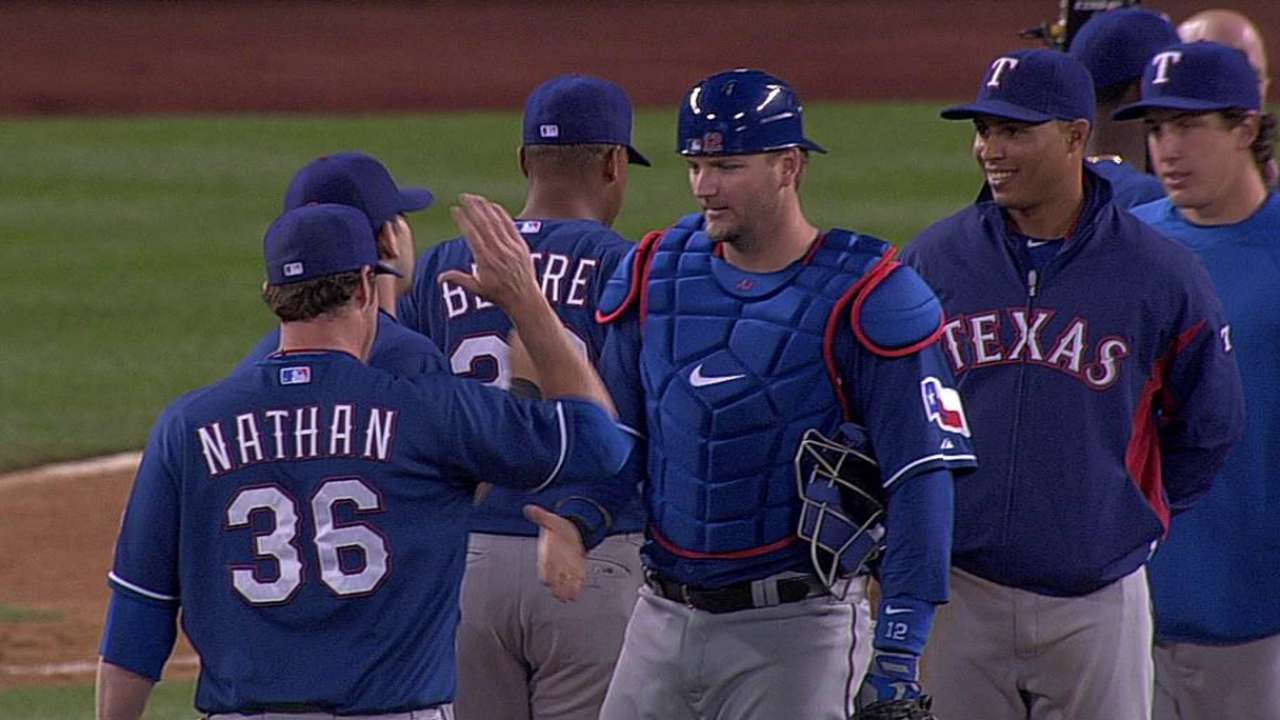 ARLINGTON -- The Rangers' bullpen left Seattle on Sunday night with at least three pitchers unavailable for a Monday doubleheader against the D-backs, including closer Joe Nathan.
Now that Nathan has had three days off, he should be back at full strength, although he is not convinced that he needed the extra rest and that the time off will be beneficial.
"We'll find out," Nathan said Thursday morning before he sat out a fourth straight day due to no save situation in a 9-5 win over the D-backs. "Days off are what you are. Sometimes you feel worse and sometimes you feel better. I felt fine [Wednesday], I didn't feel any differently."
Nathan pitched in all three games in Seattle over the weekend. The Rangers weren't interested in pushing him to four days in a row, so they didn't get him up during Monday's doubleheader when a couple of potential save situations were looming. In both games, the Rangers had a chance to take the lead in the late innings. But in both cases, they weren't able to take a lead into the bottom of the ninth, so Nathan wasn't needed.
"The first day in Arizona, I went out and threw and felt fine," Nathan said. "Could I have pitched? Yes. Would they have let me pitch? That's a different story."
Nathan pitched in four straight games for the Rangers on May 15-18 last season. He threw four scoreless innings and did not allow a baserunner in the last three outings.
Nathan is 38, but he said that shouldn't matter when it comes to deciding if he pitches or not. He said it all depends on how many days in a row he pitches, how many pitches he throws and how stressful the situation.
"I'm not fragile," Nathan said. "I prepare myself. If everything checks out, I don't need extra care and I don't need to be coddled. I don't want to be used differently because of my age. There is no need to treat me any differently than any other player. If I'm going to play at this level, I have to be ready.
"I haven't felt too many effects or any different than when I was younger. It's a matter of how hard you take care of yourself."
T.R. Sullivan is a reporter for MLB.com. Read his blog, Postcards from Elysian Fields, and follow him on Twitter @Sullivan_Ranger. Master Tesfatsion is an associate reporter for MLB.com. This story was not subject to the approval of Major League Baseball or its clubs.