Bench presses Braves to victory over Blue Jays
Given chance to start, Pena, Schafer, R. Johnson provide power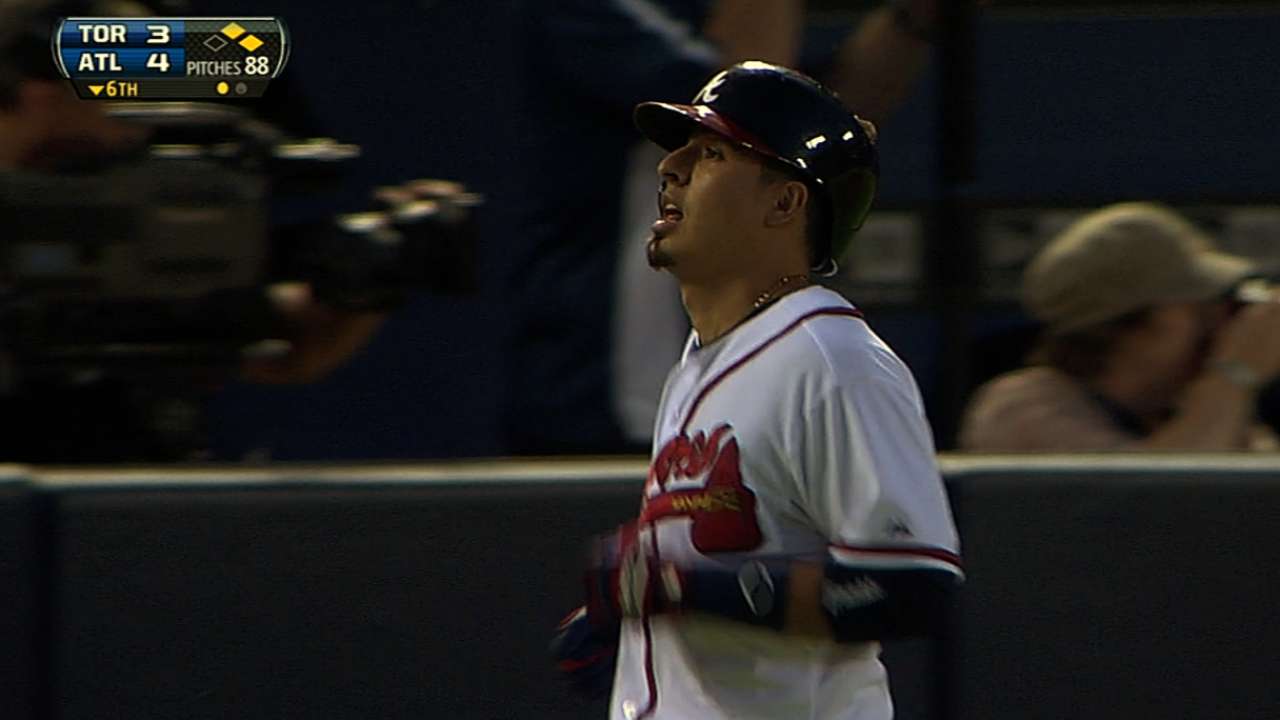 ATLANTA -- With his team coming off an uninspiring offensive performance that resulted in a shutout loss, manager Fredi Gonzalez opted to provide a spark by sitting three of his struggling veterans.
The decision proved beneficial, as the Braves recorded a season-high 16 hits and tallied their highest run total without B.J. Upton, Dan Uggla and Jason Heyward in the starting lineup for Thursday night's 11-3 win over the Blue Jays at Turner Field.
But after enjoying the impressive offensive performance, Gonzalez was left to answer whether he'll continue to sit those three in attempt to produce the best lineup possible on a nightly basis.
"We'll see," Gonzalez said. "It's been a long, tough day, and a good team win. Guys swung the bats well and pitched well."
Although Upton might get a few additional days to work on the mechanical flaws that have led him to hit .146 through his first two months in Atlanta, Uggla and Heyward will likely be in the lineup for Friday's series opener against the Nationals. Both have had success against Stephen Strasburg, Washington's scheduled starter.
With Ramiro Pena driving in a career-high four runs and matching Evan Gattis' team-high three hits, the Braves showed off the strength of their bench while winning for the 10th time in their past 13 games. They will enter Friday's game against the second-place Nationals with a 5 1/2-game lead in the National League East.
"With the guys getting a chance to play tonight, giving our starters a rest, they came up huge," first baseman Freddie Freeman said. "They've been doing it all year."
Freeman celebrated the first bobblehead night of his career by hitting a two-out home run in the third inning off Blue Jays starter R.A. Dickey. The line-drive shot into the right-field seats provided a three-run lead for starter Mike Minor until he was hurt by Andrelton Simmons' third error in the past seven games. Simmons had committed three errors in the 92 career games he played before this stretch.
Dickey began Toronto's three-run sixth with an infield single to Simmons. Two batters later, the sure-handed shortstop booted a Jose Bautista grounder. The rare miscue proved costly when Edwin Encarnacion followed with an RBI single and then scored on Mark DeRosa's game-tying double.
The sixth inning accounted for all of the damage incurred by Minor, who was charged with just two earned runs and six hits over seven innings. He has compiled a 2.33 ERA and limited opponents to a .198 batting average in his past 26 starts.
"That one inning they scored three, I was trying to pick my teammates up, because Simmons has picked me up so many other times, and I kind of let them down," Minor said. "But we scored three more in the next inning."
Gattis and McCann began the decisive bottom of the sixth with consecutive singles before Pena snuck a soft one-out RBI single through the infield's right side to give the Braves a lead they would not squander. Two batters later, Jordan Schafer provided some cushion with a two-out, two-run single off Dickey, the reigning NL Cy Young Award winner, who has now allowed at least five runs in each of his past three starts against Atlanta.
Whereas Upton has shown few signs of encouragement after getting regular opportunities to rest recently, Schafer has hit .348 and produced a .412 on-base percentage in his past 16 games.
"We'll see," Gonzalez said when asked if Schafer will begin playing more frequently than Upton. "One thing you always want to do is put your best team out there, whoever you think you have the best chance to win a ballgame with. He's playing well right now, but we'll see. Let's enjoy this game here, and we'll see what's going on."
Pena started his memorable night with an RBI single in the second inning, which began with Gattis and Brian McCann notching consecutive singles. Schafer opened the bottom of the first with a double and scored when Simmons followed with a single to left field.
Reed Johnson's pinch-hit homer in the eighth inning capped the scoring and added to the contributions made by the bench.
"There's some days that the guys sitting on the bench may be better than the guys on the field, and vice versa," Gonzalez said. "You've got to take every opportunity to put guys in there."
But Gonzalez made sure to point out that he is confident Upton, Uggla and Heyward will soon begin to live up to their potential and provide even more firepower to a deep team that has managed to gain a comfortable division lead despite its struggles.
"I'm sure that come the end of June or July, or whatever it is, the team that's supposed to be out there, the guys that are supposed to be out there, will be out there, because you've got to believe the back of the baseball cards, and they're good players," Gonzalez said. "It may not even be the end of June, it may be the middle of June or five days from now, who knows? But the bench guys are playing well."
Mark Bowman is a reporter for MLB.com. This story was not subject to the approval of Major League Baseball or its clubs.