Dickey's struggles at Turner Field continue in loss
Knuckleballer allows six runs on 11 hits in series finale with Braves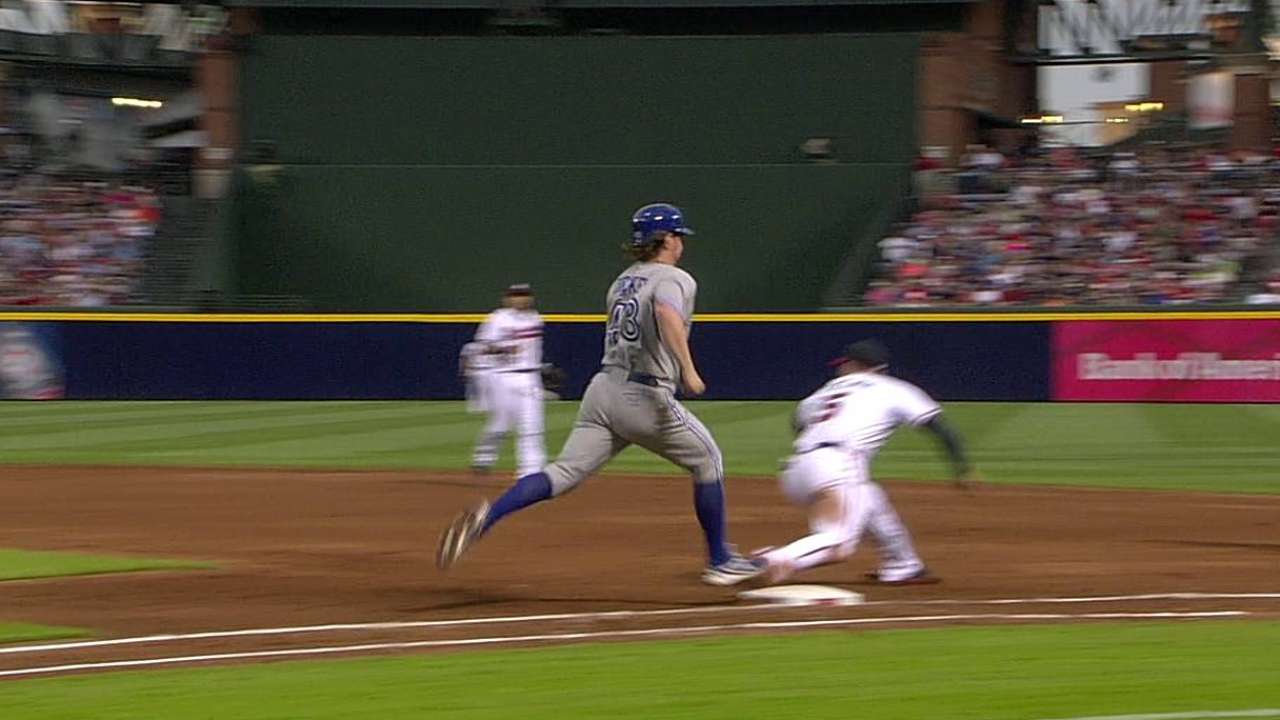 ATLANTA -- R.A. Dickey prefers not to look at the numbers when talking about Turner Field or about the 2013 season.
That makes sense. Turner Field has not been kind to him, which is borne out by his career 0-2 record and 7.26 ERA there going into Thursday night's series finale against the Braves.
The place wasn't pleasant for Dickey on Thursday, either, as he allowed at least six runs for the second straight start and fourth time in 12 starts in the Blue Jays' 11-3 loss. He now has a 4-7 record and 5.18 ERA for the season.
But there were positives, and Dickey believes that numbers can, if not lie, at least deceive. His final numbers on Thursday would be a good example.
"Today I felt good. I was around the strike zone all day long, I had one walk, and even that walk shouldn't have been a walk," Dickey said. "So I've got to trust that there's going to be an end result. You've just got to trust the process and try not to get discouraged along the way."
Dickey dropped his second straight decision, allowing the six runs (all earned) on 11 hits, nine of them singles, in six innings, striking out a season-low two while walking one and allowing a home run. He threw 98 pitches, 66 for strikes.
"I do know the velocity on his knuckleball is down. He's been battling trying to find it," said manager John Gibbons. "He spotted them single runs his first three innings, and then we tied it, and they came right back and scored three. He's battling. He battles you out there. I know it's frustrating him, his velocity being down."
The loss gave the Blue Jays a split of the two-game series in Atlanta, as well as of the four-game, two-city Interleague series.
Dickey was touched for single runs in each of the first three innings but appeared to right the ship in the fourth and fifth, shutting out Atlanta and allowing the Blue Jays to come back. He even started the sixth-inning game-tying rally by legging out an infield hit.
But it was the Braves who had the right answer in the bottom half of the sixth. Atlanta responded with three runs of its own, coming on an infield hit by shortstop Ramiro Pena, who was 3-for-4 with four RBIs, and a soft liner inside-outed by center fielder Jordan Schafer, who went 2-for-5 with two RBIs.
The quality of those hits typified Dickey's frustration all night.
"It hurts, because I felt like I was missing barrels today," Dickey said. "I might have given up four hard-hit balls all night. It was just tough. It seemed like every ball off their bat would find a hole somewhere or a little space in the outfield."
"That's baseball," said Gibbons. "We benefit from those kind of plays, too. They swing it over there. They don't let you up. They have some good approaches."
Atlanta starter Mike Minor (7-2) got the win, allowing three runs (two earned) and six hits over seven. His approach kept the Blue Jays at bay.
"I thought Mike Minor pitched a heck of a game for them," said third baseman and former Brave Mark DeRosa, whose two-run double in the sixth momentarily tied the score at 3. "He had command of his offspeed stuff, he was throwing a lot of cutters. He pitched well."
DeRosa's two-run double into the right-field corner followed Edwin Encarnacion's RBI knock -- which extended his hitting streak to five games -- and capped the rally, which was aided by a Braves error.
Aside from the three-run sixth, Toronto did little against Minor, managing only three other hits. They finished with seven overall and had only one other runner get as far as second base.
After DeRosa's double, the Blue Jays managed only one hit the rest of the way, a one-out single in the ninth by Colby Rasmus, who was erased on a game-ending double play by the next hitter, Maicer Izturis.
Left fielder Melky Cabrera, who had a perfect 3-for-3 night on Wednesday, went 0-for-4, striking out three times, and right fielder Jose Bautista went 1-for-4, finishing the series 1-for-8 with two strikeouts; he stranded six runners.
One night after shutting out Atlanta on four hits, the Blue Jays trailed after two hitters, as Dickey allowed a leadoff double to Schafer and an RBI single to shortstop Andrelton Simmons.
Atlanta pecked away for another run in the second, bunching three singles, the final one an RBI hit by Pena, then Braves first baseman Freddie Freeman homered to right to increase the deficit to three runs. It was the 12th homer of the season allowed by Dickey.
Atlanta put the game out of reach in the seventh, scoring three runs off reliever Brad Lincoln, and adding two in the eighth off former Braves farmhand Todd Redmond, who was making his Toronto debut, as former Blue Jay Reed Johnson contributed a pinch-hit home run.
Despite having to settle for the series split, there was no head-hanging in the clubhouse.
"We're playing good ball. This one got a way from us late," said DeRosa, who was similarly upbeat regarding Dickey.
"All you can do is put your trust in a former Cy Young winner," he said. "He's a very cerebral guy and takes a lot of pride in his craft. He'll be fine."
Dickey also took the high road in talking about his road back to his 2012 form.
"The temptation is to get into a mental funk and let that spiral you out of control," he said. "Thankfully, I have some experience, and I understand that some of the balls that were hit in the holes today will be hit right at guys tomorrow. So just take a deep breath and go back to work and be better the next time. Today was a step in the right direction for me as far as strength goes."
Jon Cooper is a contributor to MLB.com. This story was not subject to the approval of Major League Baseball or its clubs.