DeRosa still feels right at home in Atlanta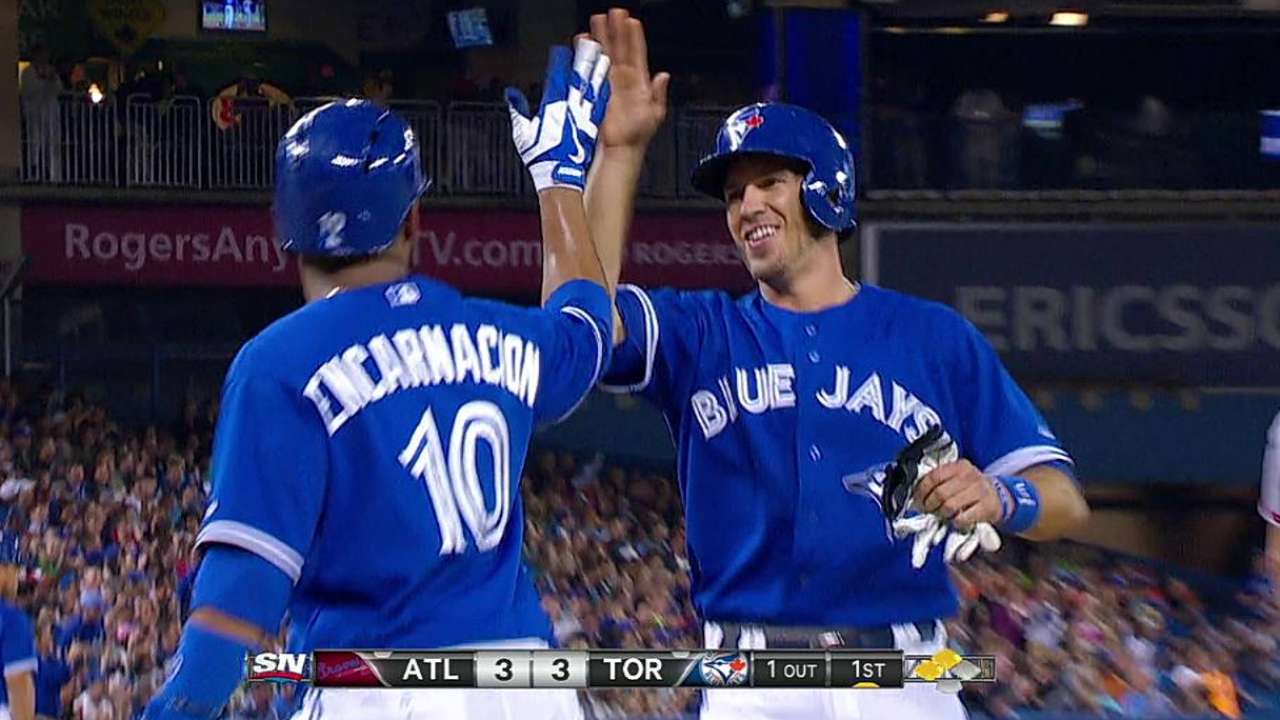 ATLANTA -- No one will ever accuse Mark DeRosa of forgetting where he came from.
Even though it's been nine years since he wore a Braves uniform, DeRosa still enjoys the feeling of coming to Atlanta, where he played from 1998 through 2004 and where his now-16-year Major League career started.
"It's home for me," DeRosa said. "I get a chance to sleep in my own bed, go in the pool with my kids and have a sense of normalcy. I work out with all [of the Braves] in the offseason, so this is like a home game for me."
DeRosa has felt comfortable here from the time he came up as a 23-year-old utility infielder. He's still made to feel at home at Turner Field, receiving a warmer welcome from the crowd during pregame introductions than several Blue Jays who are also former Braves. He started at third base and batted fourth on Thursday in the finale of the four-game home-and-home Interleague series.
DeRosa came up huge in the sixth inning, taking a first-pitch, knee-high cutter over the middle of the plate from Atlanta starter Mike Minor and lining it just inside the right-field line and into the corner, knotting the score at 3.
"He had been getting ahead of me all night," DeRosa said. "I kind of made a little plan that I wasn't going to let that happen again, so I was going to be more aggressive."
In three games against Atlanta, DeRosa went 2-for-8, but both hits were doubles, and he drove in three runs. The double on Thursday was especially satisfying, even against the backdrop of the 11-3 loss.
"It's always nice," he said. "I have family here. I probably know those guys better than I know my own teammates. So yeah, you want to come out and play well."
Now 38, DeRosa is at ease with being the veteran who can share what he's learned with the youngsters making their way up and looking to find their way, as he once did.
"I was very fortunate to come up with a team that every time they put their jersey on, they expected to win. They taught me how to win, taught me how to be a professional on and off the field," he said. "I love giving that advice to people, because I was never too proud to ask what they did on the field, pick their brains every day about different things, how to go about certain situations that will arise throughout the course of a game. So if I can be a sounding board for other guys, I love that."
DeRosa entered Thursday's game hitting .206, with three homers and 16 RBIs, but he's still dangerous. He hit homers in back-to-back games on May 5-6, the first time he accomplished that feat since July 27-28, 2009. He hit a big two-run double in his last start against the Braves, on May 28.
DeRosa just wants to contribute and play a role on a Major League roster, especially one that's on the way up -- as he did in San Francisco in 2011, in Washington last season and, he believes, in Toronto this season.
Being in the Majors is something he's never taken for granted, and never will.
"This game is so fleeting. Your time here is so fleeting. To make it as long as I have, I'm very proud of that," he said. "I think it was always year to year when I was with the Braves. 'What do I do to stay on the team? How do I stay on this roster?' I look up now, and I've been on eight teams and been in the league for 16 years. It's been quite a journey."
Jon Cooper is a contributor to MLB.com. This story was not subject to the approval of Major League Baseball or its clubs.