Some players defy age, none more than Mariano
Yankees closer, 43, didn't blow his first save of the season until late May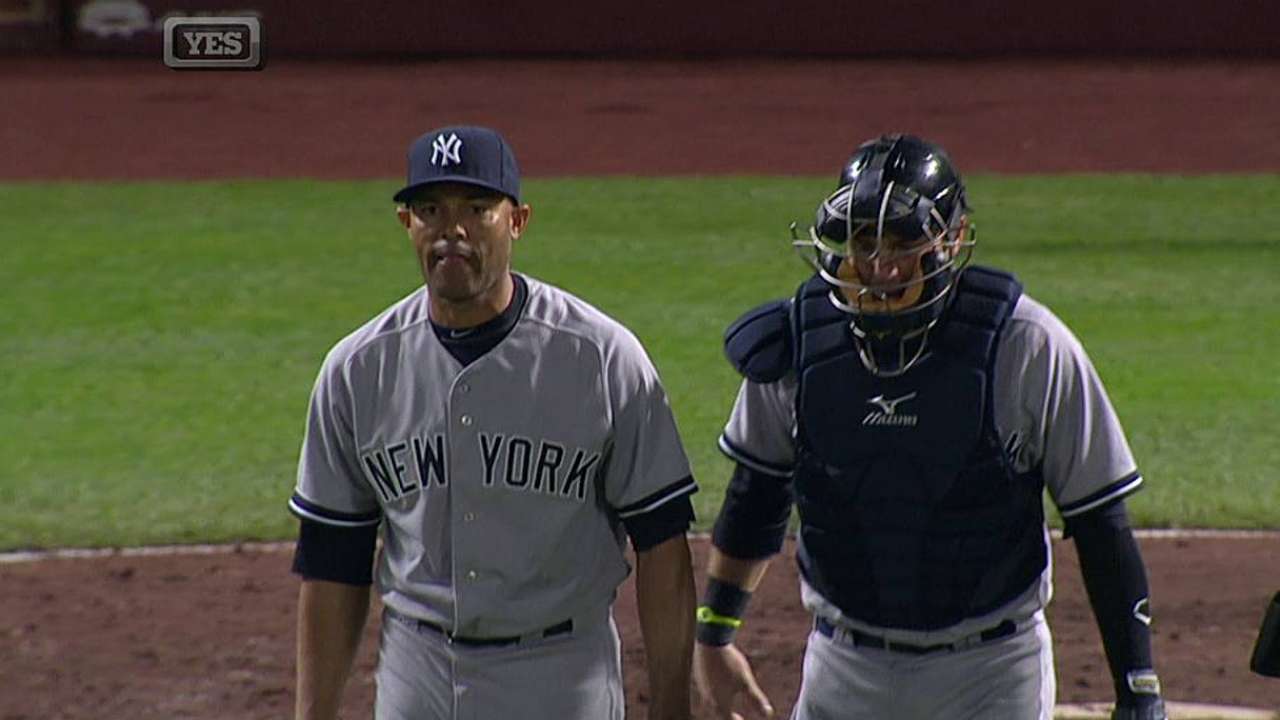 In typical Mariano Rivera fashion, the legendary Yankees closer had converted each of his first 18 save chances before finally squandering an opportunity Tuesday against the Mets. Yet it's that one blown save that may better define Rivera's current season than any of the 18 successful ones prior.
That is in no way a slight to Rivera, nor is it referencing the actual performance itself. Instead, it's a claim centered around the overall reaction to the closer's rare misstep.
Even at 43 years old and coming off a torn ACL in his right knee a season ago, Rivera's blown save in late May still caught many by surprise. And that alone says more about Rivera's consistency and the standard he has set for himself over the years than any of the successful saves that have become so routine for the future Hall of Famer.
The game has a handful of players that seem to turn in the same type of production year after year, regardless of age. It's a list that includes a pair of Rivera's teammates in Andy Pettitte and Derek Jeter, as well as White Sox captain Paul Konerko -- though he's finally having a down year -- and Tigers veteran Torii Hunter, among others.
Still, Rivera remains in a class of his own. So much so that even after 626 saves over a 19-year career and one year removed from a torn ACL, a blown save is still considered a somewhat shocking event.
"He's human," teammate Brett Gardner said following Tuesday's loss. "As much as people might not like to think so, it's not impossible to beat him. He's human just like the rest of us."
At times, it's very easy to question the validity of such a statement.
Not only has Rivera set the standard for closers for much of his career, but he continues to do so into his 40s. His 18 saves through 52 team games puts Rivera on pace for 56 stoppers this season, a number that would exceed his career-best mark of 53 set in 2004.
Though Rivera is unlikely to maintain that type of production throughout his swan song, he at least seems likely to turn in just the second 40-plus-save season by a pitcher 40 years or older. The first? Also Rivera, in 2011, when he converted 44 saves at the age of 41.
The second-most saves by a pitcher in the 40-and-over category came in 2009, when closer Trevor Hoffman successfully shut the door on 37 games for the Brewers. Hoffman, whose 601 saves are second all-time, tallied a 1.83 ERA over 55 appearances that season.
"Less is more at that stage in your life," Hoffman said. "You know you can't do the same things you did in your early 20s, but it doesn't mean you're any less capable of going out and getting the job done, as Mariano has proven this year. Experience is on your side once you get to that point, and you just try to utilize that as much as you can."
For Rivera, there is little question about whether or not he is still capable of performing the job. The only question that seems to remain is how he will hold up over the duration of the season, given both his age and last year's knee injury.
As for Pettitte, the injury bug has certainly hindered the 40-year-old since he came out of retirement a season ago. He fractured his left ankle soon after his return last season, missed a start this April due to back spasms and is currently dealing with a strained left trapezius muscle. Pettitte went 5-4 with a 2.87 ERA in 2012 and is 4-3 with a 3.83 ERA this year.
The fact that both Rivera and Pettitte are still going strong says a lot about the pair, according to former Yankees nemesis and three-time Cy Young Award winner Pedro Martinez. Martinez, who spent seven seasons with the rival Red Sox and four with the crosstown Mets, ultimately ended his career with the Phillies, playing half a season in Philadelphia at age 37 in 2009.
"The grind. It's the grind that makes it really hard, really difficult," Martinez said. "But one aspect that's different for Mariano and Andy is that they're at home. They're finishing at home -- where they belong, where they feel comfortable."
The same can be said for Jeter, who at age 38 continues to battle his way back from a fractured left ankle. Even in the latter stages of his career, Jeter hit .316 with 15 homers while playing in 159 games last season.
He, like Rivera, seems to continuously churn out the same type of production anytime he puts on the pinstripes.
"[Rivera's] a little bit like Jeter and Andy -- there's not much that they can do that's going to surprise you anymore, because you're so used to seeing it," Yankees manager Joe Girardi said. "The way they go about their business, it's just what you come to expect. And that's what Mo is doing again this season."
Rivera is not alone in the category of seemingly ageless wonders. Hunter, 37, is hitting over .300 for the Tigers. Konerko, though in a bit of a rut this season, hit .298 with 26 home runs at age 36 a season ago.
Yet Rivera is undoubtedly the gold standard. Tuesday's blown save may or may not be his last before he finally hangs up his cleats at season's end, but one thing is for sure -- if there are more, each one will be just as surprising. After all, that's just not supposed to happen with Rivera on the mound.
"Even though he's tired -- and I know he's tired, he's my friend as well -- I know Mariano wants to go home and be with his family," Martinez said. "That's probably the biggest reason he's not going to continue to pitch, because he still has it. Clearly, he could still save quite a few more games.
"But I wish him so well. When he does retire, he deserves all the credit all around the world. Mariano is one role model that all the world tries to emulate."
Paul Casella is a reporter for MLB.com. Follow him on Twitter @paul_casella. This story was not subject to the approval of Major League Baseball or its clubs.