Rockies project with Round 8 pick McClure
Rockies project with Round 8 pick McClure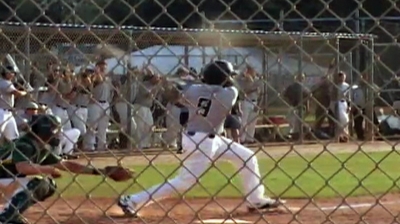 The Rockies went for a high school bat in Round 8 of the 2013 First-Year Player Draft, taking Georgia prep star Terry McClure with the 229th overall pick of the Draft.
Austin Meadows and Clint Frazier -- a pair of top 10 picks -- got most of the press among Georgia high school outfielders in this Draft class, but that was no reason to forget about McClure, a toolsy prospect in his own right.
"High in talent in terms of impact, meaning the athleticism is going to take these guys to places that I think we're going to be very proud of," said Rockies senior director of scouting operations Marc Gustafson.
Strong and athletic, McClure certainly looks the part, and he can play. The right-handed batter, selected out of Riverwood International Charter School in Sandy Springs, Ga., has good bat speed, and he should have at least average power in the future.
As a senior, McClure hit .386, finishing with 34 hits and eight homers on his way to being named a 2013 Rawlings All-American. Even with Meadows and Frazier in his class, McClure was ranked the fourth-best high school player in Georgia.
McClure has good speed on both sides of the ball, running well out of the box and moving extremely well in the outfield. That speed is why most scouts see him as a center fielder at the professional level.
He can be overly aggressive at the plate, but that's not at all unusual for a young hitter.
"There's a common theme here," Gustafson said. "With the position players that we took, we're looking for those guys that are athletes. We're looking for versatility, we're looking for high upside."
It might take the Georgia Tech commit a few years to put it all together, but he has the potential to be an everyday outfielder down the line.
Ian McCue is an associate reporter for MLB.com. This story was not subject to the approval of Major League Baseball or its clubs.