Starting with Day 2 pick, Tigers all about righties
Starting with Day 2 pick, Tigers all about righties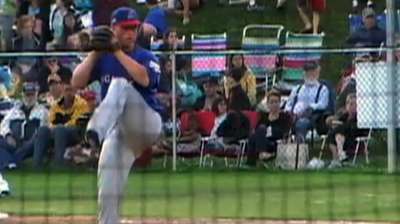 DETROIT -- The Tigers spent Day 2 of the First-Year Player Draft nearly the same way they spent Day 1 -- selecting right-handed collegiate pitchers. University of Louisville right-hander Jeffrey Thompson headlines a group of six pitchers, along with two outfielders, chosen on Friday.
The Tigers made Thompson, the Big East Pitcher of the Year, their third-round selection (94th overall). He brings an imposing presence to the mound at 6-foot-6 and 248 pounds. He led the conference in wins (10) and strikeouts (100) in 96 1/3 innings, and he also had a 28-inning scoreless streak in March. Opposing hitters hit only .173 against him this year.
"[He's a] very athletic kid at 6-foot-7," Tigers vice president of amateur scouting David Chadd said. "The numbers he put up this year -- and they have a good club [at] Louisville -- but the numbers he put up were phenomenal."
Thompson will pitch against the Tigers' seventh-round pick, and the first position player they selected, center fielder Connor Harrell, in his start against No. 2 national-seeded Vanderbilt in the NCAA Super Regional Sunday. Detroit took Harrell in the 31st round last year, before he improved his numbers this spring, leading the Commodores with 12 home runs. He joins Detroit's ninth-round pick, right-handed reliever Will LaMarche from Louisiana State, out of the Southeastern Conference on Day 2 of the Draft. Two of the team's first three picks from Day 1 were also from the SEC.
"It just seems like when you get to see them against the best competition, you get to see the best out of them and see what they are all about," director of amateur scouting Scott Pleis said. "It's easy to take them out of there."
The Tigers selected three more right-handed collegiate pitchers in the following rounds after Thompson -- Austin Kubitza from Rice University, Buck Farmer from Georgia Tech and Calvin Drummond, who was ineligible to play at two schools this spring. Both Kubitza and Farmer have more strikeouts than innings pitched this season.
"When you're evaluating college pitchers," Chadd said, "one thing that jumps out at you is their ability to strike out college hitters."
The Tigers also added Zach Reininger, a right-handed pitcher from Hill Junior College from Texas, and Kasey Coffman, a junior center fielder from Arizona State.
Although nine of the 11 picks made by the Tigers ended up being collegiate pitchers, Chadd said they are looking to draft the best available player, but the depth of hitters in Detroit's farm system gives him flexibility.
"We feel good about what we have at the lower levels and what we have coming," Chadd said. "I think it's fair to say we were looking for some upper-level pitching depth we'd like to get in the system and get it going."
Day 3 of the Draft continues with Rounds 11-40 streamed live on MLB.com on Saturday, starting at 1 p.m. ET.
MLB.com's coverage includes Draft Central, the Top 100 Draft Prospects list and Draft Tracker, a live interactive application that includes a searchable database of Draft-eligible players. You can also keep up to date by following @MLBDraft on Twitter. And get into the Draft conversation by tagging your tweets with #mlbdraft.
In the Pipeline
The Tigers' Day 2 effort is a continuation of their longtime philosophy to grab power pitchers. Recently, drafting a hard-throwing collegiate pitcher has resulted in reliever Drew Smyly. MLB.com only ranks three starting pitchers in the Tigers' farm system out of their top 20 prospects -- Casey Crosby, Jake Thompson and Drew VerHagen. Nearly all of the pitchers selected in the first two days of the Draft will get an opportunity to start in the Minors.
Bobby Nightengale is an associate reporter for MLB.com. Follow him on Twitter @Nightengalejr. This story was not subject to the approval of Major League Baseball or its clubs.