Mariners unable to hold off Padres in wild finish
Saunders strong in road outing before bullpen falters late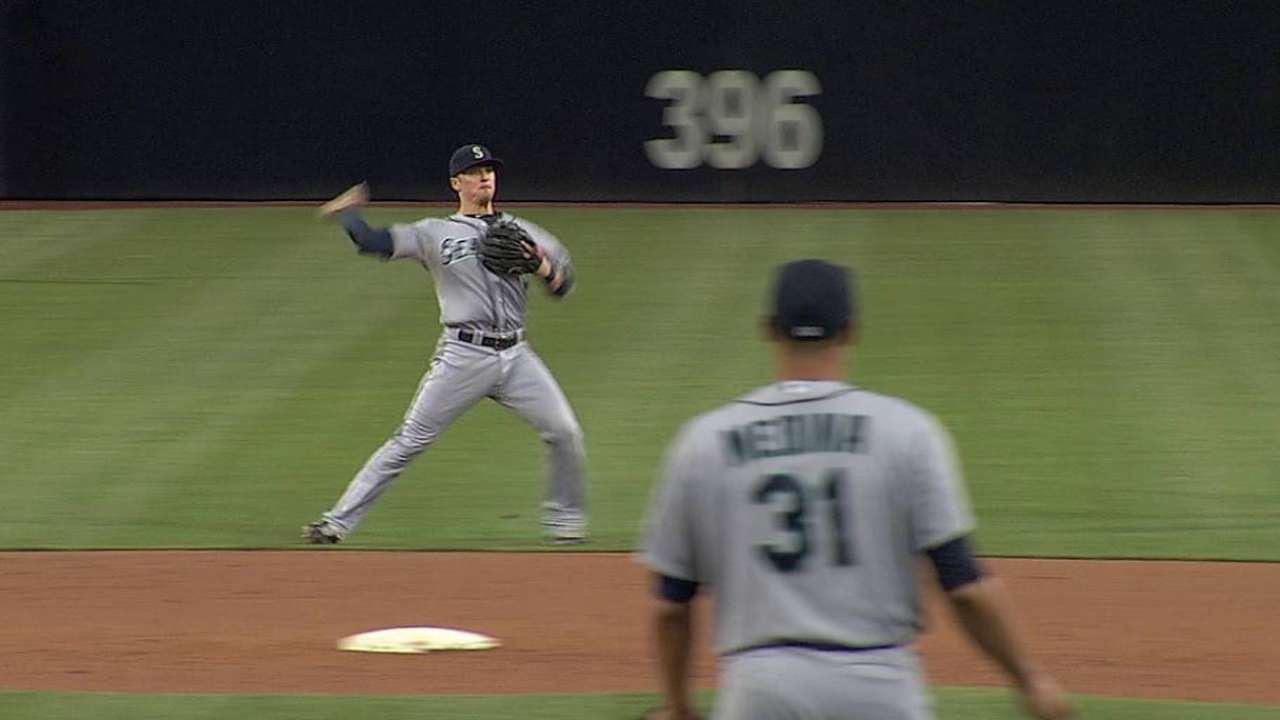 SAN DIEGO -- Brendan Ryan takes considerable pride in his defensive prowess, but the Mariners' shortstop was kicking himself after missing two extremely tough plays in the 10th inning as the Padres pulled out a 3-2 win Wednesday at Petco Park.
Rookie reliever Yoervis Medina took the first loss of his career when Will Venable laced a walk-off single off the glove of a diving first baseman Kendrys Morales with none out in the 10th. It was the fourth walk-off loss in the Mariners' past seven road games and they fell to 2-5 in extra-inning games.
This one could be blamed on a lack of offense on a night when Seattle produced just four hits, including a go-ahead home run by Jason Bay in the ninth, and struck out 12 times in eight innings against lefty Eric Stults.
It also could be credited to a blown save by closer Tom Wilhelmsen, who couldn't protect that lead, or catcher Kelly Shoppach's passed ball that set up the tying run off Wilhelmsen in the ninth.
But Ryan was taking this one all on his own shoulders, even though most observers would acknowledge his wide throw on a leadoff single in the 10th by Chris Denorfia came only after a near-spectacular play on a hard grounder up the middle as he spun and fired.
And the following single to his right came on a hit-and-run play perfectly executed by Everth Cabrera, the ball slicing past Ryan after he'd headed to second to take the throw as Denorfia was running on the play.
"I don't know how I'm going to sleep tonight after that," Ryan said after Denorfia wound up scoring the winning run on Venable's ensuing single. "That was a makeable play. I got to it, caught it clean, good transfer, I've made that throw a million times. I feel bad for Medina. He's going to have an 'L' next to his name, but three ground balls -- granted the last one was hit hard -- but I'm going to take full responsibility.
"They get that leadoff guy on and he should have been out," Ryan said. "Then there's only two things that are going to happen after that, they're either going to bunt or slash hit-and-run. I wasn't caught off guard there. I should have switched the coverage and stayed home and we could at least get one and maybe two out of it. That whole inning could have been completely different and I feel that was on me."
Manager Eric Wedge was far more generous in his assessment of his standout shortstop.
"He did a great job even getting to it," Wedge said of the leadoff single. "Really it was three ground balls. The last one was hit hard, but another foot to the right, it's probably a 3-2-3 double play there.
"We've had some tough losses here the first couple months," said Wedge, whose team fell to 22-31. "The worm will turn. It'll come back around. We've had a tough schedule. No excuses. A win is a win and a loss is a loss, but we've just got to keep fighting and grinding. And we've got to get the offense going. That's when things will loosen up. Everything sticks out when you're not scoring runs or are inconsistent like we've been."
The Mariners did get a far-more encouraging outing from southpaw Joe Saunders, who had joked about "sacrificing a live chicken" before his next away game in hope of breaking his run of poor performances removed from Safeco Field.
Turns out, all Saunders needed was a good dose of Petco Park and the Padres as he threw seven innings of one-run ball with just four hits. After a first-inning homer by Chase Headley, Saunders shut San Diego down until turning the game over to the bullpen in the eighth.
"It was just good to keep the team in the game, really, the way Stults was pitching for them," Saunders said. "I just had to throw up zeros. I just made one kind of mediocre pitch to Headley and he made me pay for it. After that I just kept telling myself to keep making pitches, keep the ball down and let my defense work for me. And the defense was fabulous. All around, it was good to get back on track."
Both teams scored once in the ninth to send the game into extra innings. Seattle took a 2-1 lead on a home run by Bay, his sixth long ball of the season, coming against Padres closer Huston Street.
Wilhelmsen couldn't seal the deal in the bottom of the ninth as he gave up a leadoff walk to Yasmani Grandal and a single to Jedd Gyorko. The runners advanced on a ball that got past Shoppach, with Wilhelmsen then intentionally walking Yonder Alonso to load the bases.
Kyle Blanks drove in the tying run with a sacrifice fly to center before Wilhelmsen got the final two outs to keep the game going. It was just the second earned run allowed by Wilhelmsen in 23 innings this season, his ERA rising to 0.78.
"Tommy just didn't have the command we've seen him have," Wedge said. "One-run ballgame, that first guy gets on, you know you're going to have to really work for it. That's the way it ended up. He did a good job keeping it tied, but especially on the road, those are the ones you've got to finish off. But Tommy's been great all year. He just had a tough day today."
Saunders' record remained 3-5 while his ERA dropped to 5.57 with his 89-pitch night. The 31-year-old veteran has one of the most extreme home-road splits imaginable over the first two months of the season. He's 3-1 with a 2.41 ERA in five starts at Safeco, but 0-4 with a 9.00 ERA in six road games.
Did he go ahead with his plan to sacrifice a live chicken to change his fortunes?
"In my head I did," he said with a grin.
Mariners rookie second baseman Nick Franklin recorded his first Major League hit with a single to left in the fifth inning after opening his career 0-for-5 with a walk.
Greg Johns is a reporter for MLB.com. Follow him on Twitter @GregJohnsMLB as well as his Mariners Musings blog. This story was not subject to the approval of Major League Baseball or its clubs.