Zimmerman, Navarro join select three-homer company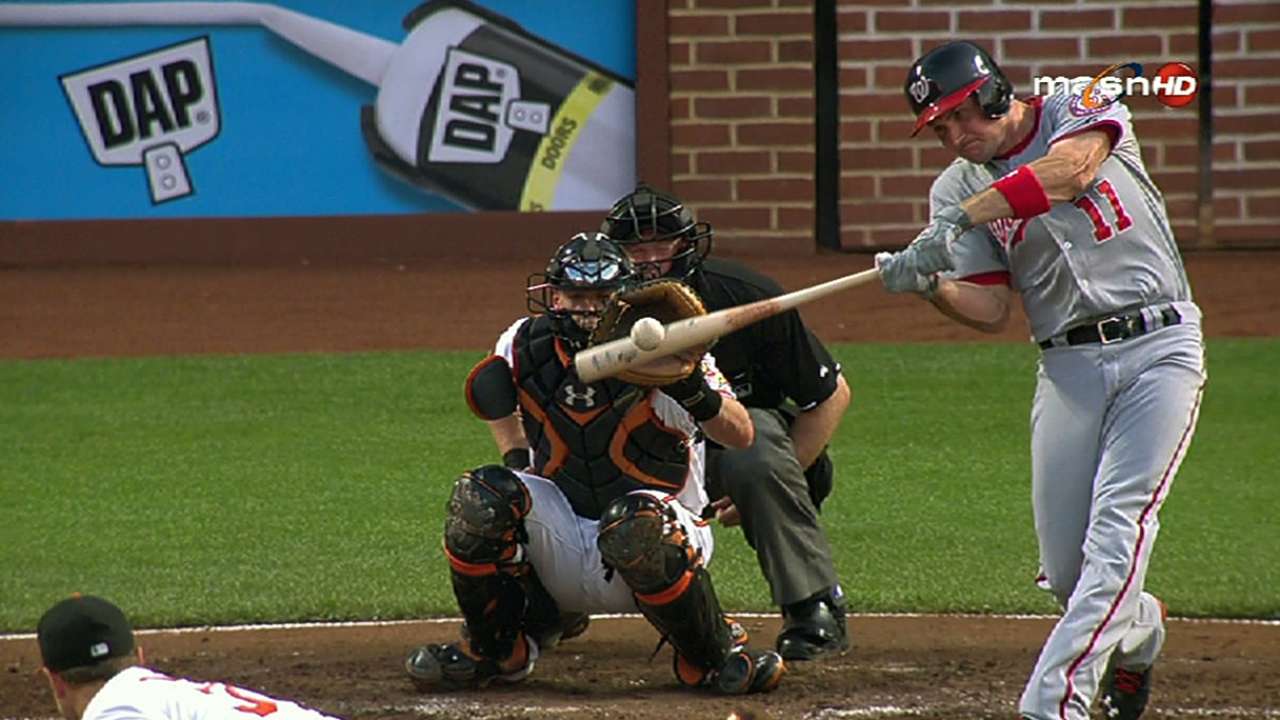 Ryan Zimmerman and Dioner Navarro slugged their way into history on Wednesday with a pair of three-homer games. By doing so on the same day, they put themselves in a somewhat more exclusive club.
Only 14 times in history have two players hit three home runs on the same day. The feat was last accomplished by Evan Longoria and Dan Johnson on the final day of the 2012 season.
In each of the two prior occurences, Albert Pujols was involved. On Sept. 3, 2006, the Cardinals slugger combined with Philadelphia's Ryan Howard to accomplish the feat. More than two years before that, on July 20, 2006, he linked up with Cleveland's Travis Hafner.
Wednesday's three-homer games were the first of the career for both Navarro and Zimmerman. Navarro went yard three times for the Cubs in a 9-3 win over the cross-town rival White Sox.
"I hit two one time in Little League," Navarro said. "That was about it. It's a great feeling and so surreal right now. I can't speak right now. The most important thing is we got a 'W.'"
Zimmerman went yard in another regional clash, but his Nationals club came up short -- a 9-6 loss to the Orioles. Still, he etched his way into the record books by becoming the 504th player to hit three homers in a single game.
The feat has become more common in recent years. Of the 14 occurences where two players went deep three times on the same day, nine have happened since 1996. That includes a pair of occurences in 1996 just nine days apart, marking the only time the rare double-feat has been achieved in the same season.
In fact, prior to Sept. 14, 1987, there was a 17-year break in which the feat didn't occur on the same day. On July 26, 1970, Orlando Cepeda and Johnny Bench -- a pair of eventual Hall of Famers -- both went yard thrice.
The first time it happened? The Cubs' Hank Leiber and the Red Sox's Jim Tabor went yard on July 4, 1939, the same day Lou Gehrig gave his famous "luckiest man" speech at Yankee Stadium.
July 4, 1939: Jim Tabor, Red Sox; Hank Leiber, Cubs
Aug. 2, 1950: Larry Doby, Indians; Andy Pafko, Cubs
June 6, 1965: Tom Tresh, Yankees; Johnny Callison, Phillies
July 26, 1970: Orlando Cepeda, Braves; Johnny Bench, Reds
Sept. 14, 1987: Mickey Brantley, Mariners; Ernie Whitt, Blue Jays
Sept. 15, 1996: Frank Thomas, White Sox; Benito Santiago, Phillies
Sept. 24, 1996: Mo Vaughn, Red Sox; Willie Greene, Reds
April 25, 1997: Matt Williams, Indians; Ken Griffey, Jr., Mariners
Sept. 25, 2001: Richie Sexson, Brewers; Jeromy Burnitz, Brewers
Aug. 10, 2002: Mike Lieberthal, Phillies; Sammy Sosa, Cubs
July 20, 2004: Travis Hafner, Indians; Albert Pujols, Cardinals
Sept. 3, 2006: Ryan Howard, Phillies; Albert Pujols, Cardinals
Oct. 3, 2012: Dan Johnson, White Sox; Evan Longoria, Rays
May 29, 2013: Dioner Navarro, Cubs; Ryan Zimmerman, Nationals
AJ Cassavell is a reporter for MLB.com. Follow him on Twitter @ajcassavell. This story was not subject to the approval of Major League Baseball or its clubs.