Estrada recovers, but bats never get going
Brewers' starter goes seven after shaky first inning vs. Twins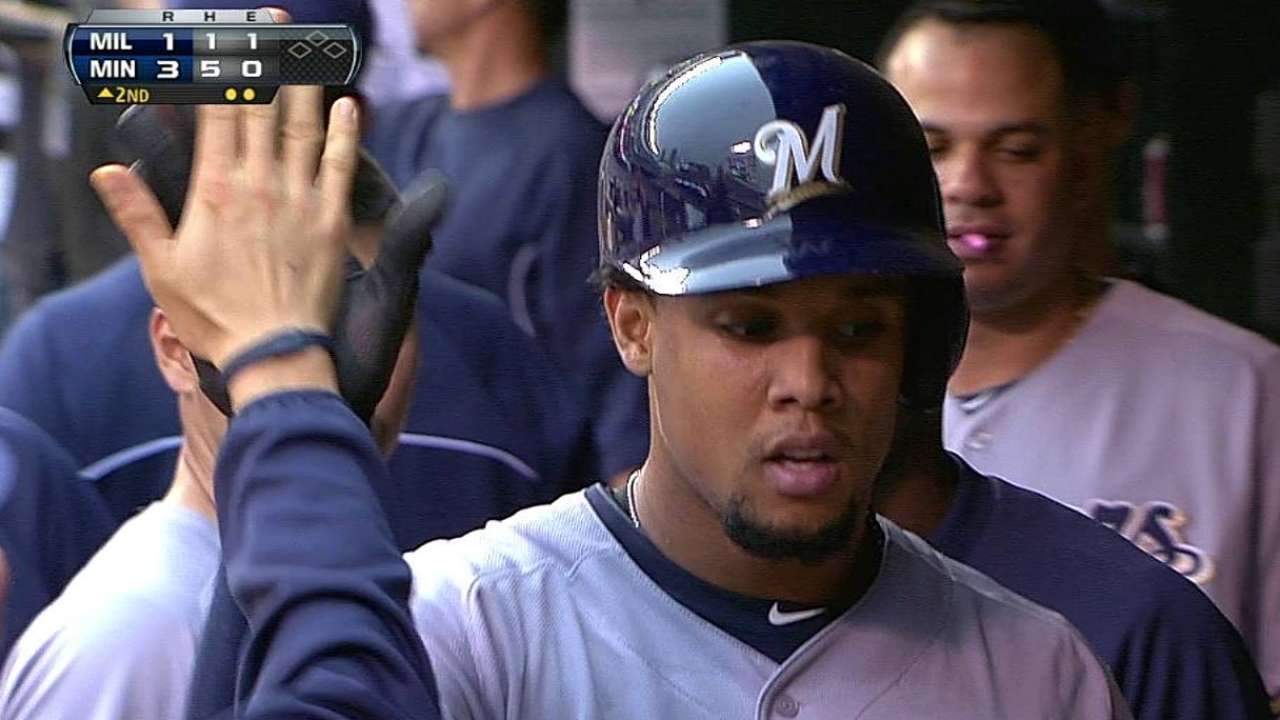 MINNEAPOLIS -- The month of May can't end soon enough for the Brewers. The big question is whether flipping a page on the calendar will make much of a difference.
Samuel Deduno scattered nine baserunners over seven-plus innings, and Aaron Hicks homered to lead the Twins to a 4-1 victory over the Brewers at Target Field on Wednesday.
The loss was the Brewers' fifth straight and dropped their record in May to 5-21. As a team they are batting just .253 in May and are averaging 3.2 runs per game in that stretch, making it hard for manager Ron Roenicke to stay positive, try as he might.
"Eventually, we're going to come out of this," Roenicke said, referring specifically to his team's offensive funk. "It's getting old just going out and losing all the time. Sometimes we play good games and we lose, but there's a lot of games we don't do much. We didn't do much today."
Marco Estrada gave most of the Brewers' overworked bullpen the night off, pitching seven strong innings after a series of short starts forced Milwaukee relievers to throw 23 innings in the last four days. He allowed four runs on seven hits with no walks and five strikeouts, the first Brewers pitcher to survive the fifth inning since May 24, his last start.
But even that silver lining came with an ominous gray cloud. Estrada barely survived a shaky first inning, when the Twins turned five hits and a throwing error by the pitcher into three quick runs.
"It's so frustrating coming out that first inning and doing what I did -- not locating, leaving pitches up," Estrada said. "I just gave the other team a chance to hit the ball, and they did."
Meanwhile, the Brewers could not make much of Deduno, who kept the Milwaukee hitters off balance with a funky array of pitches that hit all parts of the strike zone and three Brewers hitters along the way. Brewers catcher Jonathan Lucroy described Deduno's style as "effectively erratic" and said it was tough for hitters to dig in against the lanky right-hander.
"You couldn't really sit on anything, because you just didn't know what it was going to be," Lucroy said. "He'd throw a curveball, it'd be right at you -- then he'd throw one perfect on the outside corner. It was just strange."
After Deduno's third hit batsman of the night -- a curveball that clipped Jean Segura's left hand to lead off the eighth inning -- he walked Ryan Braun on four pitches and was pulled with a 4-1 lead. Reliever Casey Fien induced a 5-4-3 double play off the bat of Aramis Ramirez, and Segura was stranded on third when first baseman Chris Parmelee tumbled over a railing to catch a foul popup and retire Carlos Gomez.
That was one of a handful of missed chances for the Brewers offense Wednesday. Milwaukee answered the Twins' three-spot with a run of its own in the second, but Hicks almost kept it off the board with another highlight-reel catch. One day after he robbed Gomez of a home run in Milwaukee, Hicks tracked down another long Gomez drive in the left-center gap. But as Hicks crashed into the wall, the ball trickled out of his glove, and Gomez ended up with a double. Yuniesky Betancourt drove in Gomez with an RBI groundout to get the Brewers on the board.
Hicks prevented the lead from dwindling further with a diving catch to end the fourth inning that robbed Weeks of another RBI, then, as he did one night earlier, he followed up his defensive wizardry with a home run -- this time a 412-foot blast into the Milwaukee bullpen to give the Twins a 4-1 lead.
"I don't know, but right after making a great play I just feel confident," said Hicks, who has four hits and four runs in the three games against Milwaukee this week. "Every time I hit it after that it seems to go out of the ballpark."
Maybe the Brewers need to adopt a similar philosophy to break out of their own offensive malaise. At this point, they seem willing to try just about anything.
"It's hard to put a finger on hitting good," Lucroy said. "I think our lineup is still unbelievable. We've got guys on this team who are former All-Stars, MVPs, stuff like that, guys who can really hit. It's just a matter of getting it all going at once. Some guys are struggling, and some guys are really doing well.
"Hitting is very contagious, and it always has been," he added. "We've just got to go out and keep moving forward and keep battling -- that's all we can do."
Patrick Donnelly is a contributor to MLB.com. This story was not subject to the approval of Major League Baseball or its clubs.